31 Jul 2023
Who could count the works, who the names?
© SF / Marco Borrelli
Why musical works bear resounding names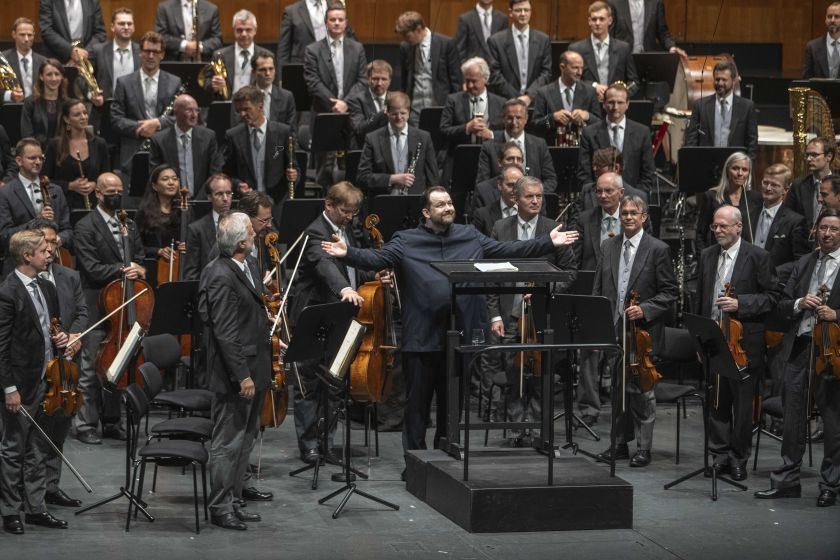 Riccardo Muti, Martha Argerich, Igor Levit, Anne-Sophie Mutter, Christiane Karg and many others will make the Festival concerts unique events. Among the programmes of the Vienna Philharmonic and the guest orchestras, many of the works also bear resounding names.
The "Jupiter" Symphony, the "Pastorale", Also sprach Zarathustra: why do some musical works bear such resounding names? Because their creators gave them these titles, you might think – and many a time, this assumption would be incorrect. What is more often true is the fact that it is often a sign of particular popularity when a composition has a unique and – literally – resounding sobriquet, some of them already centuries old. As soon as a canon forms, a kind of library of works which are repeatedly performed, titles and sobriquets help. In the case of Wolfgang Amadeus Mozart's symphonies, for instance, localities such as "Linz" or "Prague" help anchor them in the public imagination. There are local nicknames, however, which never quite stuck – for example the "Wörthersee Symphony" for Brahms' Second, or the "English" for Antonín Dvořák's Eighth: the West-Eastern Divan Orchestra under Daniel Barenboim (17 Aug.) and the Vienna Philharmonic under Jakub Hruša (29 Aug.) play these in Salzburg without the aforementioned handles.
One entirely fictitious sobriquet, however, which refuses to go away is the "Jupiter" label attached to Mozart's last symphony, K. 551: presumably it was invented by Johann Peter Salomon, a concert presenter also responsible for the writing of Joseph Haydn's twelve "London Symphonies". Undoubtedly, Jupiter sounds good in advertising, suggesting glory and sublimity – as well as lightning bolts, which the four-note chorale theme of the final fugue might suggest. None of this, however, has anything to do with Mozart – and if we are searching Mount Olympus for suitable patronage, two-faced Janus would be a far better namesake for this music full of contrary forces and the masterful balance finally struck between them – as François-Xavier Roth and his original-sound ensemble Les Siècles will make apparent (2 Aug.)
Ludwig van Beethoven's Sixth is the first on this year's Festival concert programme to bear a programmatic title: while still in sketches, the work bore the titles "Sinfonia caracteristica" and "Sinfonia pastorella"; at its world premiere, it was entitled "Memories of Rural Life", and when it went to print, this had been altered to "Sinfonie Pastorale". Musical descriptions of nature had long been popular, but Beethoven wanted to point out that his goal was not mere imitation, so he added the instruction: "More expression of feeling than painting". In their two Beethoven evenings (7/9 Aug.), Jordi Savall and Le Concert des Nations trace this evolutionary counterbalance to the revolutionary Fifth, the so-called "Symphony of Fate" – a term which goes back to a (controversial) anecdote reported by Beethoven's amanuensis Anton Schindler. According to Goethe, Napoleon is rumoured to have said: "Politics is fate!" From this perspective, the rough path to republican jubilation in the Fifth's finale is a feature this symphony shares with the great Third, a work which exceeded all familiar dimensions and contemporary expectations. When it was baptized "Eroica", this might have referred to Napoleon or perhaps the myth of Prometheus – the sobriquet "Sinfonia eroica" cannot even be traced beyond a doubt to Beethoven himself, but at any rate, the hero in question is a tragic, fallen, ambiguous one.
With the rise of programme music, which aims to describe non-musical states and events and developed into a genre of its own from the beginning of the 19th century onwards, literary works and their characters began to tread the concert stages – especially from the end of that century.
Examples are ballets such as Igor Stravinsky's Petroushka, the Russian figure resembling Punch (as in Punch & Judy), whose adventures on a fairground Andris Nelsons and the Boston Symphony Orchestra illustrate (31 Aug.), or Romeo and Juliet, the most famous pair of lovers of all times; the ORF Radio Symphony Orchestra Vienna and Elim Chan perform this work by Sergey Prokofiev (12 Aug.).
The Vienna Philharmonic under the baton of Franz Welser-Möst, on the other hand, juxtaposes music by two magicians of sound (20/21 Aug.): Richard Strauss and György Ligeti, who would have celebrated his 100th birthday in 2023. Also sprach Zarathustra, the gripping result of early Strauss' reading of Nietzsche, is combined with his late, melancholy Metamorphosen, inspired by Goethe and embodying a farewell to the world, sealed with a quote from the funereal march from the "Eroica". These meet pieces which caused as much of a stir in their time as the young Strauss' daring forays did: Ligeti's Atmosphères and Lontano, which the iconic filmmaker Stanley Kubrick used in various of his films, just like the beginning of Strauss' Zarathustra. With their oscillating, shimmering sound surfaces, which occasionally clash dramatically, they have long metamorphosed into modern classics. Strauss had a weakness for poetic titles in any case: his symphonic poem Ein Heldenleben was interpreted as unbecoming self-flattery, and occasionally still is, the megalomania of a 35-year-old styling himself the musical hero of the Wilhelmine era in pompous, meaningful E-flat-major – in analogy to the "Eroica". The work, however, does have its share of irony and occasionally points far beyond the personal: even when it has and reveals programmatic references, music is still more, and different, than what words are able to express. Kirill Petrenko and the Berlin Philharmonic will surely illustrate this point (27 Aug.).
The subtitle of Alban Berg's Violin Concerto – "To the Memory of an Angel" – is also poetic and tragic, as befits a work with a special aura, being as it is a double Requiem: programmatically for Alma Mahler's daughter Manon Gropius, who succumbed to polio at the age of 18, and factually for Berg himself, who died the same year he wrote it, in 1935, only four months after completing the score. The violinist Augustin Hadelich and the Vienna Philharmonic under Andris Nelsons will make this musical monument soar (5/6 Aug.).
And speaking of Requiems: Johannes Brahms did not set the Latin text of the mass for the dead; instead, his selection of texts from Luther's Bible translation for his composition Ein deutsches Requiem (A German Requiem) was meant to comfort the living. Christian Thielemann, the Vienna Philharmonic, the Wiener Singverein, Michael Volle and Elsa Dreisig will perform it (28/30 July). Another last work, Sergei Rachmaninoff's Symphonic Dances (12 Aug.), is marked by a motif which accompanied him throughout his life as a composer: the Dies irae from the Requiem, a fateful choral fragment and symbolic of the horrors of the last judgment – uncountable, nameless.
Autor: Walter Weidringer
Translation: Alexa Nieschlag
First published in the Festival insert of Salzburger Nachrichten 2023