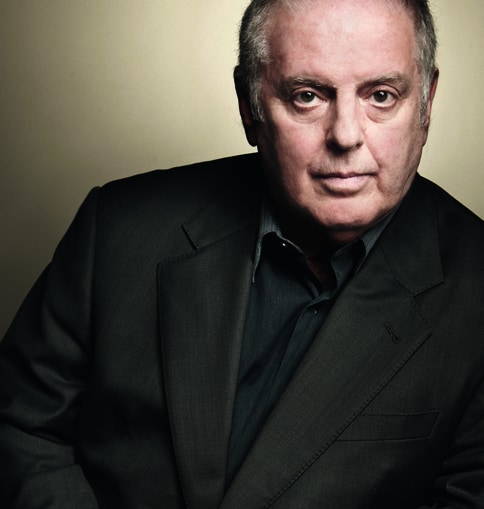 Current as of August 2023
Daniel Barenboim was born in 1942 in Buenos Aires, where he gave his first public concert at the age of seven. In 1952 he moved to Israel with his parents. Aged 11, he took conducting classes from Igor Markevitch in Salzburg and later studied harmony and composition with Nadia Boulanger in Paris until 1956. He was ten when he made his debut as a pianist in Vienna and Rome, followed by appearances in Paris, London and New York. Since then he has toured regularly throughout Europe and the USA, as well as South America, Asia and Australia. He has worked with the most important singers, in particular Dietrich Fischer-Dieskau.
Since his debut as a conductor in London in 1967 with the Philharmonia Orchestra, Daniel Barenboim has performed with all the world's leading orchestras. From 1975 to 1989 he was chief conductor of the Orchestre de Paris and from 1991 to 2006 music director of the Chicago Symphony Orchestra, which named him honorary conductor after the end of his tenure. Between 2011 and 2014 he was music director of La Scala, Milan. He made his debut as an opera conductor in 1973 at the Edinburgh Festival. In 1981 he appeared at the Bayreuth Festival for the first time, where he worked for nearly two decades. From the end of 1991 until January 2023 he was General Music Director of the Staatsoper Unter den Linden in Berlin, and in autumn 2000 the Staatskapelle Berlin elected him chief conductor for life. Daniel Barenboim and the Staatskapelle present great operatic and symphonic works and cycles from the Classical, Romantic and modern periods, in Berlin and around the world. Most recently, in 2018, they performed all of the Brahms symphonies in Buenos Aires, Beijing and Sydney. They also regularly devote themselves to contemporary composers such as Elliott Carter, Wolfgang Rihm, Jörg Widmann and Pierre Boulez. Their extraordinary artistic partnership is documented on numerous CDs and DVDs.
In 2016 Daniel Barenboim founded a trio with violinist Michael Barenboim and cellist Kian Soltani, which performed for the first time that year at the Teatro Colón in Buenos Aires. During the 2017/18 season, the ensemble performed all of Beethoven's piano trios at the Pierre Boulez Saal in Berlin alongside various contemporary works.
In 1999 Daniel Barenboim and the Palestinian literary scholar Edward Said founded the West-Eastern Divan Orchestra, bringing together young musicians from Israel, Palestine and other countries in the Middle East and North Africa. The Orchestra tours internationally every summer and has set itself the goal of facilitating dialogue between the different cultures of the Middle East through the experience of making music together. The Barenboim-Said Academy in Berlin emerged from this project, which has been offering a four-year degree in music and humanities for students primarily from the Middle East since the autumn of 2016. The Academy is located in a former storage building of the Berlin State Opera and also houses the Pierre Boulez Saal, where the Boulez Ensemble, founded by Daniel Barenboim, has its artistic home.
Daniel Barenboim has been awarded the Great Cross of Merit of the Federal Republic of Germany, as well as being named Knight Commander of the Order of the British Empire, Commandeur de la Légion d'honneur and UN Messenger of Peace. Oxford University has also awarded him an honorary doctorate. His books include the autobiography A Life in Music (1992, new edition 2002), Parallels and Paradoxes (with Edward Said, 2004), Everything is Connected – The Power of Music (2008), Dialoghi su musica e teatro – Tristano e Isotta (with Patrice Chéreau, 2008) and Musik ist alles und alles ist Musik – Erinnerungen und Einsichten (2014).