Dear Media Representatives,
We are delighted that the Salzburg Festival can take place this year, and look forward to your visit.
The special situation of the coronavirus pandemic forces all of us to adopt new rules, which we would hereby like to point out to you:
1. No request for press tickets will be considered complete unless it includes the name of the publication and editor commissioning the review or feature.
2. The number of press tickets in all genres has been drastically reduced. We highly recommend taking look at the great variety of the concert programme.
3. A maximum of one journalist can be accredited per medium and per performance series / production.
4. Contact tracing prohibits passing on your press ticket within your medium. All tickets will be personalized.
5. Unfortunately, requests for additional (purchased) tickets cannot be considered.
6. Accredited journalists will receive their press tickets at the Media Centre = the 2020 Press Office (access via Furtwänglerpark). You must wear a face mask to enter the office space of the Media Centre.
7. The Press Terrace can be accessed and used for interviews, moderated events and press conversations by appointment only. The Press Office premises at Mönchsberg 1 are closed to the public.
8. Access to the Press Terrace will not be by the customary elevator. In order to ensure your safety, you will be accompanied to the Press Terrace with a larger elevator – by appointment only. You are free to use the outside staircase (Clemens-Holzmeister-Stiege) to climb Mönchsberg.
9. Please note that the Media Centre cannot offer workspaces for journalists this year.
10. Print and radio interviews with artists will be organized by us, preferably by email, phone or video conference. Please send your requests to interview@salzburgfestival.at.
11. Interviews may take place on the Press Terrace (by appointment only) or outside the performance venues of the 2020 Salzburg Festival.
12. Press conversations will be organized from the end of June onwards and will be followed by a press text you may use free of charge, and by a podcasts which all radio stations may use free of charge. These can be found on our website at https://www.salzburgerfestspiele.at/en/press
13. The Salzburg Festival centenary will last from the beginning of August 2020 to 31 August 2021.
14. The comprehensive anniversary exhibition "Great World Theatre" at the Salzburg Museum will be open for the duration. The press contact at the Salzburg Museum is Natalie Fuchs: natalie.fuchs@salzburgmuseum.at.
15. We also recommend the self-guided tour "Dreaming of a Fairies' Temple. Artistic Interventions Regarding Festival Theatres Never Built", which will take you from Hellbrunn Palace to Kapuzinerberg, Mirabellgarten and Mönchsberg.
By adhering to the rules and regulations, we want to enable you, the artists and all Festival staff to enjoy this summer in good health and safely.
Kind regards,
Ulla Kalchmair, Kathrin Pichler and Alexander Kozian
30. July 2020
TerraceTalk Elektra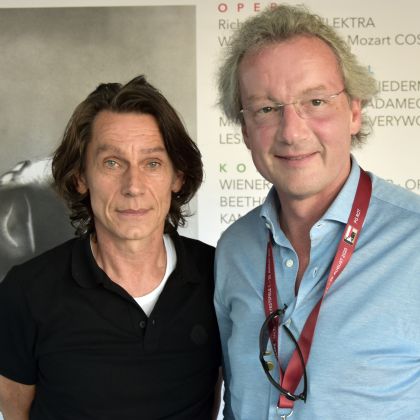 download mp3
TerraceTalk Elektra

TerraceTalk Idomeneo
Press Tickets
Media representatives will be informed about the possibility of accreditation from mid-June 2020. Please send an informal email to: presse.karten@salzburgfestival.at
Staff Member Press and PR