12 Jul 2023
Dares, Friendship, Magical Objects & Hope
© SF / Marco Borrelli
The jung & jede*r Programme 2023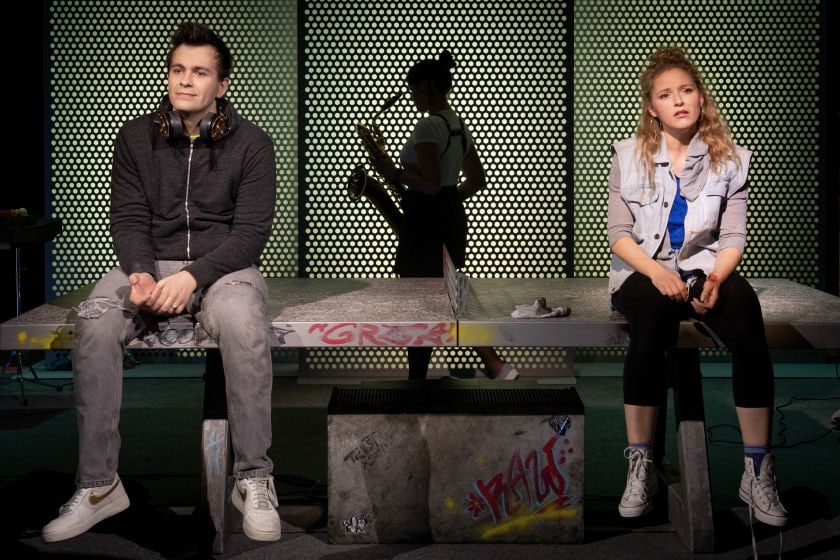 Three new productions are part of the Salzburg Festival's youth programme jung & jede*r, which began touring its productions throughout the State of Salzburg two years ago. Therefore, two of the new productions are not only part of the summer Festival programme, but can be attended in locations ranging from Abtenau to Zell am See.
Raising enthusiasm among young people for the arts, introducing them to the art of theatre or the experience of classical music – those are the core objectives of jung & jede*r, the Salzburg Festival's youth programme. New pieces by contemporary authors developed specifically for young audiences stand alongside new interpretations of familiar, traditional works dealing with issues resonating with young viewers, addressing current social questions, opening spaces for artistic and social interaction.
An opera suitable for children aged 6 and up is Das Kind und die Zauberdinge, which premieres at the Schauspielhaus on 28 July. This is the German-language version of L'Enfant et les sortilèges by the French composer Maurice Ravel, famous for his Boléro. It is a masterwork with plenty of colourful imagination and sound colours, difficult to pin down to one genre – this version is scored for flute, cello and piano. It features many an uncanny event: a child is grounded by its mother for failing to do homework, but then objects in the nursery come to life, and in the garden, the child even has to stand up to animals. Director Giulia Giammona, who led the Magic Flute opera camp last summer, considers the work a reflection of growing up. She tells it as a story of breaking out of a protected, artificial world, into a place where the child shows courage and responsibility, becoming part of a social community. The different spaces and multiple costumes have been designed by Selina Nowak; Anna Handler conducts. Participants of the Young Singers Project of the Salzburg Festival embody all the many roles, from Child and Mother to pieces of furniture, squirrels and trees. The introductory workshop Wir spielen Oper (Let's play opera) offers children a playful way to prepare for their opera experience.
The minimalist chamber play Ping Pong is set around a ping-pong table in a park. There, a boy is hanging out, listening to music: meet Vlad, an introverted 13-year-old who likes dreaming himself away to the loud music from his new headphones – thereby failing to notice that someone else has appeared: 12-year-old Esra, who is under a lot of pressure because she's supposed to do "something crazy". A dare, so that she can join the girls' gang at her school. She dreams of belonging, of not being alone anymore. She notices Vlad and his new headphones, and immediately knows what would be really crazy … Then two girls from the gang show up, and the situation gets out of hand. Accompanied by vocals (Sophie Negoïta, Máté Herczeg), guitar (Sophie Oberleitner), saxophone (Greta Franzelin) and percussion (Augustas Bure), director Anika Haller makes the insecurities, barbs and commonalities of these four teenagers fly across the ping-pong table like balls in a match. Sometimes, a change of costume (designed by Eva-Mareike Uhlig) illustrates the character's state of mind. (Recommended for children aged 10 and up.)
The play Fiesta by Gwendoline Soublin – winner of the 2022 German Children's and Youth Theatre Prize – completes the offerings of this year's youth programme: a story about friendship, courage and the incredible importance of birthday parties, for everyone aged 8 and up. Nono has been looking forward to his 10th birthday for years. At the party, the fiesta, nothing will be left to chance. A lemon meringue-smarties cake, golden paper garlands, jeans without holes, a speech about the world … everything has been planned. Nono and his friends can hardly contain their mounting excitement. But then everything turns out differently, for Maria Theresia, a hurricane so powerful that it lifts chihuahuas, prams and trams into the air, forces the children to stay home. Will Nono have to cancel his fiesta? Or postpone it? That seems unthinkable to him: after all, you only turn 10 once in your life!
The four protagonists (Juliette Larat, Ludwig Michael, Riccardo Pallotta and Ines Maria Winklhofer) manage to maintain their hope and optimism. The empathetic piece, poetically and humorously describing a child's perspective of a catastrophic situation, is directed by Joachim Gottfried Goller with sets and costumes by Jenny Schleif – together, they were also responsible for last year's production Ich lieb dich, equally acclaimed by audience and reviewers.
Before the Schauspielhaus Salzburg witnesses the world premiere of Mischa Tangian's Ping Pong (from 20 July) and the German premiere of Fiesta (from 23 July), both pieces tour the State of Salzburg as part of the Festival's mobile education programming. Tickets for these touring performances are available exclusively via the cultural centres where they are presented.
Lukas Leipfinger • Dramaturge Das Kind und die Zauberdinge
Armela Madreiter • Dramaturge Fiesta and Ping Pong
Generously supported by UNIQA • Würth Group • Raiffeisen Salzburg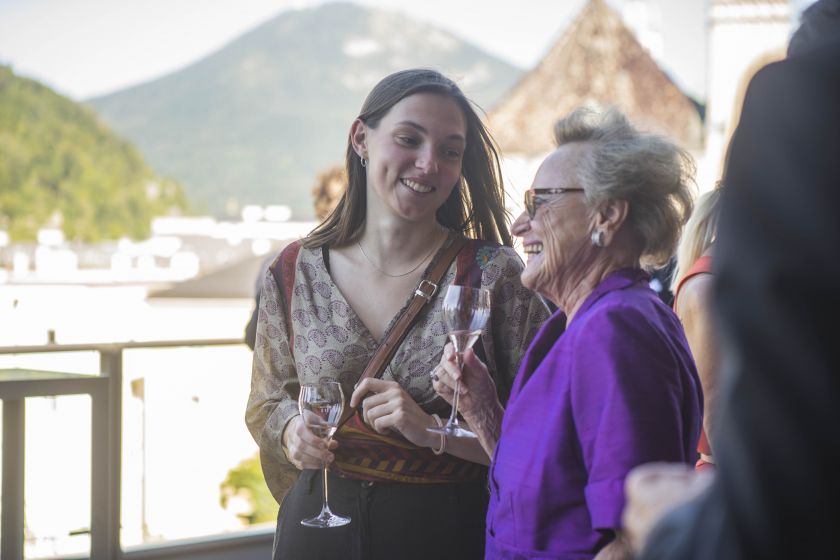 jung & jede*r - Offerings
In addition to the youth performances, all teenagers and young adults interested in the Festival's regular programme can take advantage of an attractive option: 6,000 youth tickets are available to those born after 30 June 1996. These entail up to 90% discount on opera, drama and concert tickets. The detailed programme will be published in May 2023 at www.salzburgerfestspiele.at/en/jung-jeder
Furthermore, the Festival offers education events for young audience members: viewers who want to learn more about the work and its production can do so during the introductory talks for young listeners, while artist conversations after the performances invite all those feeling inspired, enthusiastic or bewildered to discuss their impressions. Novices should register for the jung & jede*r newsletter: www.salzburgerfestspiele.at/en/jung-jeder/u27
Following last year's huge success, the newly-created Festival Mentorships continue this summer: a very special highlight for teenagers and young adults aged 16 to 27 who have never attended a Festival performance. The Festival newbies visit one of five selected performances together with an experienced mentor, discovering the Festival world. A reception and introductory talk before the performance offer an opportunity to get to know one another, and the joint attendance will certainly be a very special experience (youth ticket for 20 €).
To register or for further information, please email jugend@salzburgfestival.at
First published in the Festival insert of Salzburger Nachrichten
Translation: Alexa Nieschlag