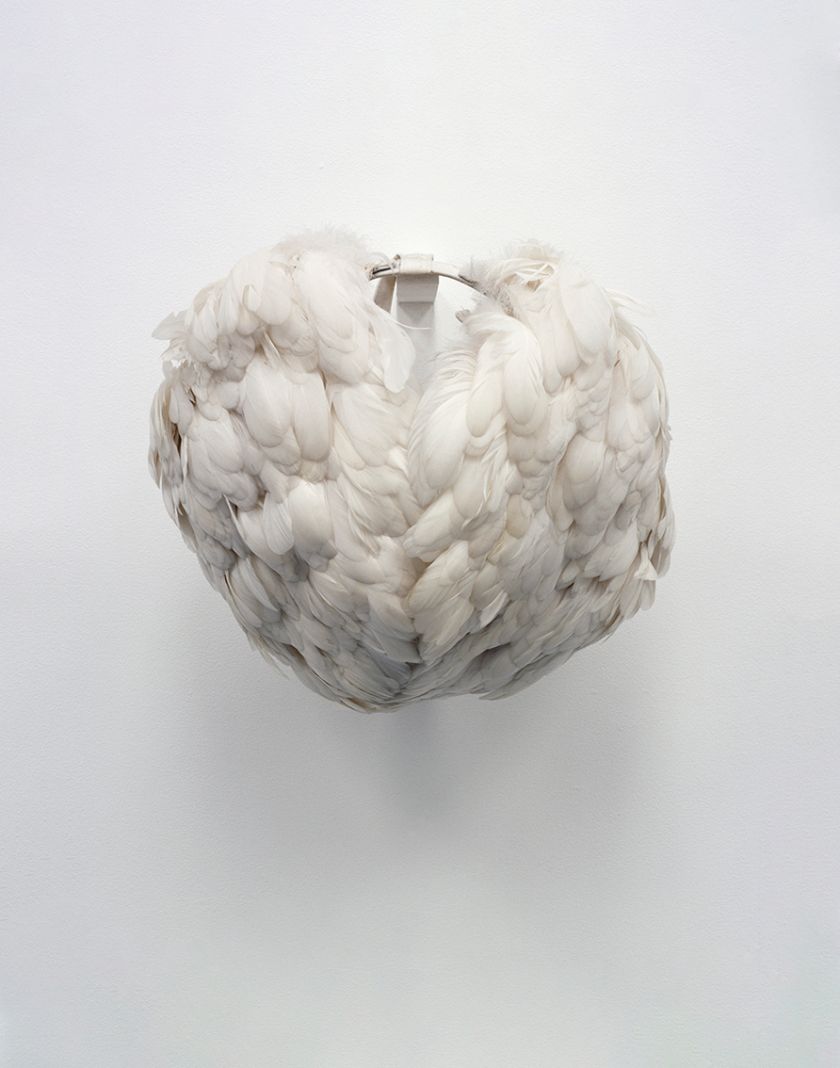 Rebecca Horn, Kakadu-Maske (Cockatoo Mask), 1973 · Weiße Kakadufedern, Metall, Stoff · Tate London, © Bildrecht Wien, 2021
'How the wind touches you. Crazy. It's just everywhere.
Feels nice. Naked is best. All is sensitive, from head to toe.'
Charlotte and Felix, two children, are playing out scenes between their dead parents on the beach, a ritual that the siblings have been practicing for years. It is high tide and the erotic tension between the parents is palpable. In her role as the mother, Charlotte is watching the children on the sandbank throwing jellyfish at each other and is deeply disturbed by their acts of animal abuse. While acting out fights between their parents, Charlotte and Felix repeatedly drift into comedy, which simultaneously expresses and transcends the grief of the siblings who have been left behind.
The audience will accompany Charlotte and Felix over the course of several decades, sharing in their memories all the way from childhood through to old age. On this journey, we are confronted with hungry babies in enormous parking lots, injured pole vaulters, talking squids, divers with a death wish, cows on their slaughter day, and ailing residents of an old people's home who are waiting for death. They are all driven by a deep longing to feel truly alive.
CHARLOTTE
Why do you think I hardly sleep at night? I do it on purpose. I force myself to stay awake so that I'm exhausted during the day. It's the only way people can stand me, otherwise I overwhelm them. I'm over that now. From now on I'm going to sleep through the night.
FELIX
How do I embrace a woman so that she'll think I'm the one?
Let me try it with you and you tell me what I'm doing wrong.
CHARLOTTE
Stop! First you look into her eyes.
Felix looks into Charlotte's eyes.
FELIX
Like this?
CHARLOTTE
Look properly. Don't just pretend. Look straight into my eyes, not to the side. I need to feel that you're looking at me. Just like Dad did with Mum.
Felix looks at Charlotte.
Thorsten Lensing has been working as a freelance director since the mid-1990s. Since then, he has produced and staged 15 plays. These were created as independent productions in co-production with institutions including the Schauspielhaus Zürich, the Schauspiel Stuttgart, the Schauspiel Frankfurt, the Berliner Festspiele, the Grand Théâtre de la Ville de Luxembourg, the Sophiensæle in Berlin, the Theater im Pumpenhaus in Münster, the Ruhrfestspiele Recklinghausen, Kampnagel Hamburg, deSingel in Antwerp and the Volksbühne Berlin. After his successful stage adaptations of Fyodor M. Dostoevsky's The Brothers Karamazov (Friedrich Luft Prize for the best Berlin production of the year, 2014) and David Foster Wallace's Infinite Jest (invited to the Berlin Theatertreffen in 2019), Thorsten Lensing has now written his first play for the theatre – or rather, for the actors Sebastian Blomberg, Anna Grisebach, André Jung, Ursina Lardi and Devid Striesow, some of whom he has been collaborating with for 20 years.
Thierry Mousset
Translation: Sebastian Smallshaw