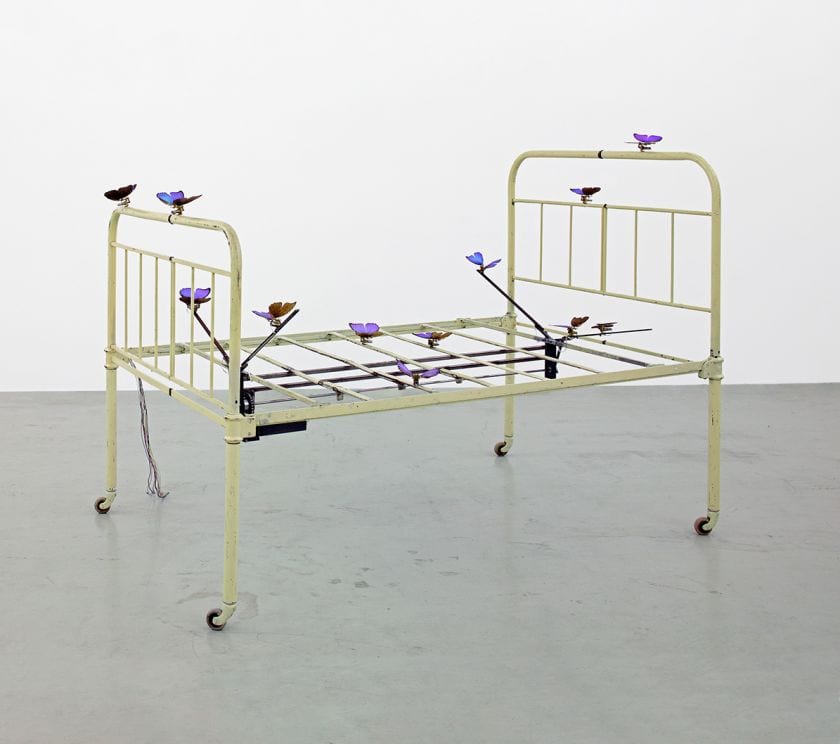 Rebecca Horn, The Lover's Bed, 1990 · Eisenbettgestell, Schmetterlingsflügel, Metallkonstruktionen, Motoren · Privatsammlung, Foto: Gunter Lepkowski, © Bildrecht Wien, 2021
'Don't bother me with your philosophy.
If I want any of that, I can read books.' —
'One never learns from books.'
When Arthur Schnitzler wrote his play Reigen (La Ronde), he wanted to focus on intimacy and desire, on hunters and the hunted, on making tangible the fluid space between two people when their chemistry is in flux. Schnitzler talks freely about sex, and everybody in his play does it at least once or twice, with each couple thus climbing (or falling down) the social ladder. Reigen is a libidinous carousel, a funfair for the power-hungry, a rollercoaster of feelings and emotions as catastrophe looms on the horizon. With Europe on the brink of World War I, Vienna dancessand flirts on the edge of the abyss.
There is always something secretive about sex. This unspoken, intensely lived secret was firmly on Arthur Schnitzler's radar when he wrote Reigen, which depicts encounters between ten archetypical figures from Viennese society and thereby creates a montage of sexual intimacy that transcends class, age and gender. This leads to covert bonds between individuals who are otherwise prevented from coming together by the norms of social order.
The year is 2022 and the focus now lies on the present moment. Where are we in terms of women's needs for emancipation, autonomy and equality? Can fragility and vulnerability be an integral part of masculinity? Do we welcome gender fluidity or do we resist the pronoun revolution? Who are we today in private and public settings and who are we in bed?
Ten internationally celebrated writers have been invited to follow and break Schnitzler's rules, with each overwriting a scene from the original. The result is the antithesis of a raging libido: there is hardly any sex, but instead a lot of discussion about what a relationship means, what partners expect from each other nowadays, and how to untangle the messy knots of our own projections, fears and insecurities. The texts are funny, touching and explosive, and have been written by a brilliant group of literary voices: Lydia Haider, Sofi Oksanen, Leïla Slimani, Sharon Dodua Otoo, Leif Randt, Mikhail Durnenkov, Hengameh Yaghoobifarah, Kata Wéber, Jonas Hassen Khemiri and Lukas Bärfuss.
This version of Reigen ties in with issues explored by gender and sexuality research, takes stock of taboos, and contemplates pornography as a pop-culture phenomenon and instrument of social analysis.
When it was finally premiered in 1920, 23 years after its completion, Schnitzler's play provoked a wave of outrage and was subsequently absent from the stage for many years due to a performance ban imposed by the author himself. The controversial issues and pressing social questions of our time will resonate through the parallels that Yana Ross's new production seeks with the original play.
Yana Ross earned her Master of Fine Arts at the Yale School of Drama. Her award-winning productions have been shown on major European stages in countries ranging from Iceland, Sweden and Norway to Poland and Lithuania. She has been part of the artistic team at the Schauspielhaus Zürich since 2019 and will also work at the Berliner Ensemble in future seasons. Her stagings have been presented at venues and festivals such as BAM (Brooklyn Academy of Music, New York), the Seoul Performing Arts Festival in South Korea, the Wuzhen Theatre Festival in China, the Tampere International Festival in Finland and the Wiener Festwochen.
Laura Paetau
Translation: Sebastian Smallshaw