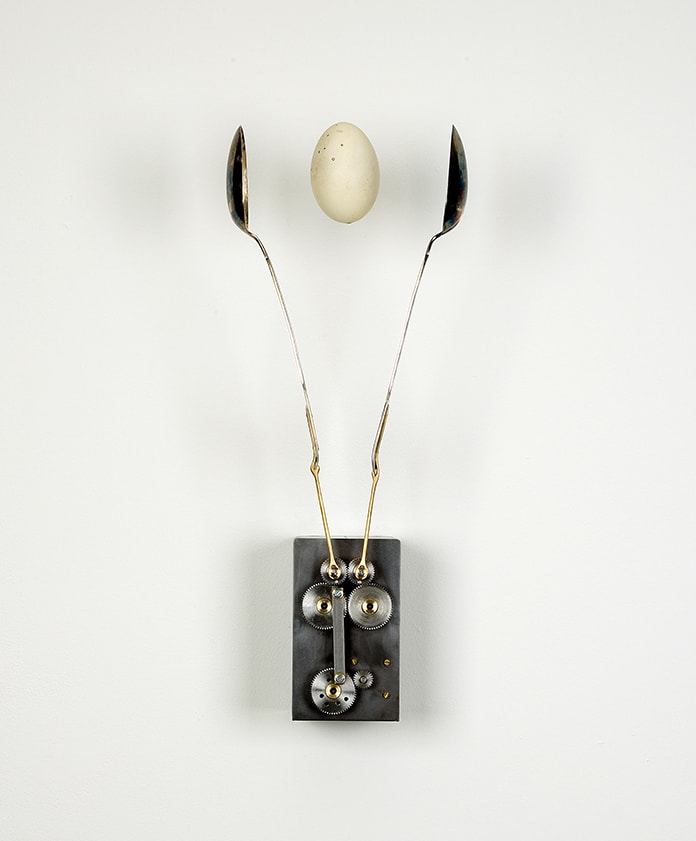 Rebecca Horn, Geburt der Umarmung, 2006 · Ei, Löffel, Zahnradkonstruktion · Privatbesitz, Foto: Heinz Hefele, © Bildrecht Wien, 2021
'A man rules in his home and in war, And in a foreign land he finds recourse; Possessions gladden him, victory crowns him, He lives assured of honourable death. But strict and narrow is a woman's fortune!'
Who is Iphigenia today? – A figure rooted in myth, who we encounter in numerous enigmatic representations from various centuries. Can she emancipate herself from the gaze of her authors?
For Euripides, writing in the 5th century BC, Iphigenia is the ideal sacrificial offering. Cruelly deceived by her father Agamemnon, she believed she was to be married to Achilles, but instead agrees to be sacrificed so that the Trojan War can go ahead. The goddess Artemis rescues her at the last minute and takes her far away from home, to the land of the Taurians, where she serves for many years as a priestess.
From there, Johann Wolfgang von Goethe sends Iphigenia – as a woman – to fight for the soul of humanity. In his 1779 play Iphigenie auf Tauris she wants to interrupt the never-ending cycle of violence. She succeeds in ending the barbaric custom of sacrificing strangers, but as soon as she refuses to marry King Thoas, the sacrifices – which she is obliged to perform – are reintroduced. The leverage she uses to save herself and her brother Orestes can be ascribed not only to the persuasive power of German idealism in Goethe's writing, but also to the feelings she arouses in Thoas. Another factor is undoubtedly her ability to reason with the love-struck ruler rather than deceiving him with a trick, as she does in Euripides' plot.
In Richard Wagner's 1847 revision of Christoph Willibald Gluck's opera Iphigénie en Aulide, Iphigenia is a completely blank slate for projections: a woman who saves her father and all the Greeks by offering herself as a sacrifice.
'Get to grips with your narratives', demands Joan of Arc in Ewelina Marciniak's production at the Schillertage 2021. For long enough as it is, female characters in literature have only loved and suffered. By splitting Iphigenia into a younger self and a retrospective older self, as well as by placing the story in a modern family setting, Marciniak aims again to take stock from within the present. Iphigenia has many obligations to fulfil as daughter, a sister and a priestess, and is subjected to numerous expectations by others. But what does she want? Caught between work and family, what does a woman sacrifice herself for in this day and age? And what about Clytemnestra, her mother? In the antique world, her story has a clear logic – Clytemnestra's murder of Iphigenia's father avenges the sacrifice of her daughter. But does she genuinely have no idea of how to protect herself and her daughter without one sacrifice inevitably leading to another?
Marciniak's work is detailed and thorough in its approach to canonical material, uncovering possibilities and injecting them into current discourses with playful relish. In 2015 the Polish director gained recognition as a principled theatre maker when she managed to prevent the indirect censorship by conservative nationalist forces of a Jelinek production she directed in her native country. In solidarity with fellow artists at home, she steadfastly continues to resist the reshaping of the Polish cultural landscape. Marciniak has also been working in German-language theatres for several years, most recently directing Die Jakobsbücher (The Books of Jacob) at the Thalia Theater. In this staging of the novel by Nobel Prize laureate Olga Tokarczuk, she provocatively confronted a right-wing understanding of history and politics decreed from above.
As an important innovative force in contemporary European theatre, she has been awarded numerous prizes for her visually powerful and sensual productions. In 2020 Marciniak received the FAUST Theatre Prize in the directing category for her adaptation of Der Boxer, based on Szczepan Twardoch's novel Król. For this co-production with the Salzburg Festival, she is working with the ensemble of the Thalia Theater for the third time.
Susanne Meister
Translation: Sebastian Smallshaw