10 Sep 2022
Recap: Salzburg Festival 2022
© SF / Marco Borrelli
Looking back at the festival summer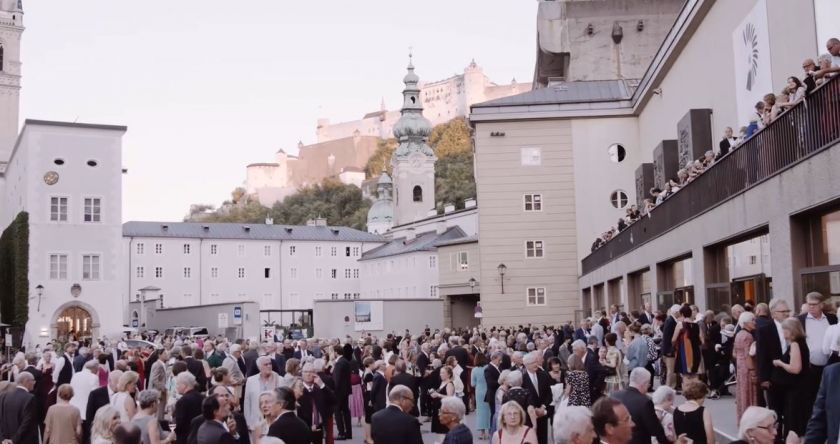 The most precious thing a festival can achieve is to enable people to come together and essential artistic encounters to happen – that has been the Salzburg Festival's goal since its very beginning.
More than one hundred years ago, when artists thought up this Festival, Europe lay in ruins. And today, we once again feel that we have come to the threshold of tremendous change. Then as now, the mission of a festival is to open new intellectual spaces for our audience, to ask the essential questions of our times, using the great works of art as our guides. The dramaturgy of the 2022 Salzburg Festival was inspired by Dante's Divina Commedia – and by numerous works created or first performed at the time of World War I. In Carl Orff's De temporum fine comoedia, a work for the end of the world of unprecedented intensity, and in Leoš Janáček's Káťa Kabanová or Marieluise Fleißer's Ingolstadt, we examined pieces which are not necessarily anchored in the broader repertoire, but revealed themselves as benchmarks for our time. Once again, this summer outstandingly demonstrated that art enables nuances to be noticed, that it is art which brings sophistication to our thinking," says Artistic Director Markus Hinterhäuser.
"The extraordinary success of this Festival summer reflects the importance of opera, theatre and concerts, even and especially in difficult times. Given the state of the world, we were not only allowed, but compelled to give the arts all the more room to unfold. This is reflected in the euphoric reactions of our audience. The fact that the percentage of occupied seats resembled the record-breaking year of 2019 demonstrates the unbroken desire people have for cultural live events. Guests from other continents, especially the USA, returned to the Festival this year in greater numbers. However, we are also increasing our efforts to attract new audience groups, both younger and older ones, to Salzburg. To this end, we are focusing more on online marketing and sales, but have also initiated the Festival mentorships and reserved a contingent of 6,000 discounted youth tickets explicitly for young festivalgoers," says Festival President Dr. Kristina Hammer.
"Due to extraordinary demand, including from non-European countries, the 2022 Festival season has seen a return to the record sales of the pre-pandemic year of 2019. Had not four performances been cancelled for health reasons, a new record would have been achieved. Thus, Salzburg once again sets the standard for other institutions' yearlong seasons beginning shortly: demand for the arts is unbroken! With 96% of all seats occupied, revenues increased by 16% compared to the previous year. This will help us overcome the great challenges facing us due to the extraordinary levels of inflation. We thank all artists, all staff and of course our wonderful audience for a Festival summer that was outstanding both in artistic and economic terms," says Executive Director Lukas Crepaz.
"With 14 magnificent performances of Jedermann, Lars Eidinger, his Paramour Verena Altenberger, Edith Clever as an unforgettable Death, the wonderful Mother Angela Winkler and an impressive cast bid goodbye to Cathedral Square. The subject of the victim, especially the female victim, was central to all genres, as was the tripartite nature of Dante's Divine Comedy, in which Paradise can only be attained by passing through Hell and reaching the Mountain of Redemption. These themes determined the figures we presented in this year's drama productions. With enormous stage presence, our performers illuminated these constellations in very different, powerful theatrical forms staged by directors commanding strong, idiosyncratic idioms, many shown in Salzburg for the first time. In our complex world situation, there are no easy answers to the many pressing questions we ask on stage, to which the audience dedicated itself together with our artists with impressive intensity," says Bettina Hering, Director of Drama.
"When we conceived the programme for 2022, we had no idea that it would acquire such horrifying topicality when Russia unleashed its war of aggression against Ukraine. Victims portrayed in sound were the focus of the Ouverture spirituelle: commemorating the victims of one of the most horrific massacres of the Shoah in Shostakovich's Symphony No. 13; the painful memories of crimes against humanity in Nono's works; remembering the genocide against the Armenian people in Mansurian's Requiem. The piano piece Guernica by Paul Dessau reminded us of the city destroyed in the Spanish Civil War and the terror war inflicts upon defenceless civilians … In their works, composers lamented the victims of totalitarian regimes, raging wars of destruction, political, economic and social rifts – as we lament them today, in the middle of Europe. Unexpected juxtapositions of Early and New Music, of familiar works and pieces meriting discovery, in unusual constellations marked the entire concert programme, once again enabling us to listen differently, in a new manner. Our thanks to the wonderful artists who challenged and inspired us with their unconventional perspectives on these works – and to our audience, which joined us once again on this musical journey of discovery – with curiosity and attention, while also taking the time to explore the sounds of Wolfgang Rihm and Béla Bartók," says Florian Wiegand, Director of Concerts and Media.