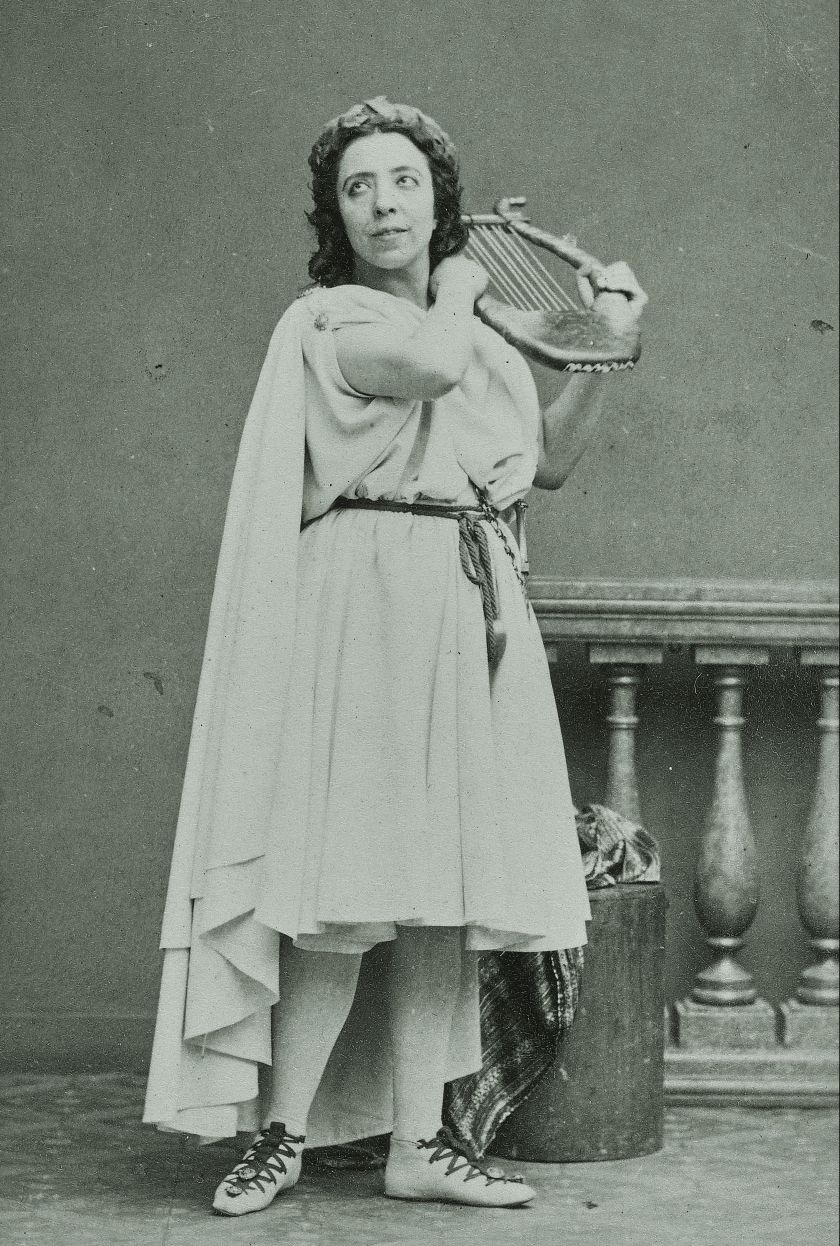 André Adolphe-Eugène Disdéri, Pauline Viardot, 1862, Albumindruck. The J. Paul Getty Museum, Los Angeles.
Der Erfolg des Orphée währt fort. Es ist himmlisch schön, ich habe schon mehr als 20 Mal geweint. Mme Viardot ist von idealer Schönheit in dieser Rolle.

Hector Berlioz

Mein Kostüm wurde sehr schön gefunden — weiße Tunika bis zu den Knien. Weißer Mantel, an den Schultern zurückgehalten wie bei Apoll. Langes lockiges Haar mit Lorbeerkranz. Eine goldene Kette, um das Schwert zu halten, dessen Scheide rot ist. Eine rote Kordel als Gürtel — rot geschnürte weiße Schaftstiefel.

Pauline Viardot an Julius Rietz, 1859
In 1859, a year after Jacques Offenbach's success with his opéra bouffon Orphée aux enfers, the tale of the divinely inspired bard Orpheus reconquered Paris, this time in its original tragic guise. Drawing on Gluck's Orfeo ed Euridice (1762) and Orphée et Eurydice (1774), Hector Berlioz and Pauline Viardot prepared a hybrid version tailored to suit Viardot's voice and dramatic gifts and at the same time focussing on the figure of Orpheus.
The production ran for 138 performances, not only allowing Viardot to triumph as the first female Orpheus in France but also ushering in a veritable Gluck renaissance. 'It was a tremendous spectacle, a celebration such as I've never seen in Paris', Viardot wrote to her close friend Julius Rietz after the opening night. 'The role of Orpheus suits me, it's as if it was written for me.' It is clear from letters of the period that with her portrayal of 'the most dreadful emotional anguish' she moved her audiences to tears: 'It's divinely beautiful', wrote Berlioz, 'I've already cried more than 20 times.'
In his stage version, John Neumeier, the Artistic Director and Chief Choreographer of the Hamburg Ballet, relocates the mythological action to today's world of ballet.