16 May 2023
Salzburg Festival Whitsun 2023
All Opera Productions at Whitsun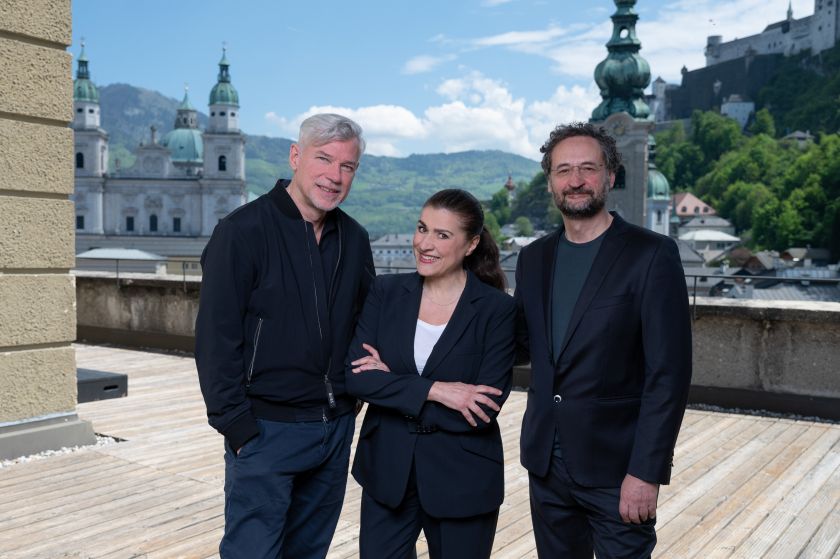 In the role of Orfeo, Cecilia Bartoli finds herself at the centre of the new production of Gluck's famous reform opera. Christof Loy's staging premieres during this year's Whitsun Festival, which is dedicated to exploring the myth of Orpheus in four very different projects. In this context, Cecilia Bartoli also appears as Euridice.
Cecilia Bartoli has chosen the fundamental importance of the Orpheus myth for European opera history as the theme of this year's Whitsun Festival. The programme spans almost two centuries, from the initial operatic spark lit by Claudio Monteverdi in 1607 to Joseph Haydn's unconventional interpretation in 1791. With Gluck's Orfeo ed Euridice, a work takes centre stage that is also deeply rooted in the Salzburg Festival's history: Bruno Walter first performed it here in 1931, inviting the legendary Margarete Wallmann and her dance company to Salzburg to enhance the stage action.
For his staging, Christof Loy has also invited his own dancers. He has recently begun implementing his notions of dance theatre, harboured since his student days at the Folkwang School in Essen, in practice, together with a select group of dancers. "I chose people who are able to improvise something based on my ideas, something I can then shape and sculpt," he describes his method. He is also looking forward to reencountering Cecilia Bartoli, with whom he collaborated in 2017 on a memorable production of Handel's Ariodante. His concept for Orfeo is tailored entirely to her singing: "The central element is the power to move people through song."
A Prometheus of Music
Together with the conductor Gianluca Capuano, they chose the rarely-performed "Parma version", created by Gluck in 1769 for the occasion of the wedding of Archduchess Maria Amalia of Austria and Ferdinand I, Duke of Parma and of the House of Bourbon. This "azione teatrale" in seven scenes differs from the three-act Viennese version first performed in 1762 mainly in that the title role was transposed from the contralto to the soprano range. "This makes the figure even more of a wanderer between worlds," says Christof Loy. "To me, Orfeo is a Prometheus of music. He believes he can win back Euridice by means of his art. The way in which the artist is condemned to failure is the central theme here for me." The lieto fine, or happy end, which Gluck and his librettist Calzabigi envisioned cannot happen, for it owes everything to the power of Amor – whose powers Loy has severely curtailed: "Ultimately, everything boils down to the fact that after experiencing death, it is impossible to continue what went before."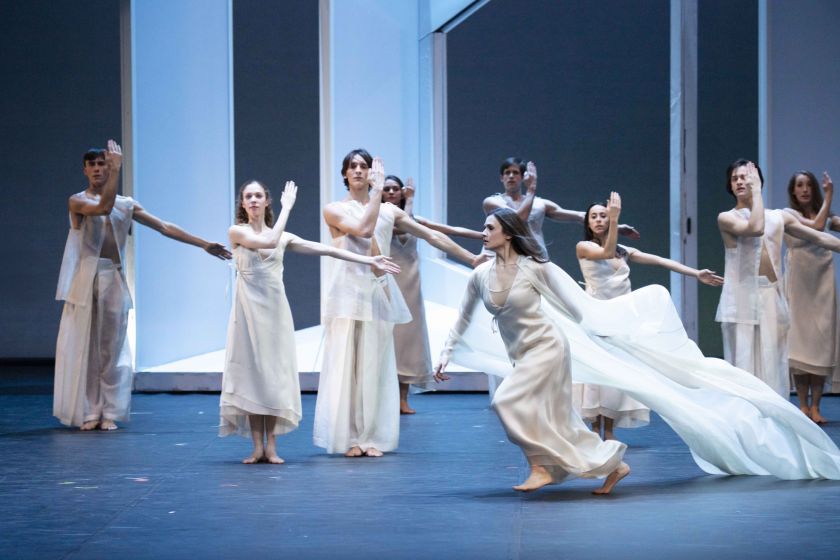 Empowered by Love
The choreographer John Neumeier has developed another perspective. His ballet opera Orphée et Eurydice, in which the two main roles are portrayed by a singer and a dancer each, is based on the Paris version of 1774. Here, Gluck rewrote the castrato role for a tenor and added more dance scenes, accommodating Paris tastes. The creation for the Hamburg Ballet is Neumeier's third exploration of Gluck's setting of the tale, which he finds ever-fascinating because here, "a mythical subject is filled with emotions in a very direct, realistic manner". In his reading, Orphée is a choreographer working on a production with his wife Eurydice. When she leaves a rehearsal after an altercation, she is killed in a car accident. The happy end is fulfilled in the realm of artistic vision: Eurydice remains alive within Orphée's creativity, driven by the inspiring power of love: "To me, Amor is Orphée's assistant."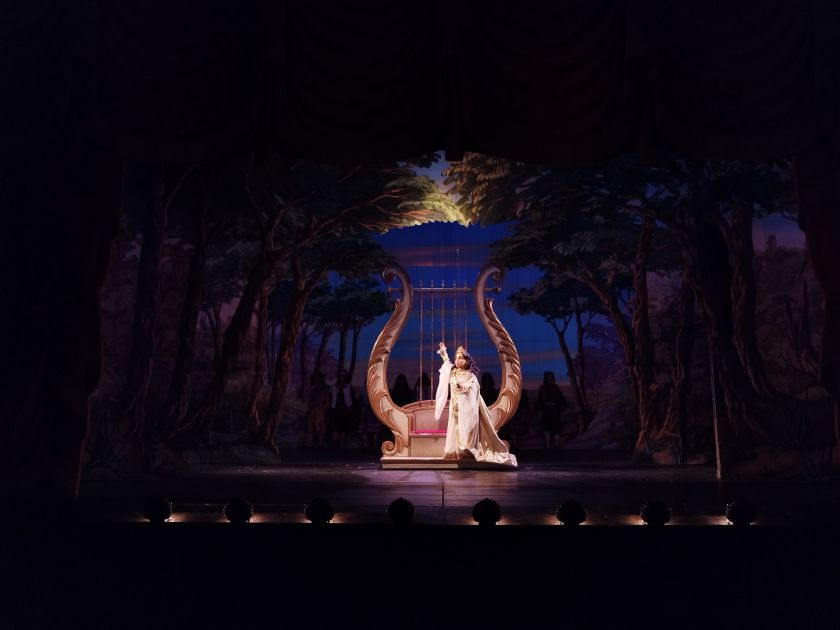 Monteverdi and the Magic of Marionettes
The Orpheus figure Claudio Monteverdi created in 1607 for the first-ever veritable musical drama also has an "assistant": here, it is Apollo who raptures the desperate artist up to Mount Olympus once he has returned from Hades. This can hardly be called a happy end, for the musical development of the favola in musica turns toward the tragic with inevitable consequence. The precision in which Monteverdi interweaves word and sound in L'Orfeo, merging drama and music to evocative effect, seems predestined for a transposition into a stage medium in which reduction and symbolism are essential: "Marionettes make human states of mind visible in an incomparable way," say Franco Citterio and Giovanni Schiavolin of the Milan-based company Carlo Colla & Figli, which looks back upon 200 years of tradition. Through its very own means, it has explored large swathes of the popular opera repertoire – and now returns to the genre's origins with L'Orfeo.
The Myth Illuminated by Enlightenment
The fact that Joseph Haydn made ground-breaking contributions to opera is still almost unknown. Therefore, Cecilia Bartoli is particularly keen to present his version of the Orpheus tale as well. In comparison to Gluck, it is "quite different in nature", as Haydn himself put it in a letter: a late masterwork, composed in London in 1791, it was only premiered in Florence 160 years later. The librettist Badini did not only add a comprehensive "earthly" action; rather, the myth itself is subjected to an examination inspired by Enlightenment, as the title itself indicates: L'anima del filosofo points to the figure of Genio, for whom Haydn wrote only a single coloratura aria – but one that is entirely breath-taking. As Orfeo's companion on his way into the underworld, Genio embodies the voice of reason and philosophical serenity, exhorting Orfeo to be steadfast and curb his feelings. Thus, the reencounter between the lovers lacks some of its customary expressivity. Orfeo arrives in Hades quite unmolested by furies and shadows, and he is greeted there by Euridice with sweet, tender notes – Haydn even puts Gluck's famous "che farò" motif into her mouth. The tragic consequences, however, are unavoidable even here: Orfeo loses Euridice a second time, and is himself poisoned by the bacchantes. Incidentally, Cecilia Bartoli already embodied this Euridice in 1995, in a staged production conducted by Nikolaus Harnoncourt at the Wiener Festwochen. For the concert performance at the Salzburg Whitsun Festival, she has assembled such illustrious colleagues as Rolando Villazón and Thomas Hampson, alongside the young Mélissa Petit in the role of Genio.
Monika Mertl
This article was first published in the special Salzburg Festival section of the Salzburger Nachrichten.
Translation: Alexa Nieschlag