5 Apr 2023
Jedermann 2022 | Stream
First broadcast of Jederman 2022
In Michael Sturminger's 2022 production, Lars Eidinger and Verena Altenberger perform as Jedermann and Buhlschaft on the stage of the Cathedral Square. This highly celebrated version of the all-time classic, full of emotion and passion, now becomes available for you to watch at home.
Notice: There are no English subtitles available.
The first broadcast of Jedermann 2022 will be shown on Saturday, 8 April 2023, at 20:15 pm on 3sat.
In addition, a stream will be available online for 30 days. Click here.
Information on the production
The Play about the Death of the Rich Man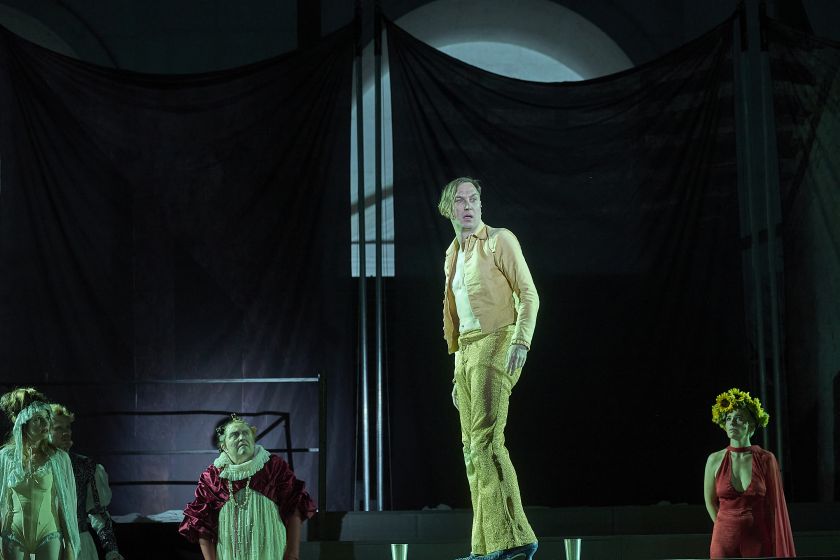 After more than 700 performances in a century, Jedermann is still a central component of the Salzburg Festival's DNA and keeps on prolonging its own history, a unique occurrence in German-language theatre.
The drama was conceived as a renewal of the medieval morality play, modelled on the English Everyman and further enriched by Hans Sachs's Hecastus and other sources. Its creator, Hofmannsthal, worked on his own rendering over a number of years in a Europe marked by escalating conflicts. He always had the prospect in mind that Max Reinhardt would realize the work. – 'Its actual core kept revealing itself ever more clearly as a human absolute, not affiliated with any particular time, not even indissolubly connected to Christian dogma; it is more that man's unconditional yearning towards something higher, towards the very highest, must play a vitally facilitating part when all earthly bonds of loyalty and ownership prove illusory and transitory, which is portrayed here in allegorical-dramatic form: and what is there that could be more important for us?' This distillation of the subject matter to its quintessence – with neither temporal nor doctrinal ties, as Hofmannsthal here describes his process – constitutes the ideological energy centre of Jedermann.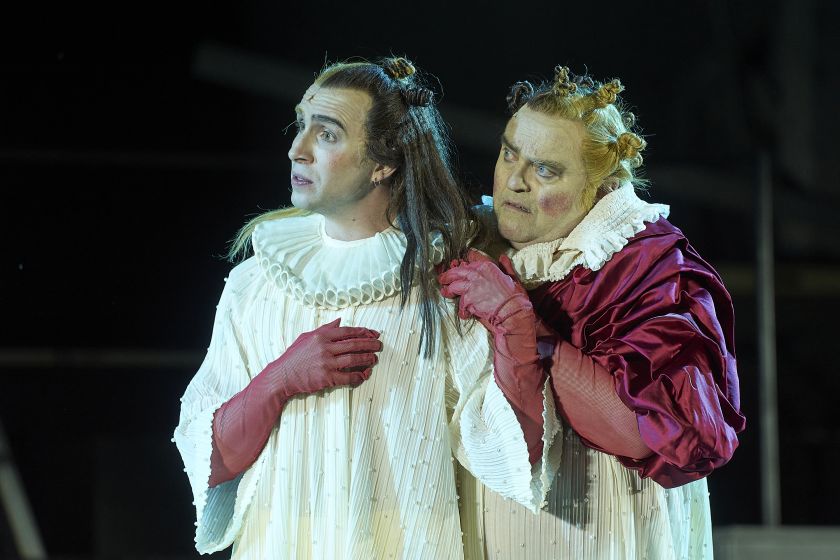 'When developing our version of the text, I stuck closely to what Hofmannsthal wrote; in collaboration with the ensemble, I'm not looking to capture the memorable, familiar parts of the play, but rather its difficulties, strangeness, hidden depths, otherness. This is also present in its use of language. In the initial preparations for the production, we decided against pinning the material down to a specific period and realistic setting. We took the bold approach of creating an open, ambiguous world that exists out of time. This takes form by way of redolent, sometimes dreamily enigmatic images that cast aside some of the conventional ways we are used to seeing Jedermann. Our process in this production is one of flux: we show Jedermann as a work in progress, a site permanently under construction, a striking mixture of history and modernity.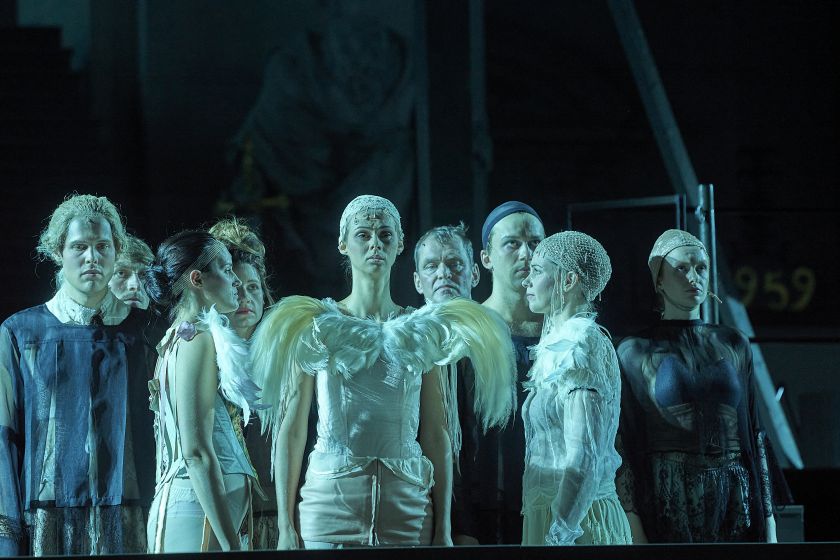 Instead of a present-day capitalist who visibly embodies structural brutality, we see Jedermann as a Renaissance prince who takes the principle of "might is right" quite literally, who has no secure line of defence in this premise, who constantly questions himself and his actions, and whose undoing is therefore writ large from the beginning. This is a person who is curious to see how far he can go, who wants to push every idea to the extreme. He isn't torn from a cocoon of security, but rather from a life successfully lived on the edge. When Lars Eidinger plays him, I see a Jedermann who risks everything, reacts to everything, has always done well out of it, and believes that it will go on like this forever. He always has an ace up his sleeve – like a Shakespearean king, or a kid in a superhero costume, who keeps getting into sticky situations in order to triumphantly fight his way out of them. But now his time has run out; his journey is over.
After being summoned by Death, Jedermann sees his life nightmarishly mirrored in the characters he meets. No longer able to rely on his usual strategies, he increasingly realizes that he is out of moves and digging himself ever deeper. In a physically brutal reckoning, he comes to the final realization: don't fight it anymore, accept this, your death.'
Michael Sturminger
Translation: Sebastian Smallshaw