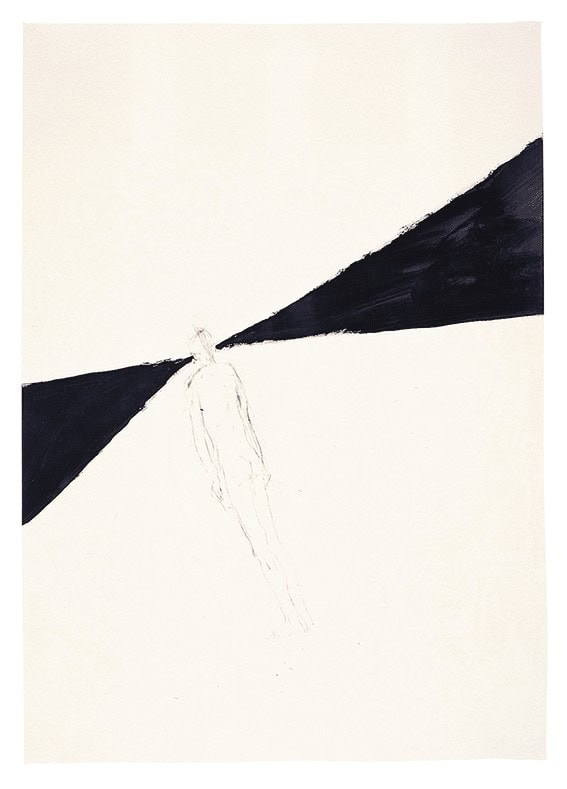 Antony Gormley, Untitled, 1983, black pigment, linseed oil and charcoal on paper, 84 x 60 cm, © the artist
'Behind the music there is other music, and behind that more still — a kind of infinite perspective, as if one saw oneself in two mirrors, with the neverending reflection that this produces.' This is how György Ligeti described the spatial effect of his works. With their complex structures of labyrinths, spirals and networks, his 'sound-colour compositions' fluctuate between light and dark. 'In other words', he said about one of his most famous pieces, Lontano, 'certain harmonic formations grow into others, rather like what happens when you step from sharp sunlight into a dark room and gradually notice colours and outlines becoming more and more perceptible.' The brilliant generalist of 20th-century music saw it as his task to shed new light on the avant-garde and its goals, to rethink and rediscover the overall concept of music from the ground up, and thus to realize previously unimagined freedom for it.
In a way, he also translated the disparate strands of his cultural background into sound: born in 1923 in the central Transylvanian town of Dicsőszentmárton (known as Târnăveni in Romanian and Sankt Martin in German), György Ligeti identified as Hungarian — and as persecuted by both Nazism and Soviet communism. Having fled to the West during the Hungarian Uprising of 1956, he was seen as 'an outsider, a newcomer, an émigré […] as self-assured as he was eager to explore and take risks', who would 'leave the avant-garde establishment in a state of wonder' (Monika Lichtenfeld).
From the early reimagining of music in the Musica ricercata to the phenomenal late achievement of the highly virtuosic Études for piano, from the jovial Bagatelles for wind quintet to the captivating, arbitrary irony of the Poème Symphonique, from folk music as a daring source of early inspiration to the groundbreaking soundscapes of the 1960s, from the late concertos and chamber music to the whimsical wit and caprices of the 'anti-anti-opera' Le Grand Macabre: György Ligeti is always different and yet always remains the same.
Walter Weidringer
Translation: Sebastian Smallshaw