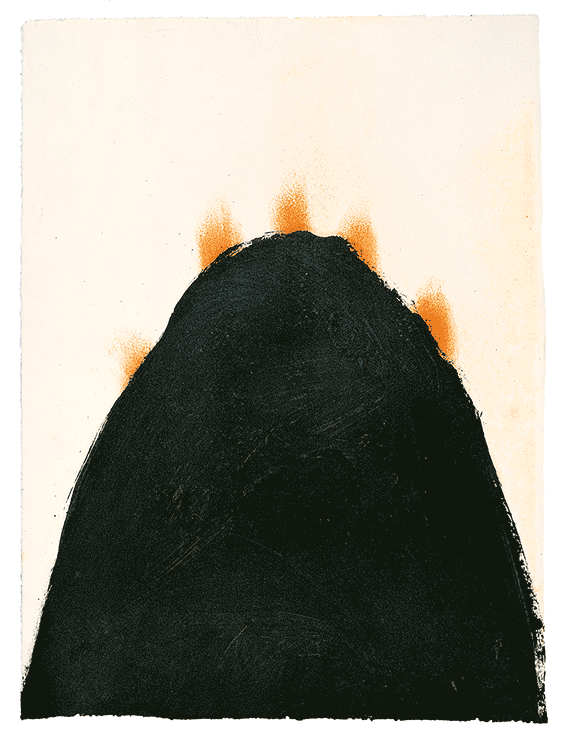 Antony Gormley, Matter, 1987, black pigment, linseed oil and earth on paper, 38 × 28 cm, © the artist
'Night of rapture and boundless ecstasy!'
By the time Hector Berlioz came to compose Les Troyens, he had already suffered various personal tragedies and artistic failures. Nonetheless, he held fast to his long-cherished desire to create an opera based on themes from Virgil's epic poem the Aeneid, writing the libretto himself and completing the score between 1856 and 1858. The work grew to such dimensions, with such great instrumental and vocal challenges, that the five acts were divided up into two parts. Although Berlioz only saw the premiere of the second part — with considerable cuts — at the small Théâtre-Lyrique in Paris in 1863, he was convinced that with Les Troyens he had composed his most important work.
The two parts of his monumental opera, which both make extensive use of the chorus, display clear parallels in their dramatic structure. United by the overall title of Les Troyens, La Prise de Troie and Les Troyens à Carthage deal with two mythological events linked by the figure of Énée, who fled Troy and was later stranded in Carthage. However, the focus of each part is not on the war hero but rather on a strong female figure: respectively the prophetess Cassandre and Didon, queen of Carthage, both of whom ultimately decide that death is their only option.
In Act II, as urged by the shade of Hector — 'Fuis, fils de Vénus!' — Énée escapes the sacking of Troy, leaves his homeland and sets off with his fellowwarriors towards Italy. He is following the prophetic mission to found a new state there, but first fetches up in Didon's kingdom. Here the action seems to take a different turn when at her side he defeats the hostile Numidians and a love affair develops between the two of them, culminating in the tender duet 'Nuit d'ivresse et d'extase infinie'. But ultimately a ghostly apparition warns Énée once again of his duty, and he leaves behind a broken-hearted Didon and a people destined for destruction.
More Information & Downloads