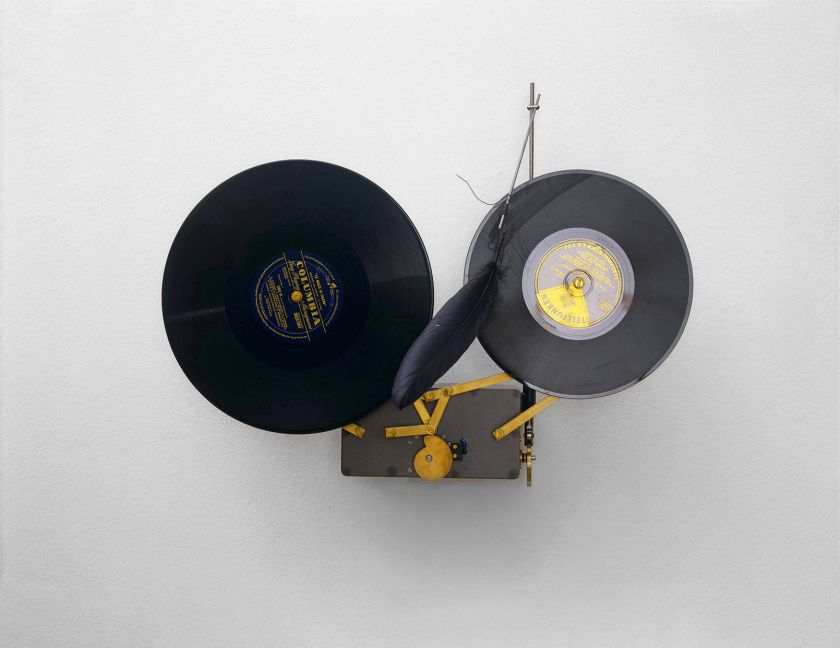 Rebecca Horn, Schwarze Arie, 1991 · Rabenfeder, Schallplatten, Motor, elektronisches Gerät · Sammlung Rebecca Horn, Foto: Heinz Hefele, © Bildrecht Wien, 2021
When two great artists from completely different musical backgrounds asked Béla Bartók (1881–1945) to write them a piece, the composer even gave it a title that alluded to the stylistic frictions in his music. The classical violinist Joseph Szigeti and the jazz clarinettist Benny Goodman wanted a trio with piano: a vibrant, rousing, kaleidoscopic piece, ideally in two individually performable, rhapsodic parts. Contrasts was written in 1938, but after the premiere Bartók augmented the two commissioned movements with a mysterious middle movement titled 'Pihenő' (Relaxation), which is characterized by contrapuntal contrary motion, free tonality, pathos and charmingly mellow sounds. Contrasts: between the composer once branded as a 'young barbarian' and the pain-streaked detachment of his later life in exile; between the bourgeois concert hall and the diverse folk music of his homeland, which Bartók meticulously studied; between sophisticated traditional compositional techniques and unadorned, virtually uninhibited expression; between the emancipation of rhythm in newly discovered percussion instruments and an inherent mood that also embraces transmuted natural sounds. He imbued all of this with the same depth heard in Pihenő: a wistful melancholy and strength of feeling that is immediately conveyed to the listener.
In conjunction with the new production of his opera Bluebeard's Castle, the concert series 'Time with Bartók' explores the Hungarian composer's inimitable path from late romanticism to a modernism that was full of boldly inventive thinking and at the same time proudly connected to the musical traditions of the Balkan peoples. The cycle of his six string quartets, in particular, packs an electrifying punch with its depiction of both relentlessly conflicting forces and overriding cohesion. This is joined by milestones such as the Sonata for Two Pianos and Percussion, the Violin Sonata No. 2, selected piano works and folk-inspired music – and of course, Contrasts.
Walter Weidringer
Translation: Sebastian Smallshaw