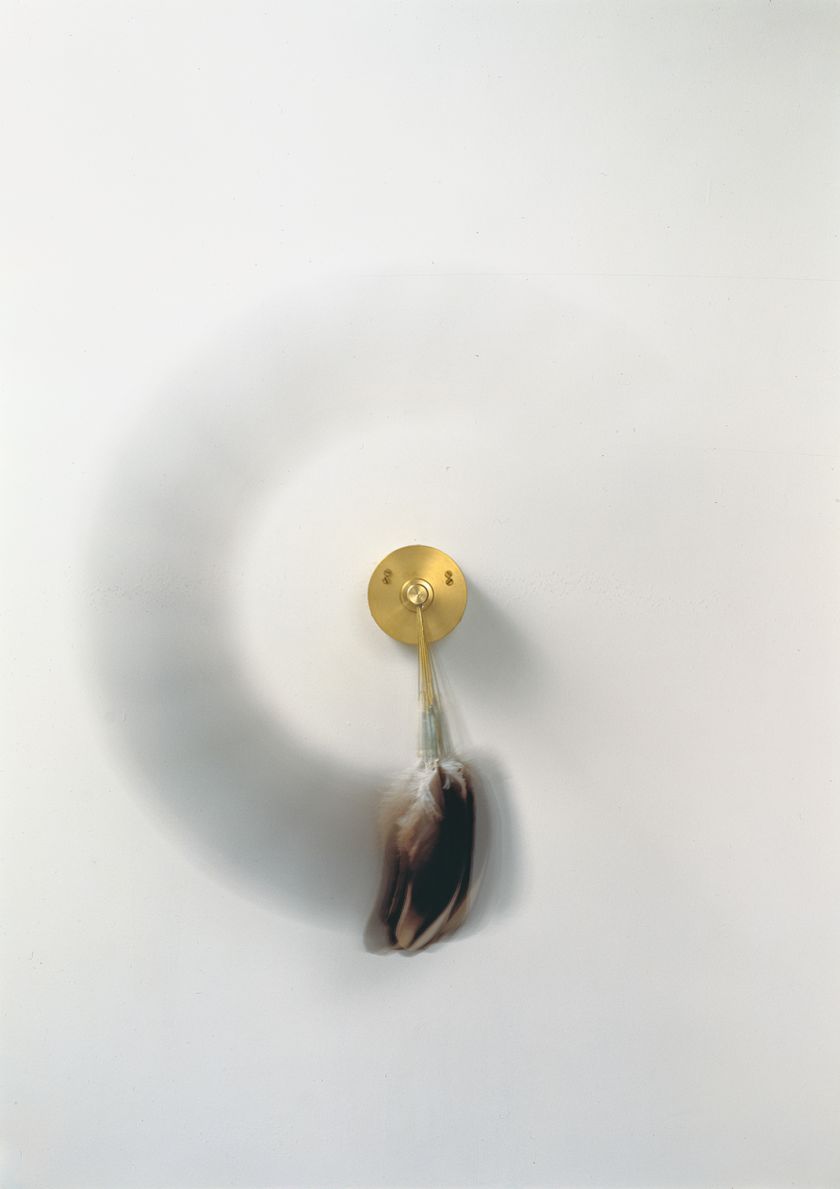 Rebecca Horn, Kleines Federrad, 1982 · Federn des Silberkranichs, Aluminiumkonstruktion, Motor · Privatbesitz, Foto: Archiv Rebecca Horn, © Bildrecht Wien, 2021
'We must be shaking with energy or we must be speechless with emptiness, then we are composers', wrote the young Wolfgang Rihm with forceful conviction. Born in Karlsruhe in 1952, the student of Wolfgang Fortner, Karlheinz Stockhausen and Klaus Huber became the most high-profile representative of a young generation that rebelled against the precepts of the serial and post-serial school in the early 1970s: 'For me, art is another form of breathing, of devotion, of shock and open arms and beauty and dread, of the sublime and the base in an indissoluble synthesis.' Rihm, who is as eloquent as he is proactive, subsequently restored meaning to discredited categories such as 'feeling' and 'inwardness' – with an intuitively emotional musical language and particular regard to the early history of music. Needless to say, he invariably dismissed labels such as 'new music of expression' and 'neo-romanticism'.
In contrast to Pierre Boulez, whose works progressed through several revisions in pursuit of further refinement, Rihm's earlier works and fragments continue to generate new, equally valid 'states', in which older content is partially 'overwritten' and interwoven into new expressive contexts.
Rihm's standing and the appeal of his work have long been reflected at the Salzburg Festival. He was the subject of a composer focus in 2000 and again in 2010 with the 'Continent Rihm' series and the world premiere of his opera fantasy Dionysos. He was a featured composer in the 'Salzburg contemporary' cycle in 2014, while a new staging of his allegorical music theatre work Die Eroberung von Mexico (The Conquest of Mexico) was presented in 2015. In 2021 he opened the 'Speeches about the century' series.
For his 70th birthday, the Salzburg Festival is paying tribute to Wolfgang Rihm – with the passion motets and instrumental interludes of Vigilia, the ten pieces of the Chiffre cycle and their unfettered exploration of sonic space, as well as the confessional chamber opera Jakob Lenz.
Walter Weidringer
Translation: Sebastian Smallshaw