'I know that I am guilty of abandoning my kin; but I cannot bring myself, o gods, to hate that face.'
Although Mozart did not choose the topic of Idomeneo himself, he created a personal, visionary work, an unprecedented fusion of drama, poetry, dance and visual art, stunning orchestral richness and startling emotional impact. The 24-year-old had already met some of the key singers and orchestra players while staying in Mannheim and the wild, impetuous music was a deliberate and exhilarating challenge for the most progressive, avant-garde orchestra in Europe and the spectacularly equipped Munich Court Theatre. The premiere, just after Mozart's 25th birthday, served notice to the artistic and political establishments that a new voice and a new generation had arrived. But Mozart's ambitious Gesamtkunstwerk was in fact unrealizable at that premiere or indeed during Mozart's lifetime. Huge cuts had to be made, and to this day we can only try to imagine the true extent of the young Mozart's vision. His commitment to both high tragedy and classical style is held in fine tension with his Enlightenment belief in people and their ability to solve problems. The equality of all individuals, whether parents or children, kings or subjects, men or women, is boldly and clearly stated.
In 2017 Teodor Currentzis and Peter Sellars left a mark on the Salzburg Festival with their interpretation of Mozart's late opera seria, La clemenza di Tito, which highlighted its vision of a heartfelt path to democracy through restorative justice and reconciliation. This new production of Idomeneo sees the return of the powerful tenor Russell Thomas and the incomparable musicAeterna choir. Once again, the rage and desperation of refugees, violence, trauma, unfinished wars and now environmental degradation surge through the beautiful music.
Following the example laid down by Homer in the Iliad and the Odyssey, by Aeschylus in the Oresteia and by Sophocles in his Electra, Mozart uses Idomeneo to question the very foundations of patriarchy, to recognize that no war is over without a deep and difficult process of reconciliation and that human hatred, resentment and psychological damage need to be addressed, acknowledged and gradually healed. The image of the power-holding generation sacrificing future generations remains all too vivid in our time, and the ongoing intergenerational conflict is exemplified in the classic characters of Ilia, Elettra and Idamante. Idomeneo concludes with the non-violent overthrow of a warrior king who operates in paranoia and secrecy by a benevolent, liberating prince who operates through consensus and inclusion. Idomeneo could be considered an initiatory opera, foreshadowing the utopian Zauberflöte, as it traces the path of a young generation of men and women facing their own fears and public and personal trials to discover a deeper level of equilibrium and understanding that prepares them for leadership.
In this opera, the super-natural element is in fact the natural world: the god Neptune and the sea he embodies as an ancestral force for both healing and destruction inundates the human race with questions of moral reckoning. It is the angry oceans who respond to human violations of a larger, cosmic code. This overwhelming masterpiece by the impatient and supremely gifted young Mozart raises urgent questions related to climate change and its impact on oceans and populations: are we cutting off a future by being in denial about pollution and global warming? Is a younger generation being sacrificed by a previous generation which is refusing to deal with reality in the present tense? Is there a younger generation that is now ready for leadership?
Antonio Cuenca Ruiz
20. July 2019
TerraceTalk Idomeneo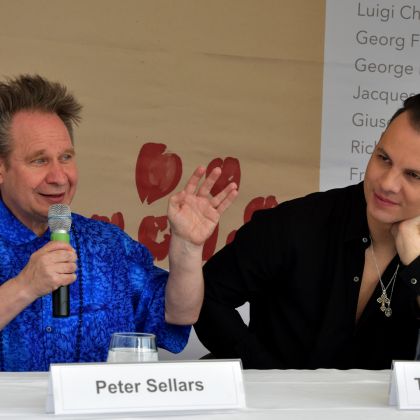 download mp3
TerraceTalk Idomeneo
Further Information & Downloads