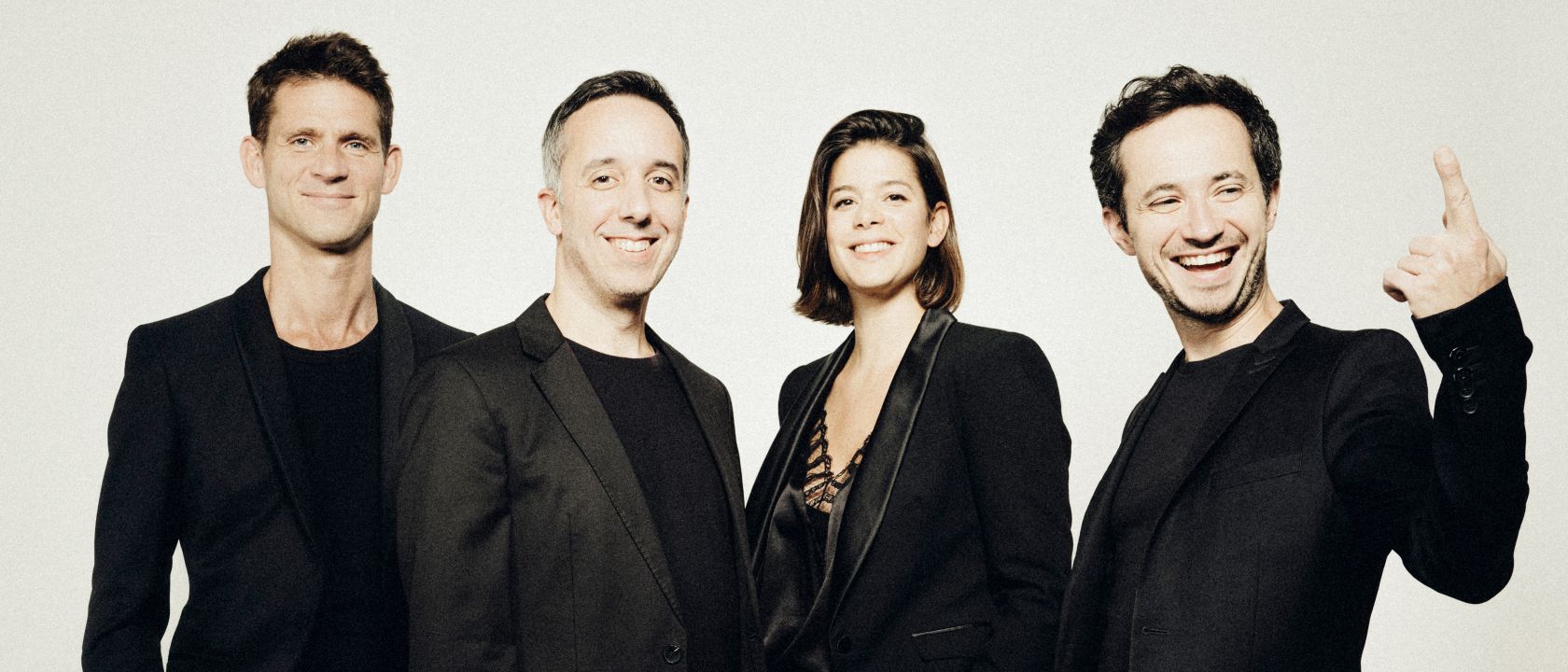 Current as of February 2023
'We need the inspiration from the audience', said Raphaël Merlin in an interview in Spring 2020: this was one of the central ideas of their Beethoven Around the World project. Between May 2019 and January 2020 the quartet recorded Beethoven's
16 string quartets in a worldwide project on six continents. With this complete recording, the four French musicians celebrated their 20th stage anniversary, which they then crowned with performances of the complete string quartet cycle in major European venues such as the Philharmonie de Paris and the Alte Oper Frankfurt. Invitations from Carnegie Hall in New York, the Verbier Festival and the Vienna Konzerthaus were also on the agenda. 
After studying with the Quatuor Ysaÿe in Paris and with Gábor Takács-Nagy, Eberhard Feltz and György Kurtág, the Quartet won the ARD Music Competition in 2004. This marked the beginning of Quatuor Ébène's international career, which has featured numerous other prizes and awards. These have included the Belmont Prize of the Forberg-Schneider Foundation (2005), an award from the Borletti-Buitoni Trust (2007), and in 2019 – the first ensemble to be so honoured – the Frankfurt Music Prize. 
The Quatuor Ébène's numerous recordings, which include works by Bartók, Beethoven, Debussy, Haydn, Fauré and the Mendelssohn siblings, have won numerous awards, such as the Gramophone, ECHO Klassik, BBC Music Magazine and Midem Classical Awards. Their 2010 album Fiction, featuring jazz arrangements, the crossover album Brazil (2014) and Eternal Stories (May 2017, with Michel Portal) demonstrate their unique position on the chamber music scene.  
In 2015 and 2016 the musicians of Quatuor Ébène dedicated themselves to song. They appeared on the album Green – Mélodies françaises sur des poèmes de Verlaine with Philippe Jaroussky (which won the 2016 BBC Music Magazine Award), and recorded a Schubert album with Matthias Goerne, of arrangements for string quartet, baritone and double bass by Raphaël Merlin, along with Schubert's String Quintet with Gautier Capuçon. 
In January 2021 the University of Music and Performing Arts in Munich commissioned the Quartet to set up a string quartet class as part of the newly founded Quatuor Ébène Academy. Since autumn 2020, Raphaël Merlin has been professor of chamber music at the University in Munich. 
After close to 21 years of constant touring, the Quartet took a ten-month sabbatical. They returned to the stage in October 2021 with concerts at the philharmonic halls of Luxembourg, Paris, Berlin and Cologne as well as at Carnegie Hall in New York, and the Vienna Konzerthaus. In the 2021/22 season Quatuor Ébène toured with their colleagues from the Belcea Quartet, performing the octets by Mendelssohn and Enescu. 
Pierre Colombet is playing two violins:
a 1717 Antonio Stradivari violin, the 'Piatti', kindly loaned by a generous sponsor through the Beares International Violin Society, and a 1736 Matteo Goffriller violin generously loaned by Gabriele Forberg-Schneider as well as a bow by Charles Tourte (Paris, 19th century) also loaned by Gabriele Forberg-Schneider. Gabriel Le Magadure is playing two violins: a Guarnerius Del Gesù violin loaned by the Beares International Violin Society, and a violin from around 1740 with a Guarneri label loaned by Gabriele Forberg-Schneider. He plays a bow by Dominique Peccatte (c.1845) loaned by Gabriele Forberg-Schneider. Marie Chilemme is playing two violas: a 1734 Stradivari, the 'Gibson', generously loaned by the Stradivari Foundation Habisreutinger, and a viola by Marcellus Hollmayr (Füssen, 1625) loaned by Gabriele Forberg-Schneider. Raphaël Merlin is playing two cellos: an instrument by Carlo Tononi (Venice, c.1720) loaned by the Beares International Violin Society, and an instrument by Andrea Guarneri (1666/1680) from Cremona, also generously loaned by Gabriele Forberg-Schneider.