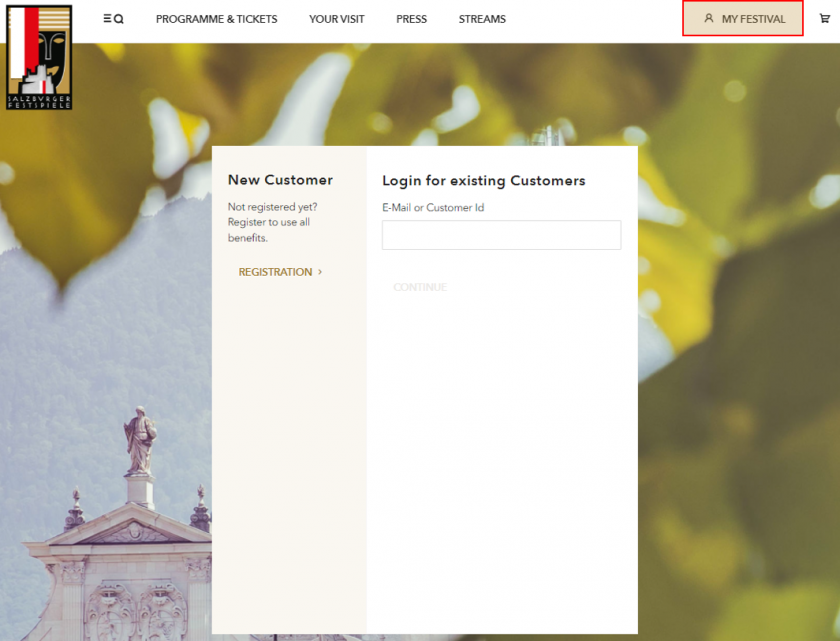 If you are already a customer, you automatically have an online account.

Please enter your e-mail address to which you have received your invoices so far and click on CONTINUE. Then enter your password and click LOGIN.

If you do not remember your password or do not have one, please enter your mail address and click on CONTINUE. Then click Forgot your password? and create a new password. To do this, please open the email sent to you and click on the link embedded in the word here to create a new password.

If you are a new customer, please click REGISTRATION and enter the required data.
On the home page at My Festival you will find a sidebar that allows you to navigate through the different sections.
In the OVERVIEW you will find your login data.
You can find paid tickets under MY TICKETS.
You can find more information in the instructions for e-tickets.
Under MY DETAILS you will find your registration data as well as your master data, which you can edit here. Also the registration for the newsletter can be found here.
At MY PAYMENT INFORMATION you can deposit your credit card and your bank account for possible return transfers.
Under MY MEMBERSHIPS you can check your current membership status or register for membership.
Further information on the various memberships can be found on the website of the Friends of the Salzburg Festival.
In MY ORDERS you will find your completed orders. You can edit these until 24 January. You can find more information on this in the instructions for online orders.
Under MY PURCHASES you will find your purchases as well as the invoices from the current season.
If you are registered as a member, you can add your name to the waiting list for sold-out performances under MY WAITING LIST.
Under MY TICKET COMMISSIONS you can see which tickets you have given to the ticket office for resale. Here you can also cancel the resale on commission at any time.
If you click on LOGOUT, you will log out of My Festival.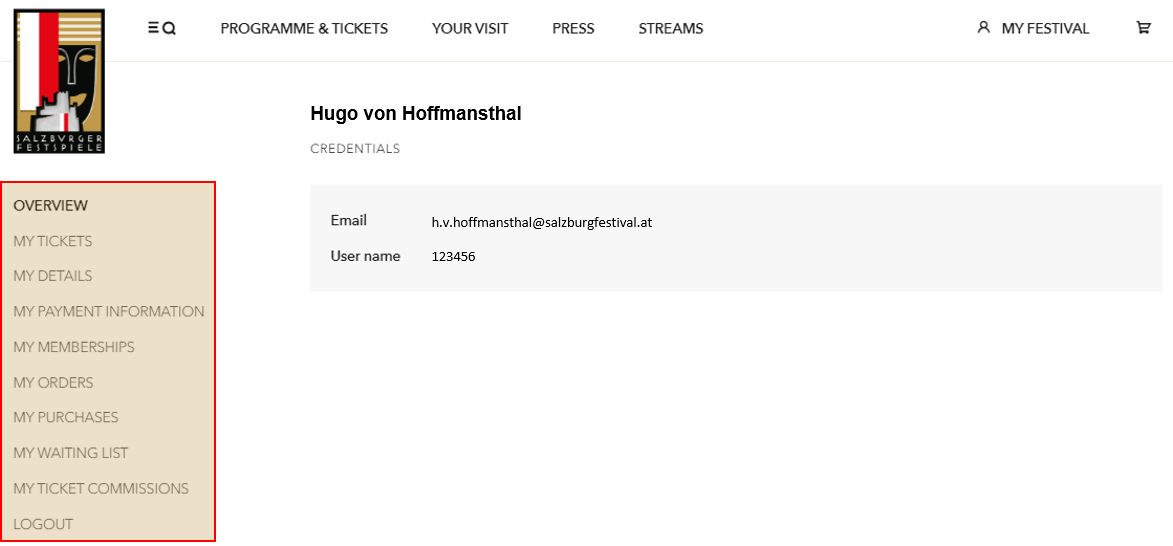 Here you will find instructions on how to order tickets for the Salzburg Festival 2023 directly on our homepage. Please note that orders are no guarantee for an actual ticket allocation.
Ticket orders will be collected until January 23, 2023 and then processed. These orders are binding as of the deadline. All orders arriving at the latest by the deadline will be handled equally, irrespective of when they arrive. As soon as your order has been processed, we will inform you about a possible allocation in the form of an invoice. You will receive notification of the extent to which your order could be processed as requested by the end of March 2023.
Orders received after the deadline will only be processed after all orders placed before the deadline have been filled.
Click on PROGRAMME & TICKETS and then on Summer 2023.
Choose a performance and click on ORDER.
A small window will then open where you can specify the desired number of tickets and category.
Click on ADD TO SHOPPING CART (see A) if you do not have any more specific wishes about your seat or if you would like to add all the performances to the shopping cart first and edit the details collectively at a later time.
Click on SHOW SEATING PLAN (see B) to enter more specific details about your ticket preferences.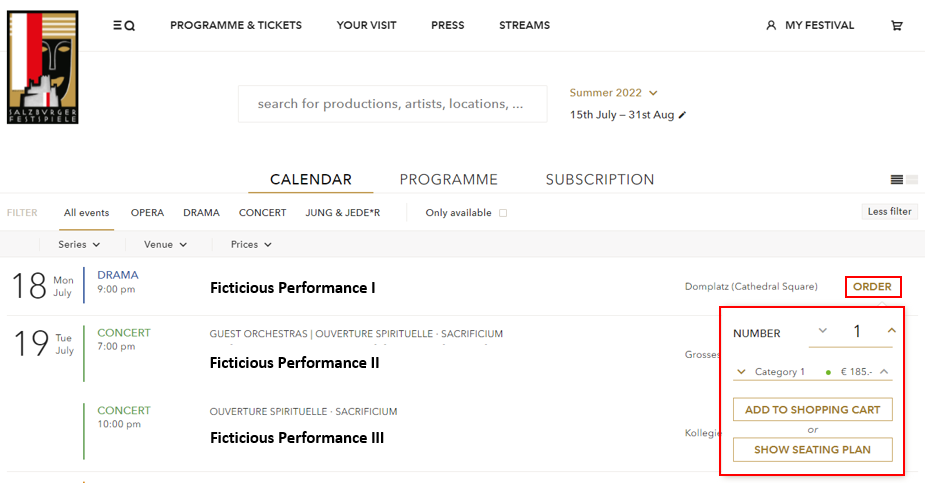 Once you have clicked on ADD TO SHOPPING CART, you can either add more items to the basket or click on SHOW ORDER or FINISH ORDER in the small window that opens.

Click on SHOW ORDER to view the performances in your shopping cart and edit them if necessary by clicking on Edit. Click on TO CHECKOUT if you want to complete the order.

If you click on FINISH ORDER, you will land in the Check Out area of the shopping cart and can complete the order. Of course, you can also edit your order here.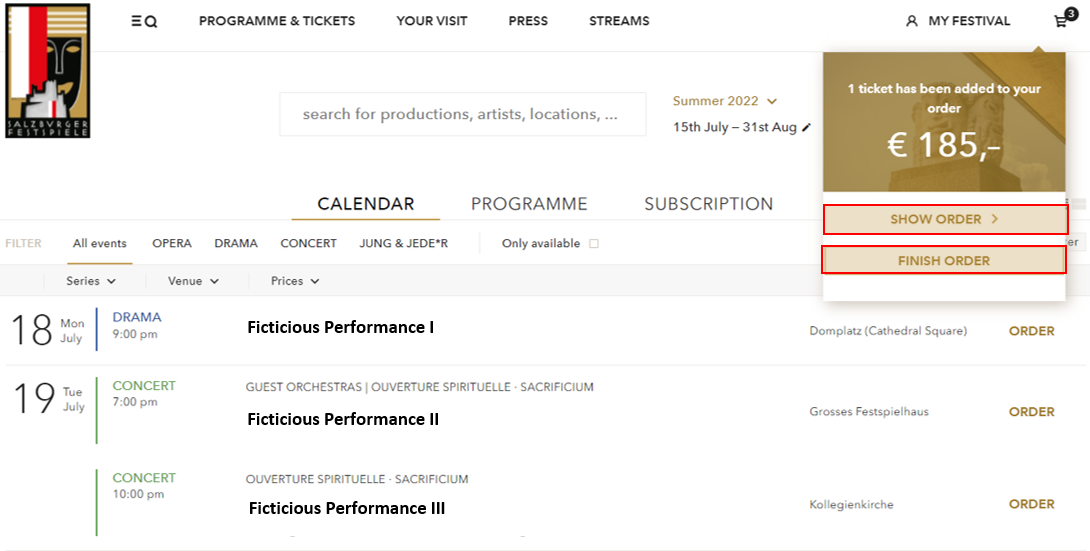 If you have clicked on SHOW SEATING PLAN you can now enter more details about your ticket wishes.

You can specify your ticket wishes precisely via the number and category.

Optionally, desired sectors or corner seats can also be specified.

If performances offer youth prices, these can be selected here.

Click on ADD TO SHOPPING CART.
Further specification options then appear below, where you can optionally also specify alternative categories and alternative dates.

If you would like to order more performances, click on CONTINUE ORDERING. To add more performances, repeat the previous steps.

If you only want tickets for this one performance, click on COMPLETE ORDER.

If you do not wish to place an order yet, but would like to remember one or more performances for later, please click on REMEMBER.
A tab will then open. Click on VIEW WISHLIST to see the preregistered performances.
You are now in the shopping cart. If applicable, you will see performances you have already ordered above your list of remembered performances with the title WISHLIST.
If you would like to order a bookmarked performance, select a date and click on ORDER. Now you again have the choice between ADD TO SHOPPING CART and SHOW SEATING PLAN.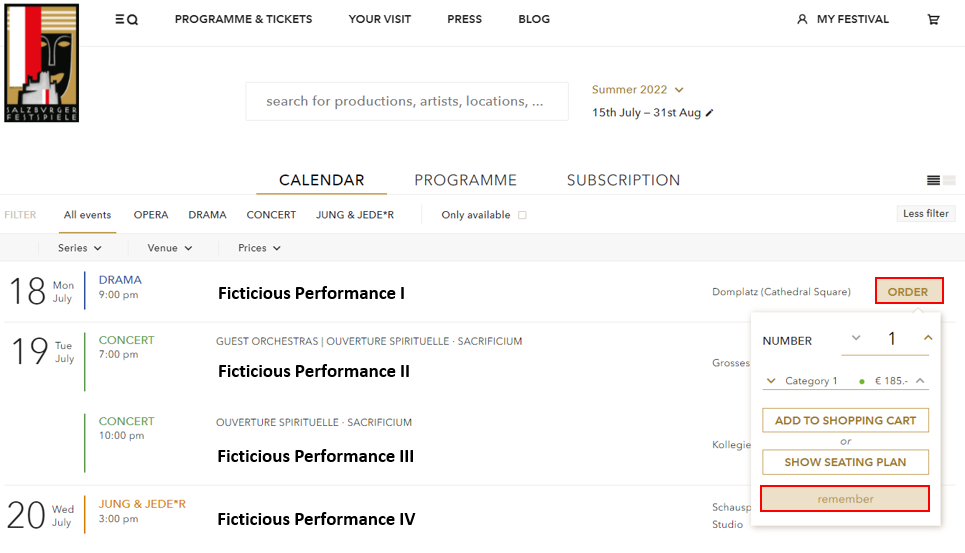 After you have checked your order in the cart, click NEXT.

At this point you again have the possibility to edit your order or to remove individual performances.

If you have not yet logged in to your account, you must do so at this point. If you are already a customer, you already have an account. If you are a new customer, you can register now. You can find more information on this in the My Festival instructions.
Please select the shipping method. You can choose between a digital e-ticket or a physical ticket that will be sent to you by post to the address stored in your master data.

If you would like to have a different delivery address, you can now enter this by clicking on Add alternative address.
This address will then be saved in your master data as the shipping address.

Click NEXT.
Please select the desired payment method. You can choose between credit card and invoice (as well as customer credit, should you have one that exceeds your invoice amount, from previous years).

Payments should only be made after receipt of the invoice, in case of a positive processing of your order.

If you would like a different billing address, you can now enter this by clicking on Add alternative address.
This address will be saved in your master data as the billing address.

Click NEXT.
Check the shipping and billing address as well as the payment method and edit them if necessary.
If you feel particularly connected to the Salzburg Festival, you can sign up for a membership or support the Salzburg Festival with a donation.
Agree to the Terms and conditions as well as the Privacy policy of the Salzburg Festival and then click on ORDER NOW.
You will then receive an e-mail as confirmation of receipt of your order.
Editing or Canceling completed orders is only possible until the order deadline (January 23, 2023). All orders are binding after the deadline.
Please note that all steps of the order process must be performed again in order to process the order.
To process or cancel your orders, log in to MY FESTIVAL and go to MY ORDERS.
If you wish to cancel the entire order, please click Cancel.
You must then confirm this by clicking on CANCEL.
If you want to change an order, click on Edit. All events will be displayed in the shopping cart again.
If you would like to delete an individual performance from your order, please click Remove event.
If you would like to edit a performance, please click on Edit.

You are now in the view Show seating plan.

Here you can change the quantity and category. If you change the quantity or category, please click on ADD TO SHOPPING CART. Please note that you can only add additional tickets to your basket this way.

If you would like to reduce the number, please click on the X next to the number of tickets and price category and the settings will be reset for this performance. Now you can select the number and category again.

Please click on ADD TO SHOPPING CART afterwards.

Optionally, alternative categories and dates can be specified.

If performances offer youth prices, these can be selected here.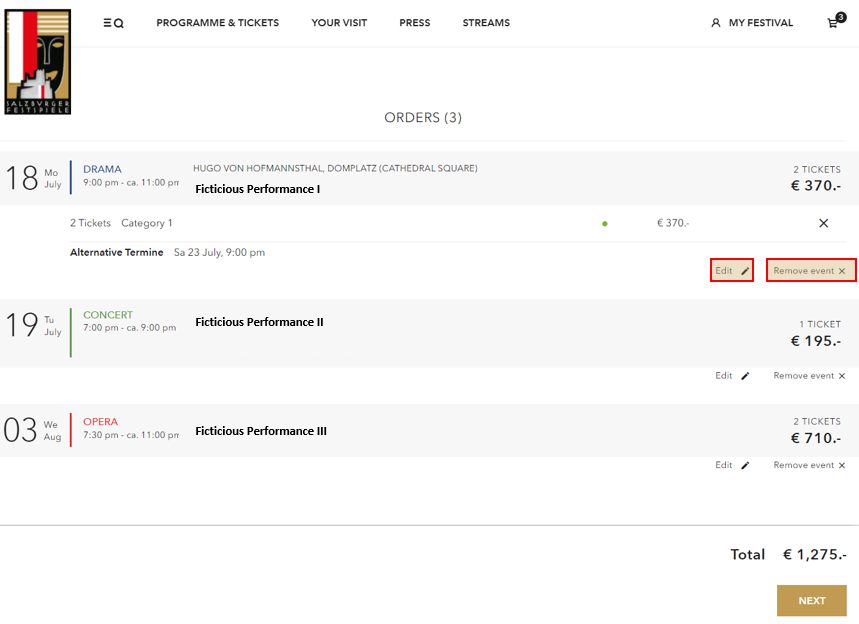 Click on COMPLETE ORDER and you will be taken to the check out area of the shopping cart.
Now all order completion steps must be carried out again.

Please check your order and click NEXT.

Please select the shipping method and click NEXT.

Please select the payment method and click NEXT.

Check the shipping and billing address as well as the payment method and edit them if necessary.

You will then receive an e-mail confirming receipt of your order.
Tickets for the Salzburg Festival must be personalized without exception for the ticket purchaser's own protection and to prevent unauthorized distribution. The name of the respective visitor is printed on the tickets. Only the person named on the ticket (including accompanying person(s) up to a defined maximum number – provided the group passes the admission controls together) is entitled to admission to the event after presenting a photo ID without being asked. A re-personalization of tickets is possible online at any time
In addition to a paperless alternative, the e-ticket gives festival guests a high degree of self-administration, as the personalisation and distribution of e-tickets can be carried out independently of the ticket office. This ticket format brings a welcome flexibility, as the e-tickets can be (re-)personalised at any time.
In contrast to printed admission tickets, there are no processing fees (printing and shipping costs) or fees for any re-personalization and replacement tickets for e-tickets.
In the area MY TICKETS , you will find all the admission tickets for your events.
By using the menu option SEND you can forward a ticket to third parties.
By clicking on the menu option SHOW, you will find the exact seating information and can personalise the ticket.
After you have completed the personalisation, the menu option SAVE allows you to download the admission ticket as a PDF or save it as an e-ticket to your wallet on your mobile phone.
Please click on SHOW.
A popup window will show you the seating information of your ticket.
If you have received several tickets, you can switch between the individual tickets by clicking on the arrows to the right/left.
Clicking PERSONALIZE NOW will start the personalisation process.
You can personalise the admission tickets for yourself as well as for third parties.
Please note that access to events at the Salzburg Festival 2022 is only possible with valid personalisation. The personalisation is checked at the entrance by means of an ID check.
Now please enter the data of the person using the admission ticket.
The automatic buyer personalisation is not sufficient in the following cases:

The buyer does not attend the performance her-/himself
More than eight admission tickets per event
Tickets run on a company name
After the personalisation was successfully completed, the name will be displayed on the e-ticket.
By clicking on the pencil symbol, the personalisation can be changed at any time.
Once you have personalised it, you can then save your e-ticket. To do so, click SAVE.
In the next step you can choose to save your digital ticket as a PDF (print@home) or as an e-ticket on your smartphone.
Please note that any change or re-personalisation invalidates all older digital and printed versions of the ticket.

PDF
If you opt for the PDF-ticket, you can then download, print or send it.
After personalisation and saving of the print@home ticket, it can be re-personalised or passed on via the customer area on the website.
Wallet
If you would like to add the e-ticket to your digital wallet, please click on the corresponding link.
On the mobile phone you will then be asked whether you would like to automatically add the e-ticket to your wallet.
For the desktop version of the e-ticket a file is generated and saved. Subsequently it can be transferred (e.g. via mail) to your mobile phone.
Apple iPhone automatically supports the file format.
If you use an Android smartphone, please download the appropriate app from the Playstore.
5. Forwarding Your E-Ticket
You can forward the e-ticket to another person. To do so, please click the SEND button.
If you choose to forward the ticket to someone else, the ticket is passed on and disappears from MY TICKETS – Tickets.
In order to complete the ticket transfer the recipient must accept the ticket (see 6. Accepting Your E-Ticket). Forwarded, not yet accepted tickets as well as received tickets can be found under the section MY TICKETS – Offers. As soon as the recipient has accepted the ticket, it also disappears from MY TICKETS – Offers and you no longer have access to it.
If you want to forward the tickets in order to print them, please do not send them to a different e-mail address. Instead, save them as a PDF first and then pass them on for printing
6. Accepting Your E-Ticket
You have received an e-mail with a Festival ticket.
In order to accept the ticket, please click the button To Your Ticket!
This will take you to the Salzburg Festival website.
Should you be registered at the Salzburg Festival already, you will be asked to log in to your account.

In the area MY FESTIVAL you will find your admission tickets under the menu option MY TICKETS

.
If you do not have a Festival account yet, you will be forwarded to a different page.
If the e-ticket has not been personalised yet, you can find the instructions to do so in section 3.