22 Oct 2021
The Salzburg Festival mourns the death of Bernard Haitink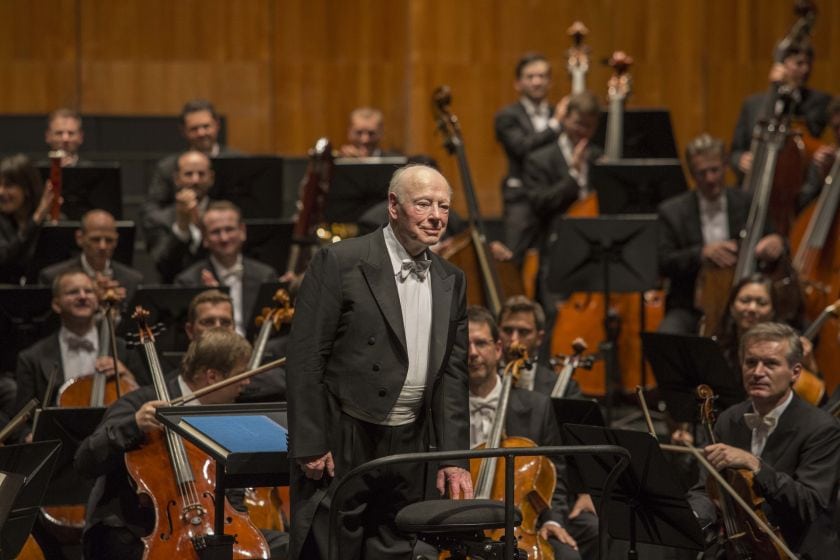 "In Bernard Haitink the music world loses one of the great conductor personalities of our times. Great in his musical honesty, great in his musical ethos. His Bruckner and Mahler interpretations above all set standards at the Salzburg Festival. His last Festival concert, Bruckner's Symphony No. 7 at the closing of the 2019 Festival, was entirely unforgettable and moving," said Artistic Director Markus Hinterhäuser in a first statement.
Bernard Haitink never aimed to be a superstar on the conductor's podium. The flashy showmanship displayed by some of his colleagues was never his – not on stage, and not off stage either. An orchestra has to be motivated and inspired, he said, and also: "I'm a bit shy." Derek Weber summed it up perfectly: "Bernard Haitink is not the man for rough jobs, he does not inflate what is already composed with a grand gesture in mind; he adds refinement to pathos and ennobles with poetry what others condemn to mere fin-de-siècle kitsch."
Haitink, who celebrated great success early in life with the Concertgebouw Orchestra of his hometown of Amsterdam and the London Philharmonic Orchestra, only made his Festival debut past the age of sixty. In the Mozart Year of 1991, he worked with director Michael Hampe on Le nozze di Figaro. H. G. Pribli raved in the Wiener Zeitung: "Bernard Haitink on the podium guaranteed that one could sense the pulse of the music. Time and again, Haitink succeeded in shaping very dense and intense moments, while never losing sight of the overarching line and ensuring that the music had drive and momentum. And the Vienna Philharmonic followed him willingly."
In 1993 Bernard Haitink took over the successful revival of Mozart's Die Zauberflöte from Georg Solti, a production directed by Johannes Schaaf.
Without doubt, one special highlight was his interpretation of Mahler's Ninth with the Vienna Philharmonic in 1997, which, as Karl Harb noted in the Salzburger Nachrichten, used "not the slightest superficial effect to achieve simple greatness".
His relationship with the Vienna Philharmonic in general was a very special one; Kalrheinz Roschitz described them as ein Herz und eine Seele, or "soul mates", in the Kronen Zeitung in August 2010.
With "his" orchestras, the Concertgebouw Orchestra Amsterdam and the Sächsische Staatskapelle Dresden, he celebrated triumphal success with Anton Bruckner and Richard Strauss, rousing Salzburg Festival audiences to raving, tempestuous ovations.
In the 2019 Festival summer, the conductor, then aged 90, took the podium to conduct the Vienna Philharmonic one last time. For his farewell concert, Haitink chose Anton Bruckner, the composer who accompanied and influenced his entire life since he first heard one of his symphonies at the age of eight: "Bruckner was simply always there," the Dutch maestro explained the importance of the Austrian symphonist for him.
"The music world has lost one of its very greatest. His aim was never to triumph; probably that is why his interpretations became such triumphs. The Festival is grateful to have had him in Salzburg. He lives on in us through his work," Festival President Helga Rabl-Stadler expressed her grief at the great conductor's death.