26 May 2023
Festival Projects related to the Reinhardt Year 2023:
FAUST 2023
© Ars Electronica Futurelab
The Magical Reality of Theatre
In the autumn of 2023, the theatrical world celebrates the 150th birthday and the 80th anniversary of the death of Max Reinhardt. He is often called the first modern stage director, revered as a theatrical magician and described as the quintessence of an impresario of international renown, whose work radiated from Berlin and Vienna to Salzburg to the United States of America.
The Salzburg Festival commemorates the theatrical magician and co-founder of the Festival by reconstructing his last work in Salzburg: the celebrated 1933 production of Faust at the Felsenreitschule. Further events – a symposium and a three-part exhibition – also focus on Reinhardt's Faust (1933-1937), and thus also on the historical caesuras of 1933 and 1937/38.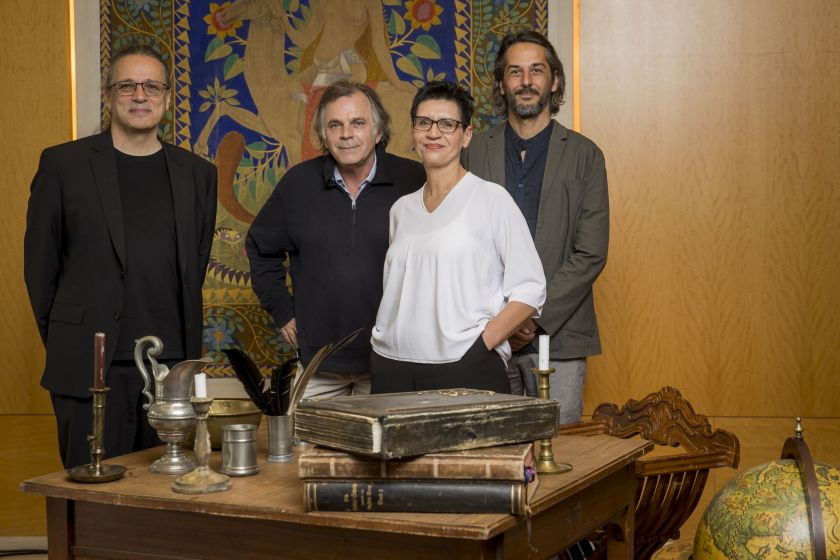 A very special project is FAUST 2023, which brings together analogue, stage and virtual realities in a performative guided tour. This project is made possible by cooperation between the Salzburg Festival and the Ars Electronica Futurelab.
The Ars Electronica Futurelab helps bring Reinhard's production of Faust to new life through a Virtual Reality application: using a VR headset, visitors enter The Magical Reality of Theatre – a reconstruction of the Faust town at the Felsenreitschule, directly on stage. There, they occupy unique positions: amidst the stage setting, they are guided through the Faust town designed by Clemens Holzmeister during a 10-minute virtual interpretation of the play. Lighting and music play a decisive role – as they did in Reinhardt's open-air production 90 years ago. Visitors enter Faust's study and witness the Walpurgis Night and the dance under the linden tree.
The reconstruction of the Faust town has been accomplished on the basis of construction plans, recordings and other documents from the archive of the Salzburg Festival. In addition, the stage model held by the Austrian Theatre Museum in Vienna has become the object of photogrammetry. Together with a 3D laser scan of the Felsenreitschule, these form the basis of the VR reconstruction. A multitude of photographs has been de-skewed for perspective and improved in quality, partially with the help of AI. Thus, original photographs from the Festival's archive have provided the textures projected onto the manually constructed geometry. This process allowed the details of the original stage sets and the technical limitations of VR headsets to be reconciled.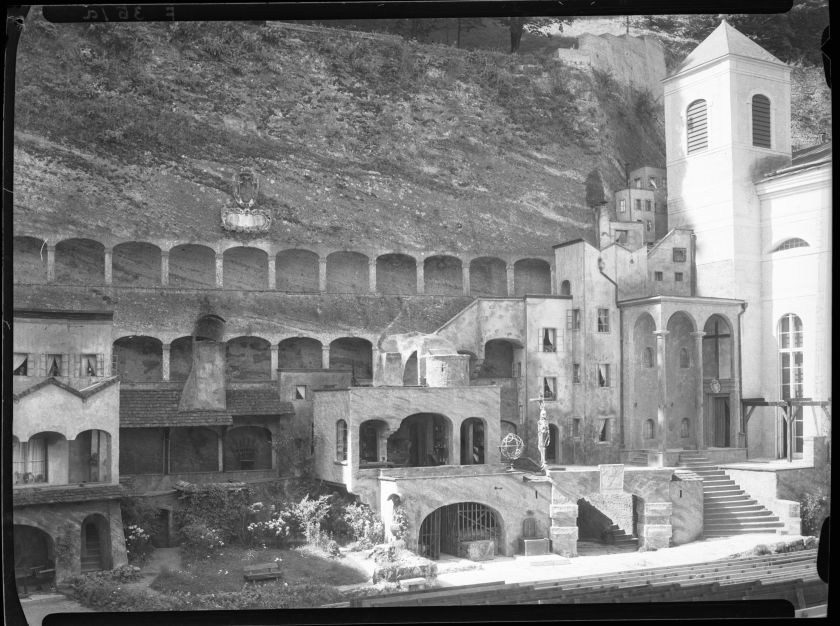 The VR experience is embedded within a multi-perspective guided tour led by acting students from the Mozarteum University Salzburg: Ben Engelgeer, Victoria Kraft and Joseph Lang. Many different media are used in this context: storytelling, photographs, film clips, exhibits, manuscripts and audio recordings, a Faust score, three-dimensional stage elements and the virtual simulation described above. Thus, visitors move between various levels of perception, delving into this VR world at the scene of the original production. Analogous, stage and virtual realities intermingle in a wonderous way.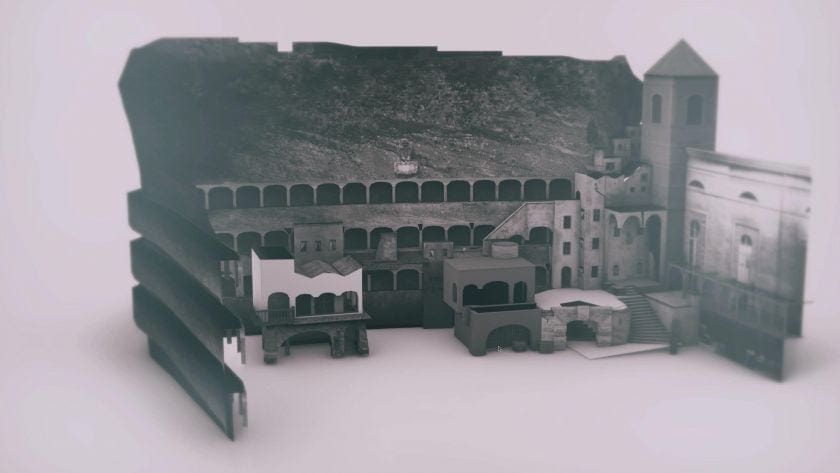 "The Salzburg Festival is a feast of the arts, whose enchantment unfolds through shared experience in the here-and-now. Max Reinhardt invoked this experience in his productions and the idea of holding a festival in Salzburg. 'The passion for theatre-going and theatreplaying,' he wrote, 'is a fundamental human drive. This drive will bring actors and audiences together again and again, creating the highest form of theatre which is its only true embodiment.' On the occasion of his 150th birthday, we are presenting a project – together with Ars Electronica – eliminating the boundaries between stage and audience. Entirely in Max Reinhardt's spirit, the performing arts merge with the digital ones – including virtual worlds."
Markus Hinterhäuser · Artistic Director, Salzburg Festival
"For us, collaborating with the Salzburg Festival team is an extraordinarily good opportunity to explore the possibilities of new technologies and develop them further. The goal is to grasp and use 'virtual reality' as a means of design, enhancing the comprehension of historically relevant scenarios in an audience of our own times. I am sure that the aura of the real space combined with the possibilities of representation offered by virtual reality will ensure a highly impressive and effective experience for all visitors."
Gerfried Stocker · Artistic Managing Director, Ars Electronica
FAUST 2023
A cooperation of the Salzburg Festival with the Ars Electronica Futurelab and the Ars Electronica Festival

Concept
Margarethe Lasinger, Martin Kern Salzburg Festival (SF)
Roland Haring, Peter Freudling Ars Electronica Futurelab (AE)
Production Coordinator SF
Martin Kern
Production Coordinator AE
Peter Freudling
Dramaturgy, Script & Cast SF
Margarethe Lasinger
VR Application AE
Raphael Schaumburg-Lippe
Patrick Berger
Friedrich Bachinger
Johannes Pöll
Arno Deutschbauer
Composition
Hannes Löschel
Research SF
Susanne Anders, Victoria Morino
Head of Sets and Costumes SF
Michael Veits
Technical Implementation for the Stage SF
Sven Gfrerer
Props SF
Anita Aichinger
Lighting SF
Johannes Grünauer
Guides
Ben Engelgeer
Victoria Kraft
Joseph Lang