27 Jul 2023
Beyond the Confines of Love
How can this state of being overwhelmed be described in a larger, theatrical manner?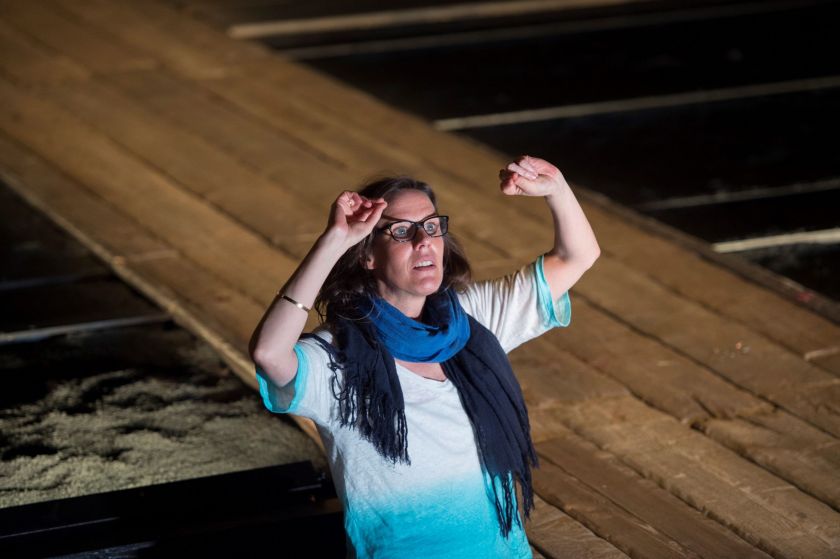 Liebe (Amour), a co-production of the Salzburg Festival with the Münchner Kammerspiele, is the first adaptation of a film by Michael Haneke for the theatre stage. How does director Karin Henkel go about her staging?
An empty apartment, the door broken down by the police. Behind a door sealed airtight with tape, the dead body of a woman. Flashback: Anne and Georges are a married couple in their 70ies, enjoying a fulfilling retirement in a large pre-war apartment; their days are filled with concerts and meetings with friends – until Anne suffers a stroke. At first, her husband devotedly takes care of her. Both of them try to adapt to the new situation. Increasingly, however, the couple isolate itself from the outside world. When her state of health deteriorates, Anne asks her husband for help. For Georges, all his fragile certainties begin to crumble.
This new production, co-produced by the Salzburg Festival with the Münchner Kammerspiele, is the first adaptation of a film by Michael Haneke for the theatre stage. As a society, how do we deal with aging, fragility, dying, euthanasia and death? With his masterwork Liebe (Amour), for which he received the Oscar for the best foreign-language film in 2013, Haneke illuminates the ethical centre of this debate.
What exactly fascinated you about Michael Haneke's film?
What intrigued me particularly was the great loneliness of the two protagonists, this elderly couple that experiences such a blow of fate, the woman suffering a stroke and becoming seriously ill as a consequence, undergoing severe physical and mental change, which also limits her mobility. The two of them hole up in their apartment, which raises the question to me whether this isolation, this wish to let no one come near, might have been chosen by them because they do not want to exist within our society as sick persons, and don't want their preferred self-image to be tarnished. The loneliness, the isolation the film portrays really moved me profoundly.
Which role does shame play, the shame of being unable to fulfil social norms of health and vitality?
I believe the shame they feel at being unable to function within society is enormous. The film shows it in this manner, and probably one can generally put it like this: persons afflicted by ageing and illness who feel like "damaged" beings, so to speak, prefer to hide themselves away, they prefer to function well, and therefore have to overcome a great wall of shame in order to accept help in dealing with daily life, once they can no longer do these things for themselves.
In his works, Haneke often leaves great empty spaces. What is your view of these empty spaces?
I feel that the fact that Haneke often does not explain his figures in greater detail – as is the case in this film – makes things very intimate; as a viewer, I am witnessing a very intimate moment. Because the camera never leaves the apartment, I am really a part of the action, observing them throughout the entire time. Certain aspects raise questions. That is also true of the most important moment, the one the film actually aims for: the assisted suicide – or whatever you want to call it – happens very spontaneously.
I remember that this startled me the first time I watched the film, because as a viewer, I was not involved in the development of this idea, so to speak. This subject is not discussed between the two figures. The woman does ask for help several times, and asks him not to send her back to the hospital. But that this means him suffocating her with a pillow, so that neither of them will have to keep bearing this suffering, that came as an incredible surprise to me at the time. There is a certain gap there, concerning the way the man has this idea and then implements it. I often feel such empty spaces to be disturbing – it would be easier if everything were explained to me. However, this is not a lack of quality, on the contrary: the shock I experience stirs me, awakens me. The issues are implanted more firmly in my mind, and I ask far more questions this way.
You have spoken about the specific perspective of the camera and the resulting intimacy when watching the film. What does it mean for you as a director to approach film material, as opposed to dramatic or prose texts where a visuality is much more present at the back of our minds?
Of course, it is a special challenge to stage a film script, because the film with the images Haneke invented already exists. One strength of the theatre, however, is searching for the opposite: how can I present the emotionally moving issues of the script which Haneke wrote on stage, when the film is much closer to realism than a theatre stage can ever be? Theatre is a different kind of game, however, which allows me to search for ways to present issues – in this case, the woman's illness and dying – in a different way than the film's unadulterated naturalism. How can I transform certain aspects of this script into stage reality? That is a fundamentally different approach than you would take with a dramatic text. When I have a literary text as a basis and stage that, the language is much more important. Film has far more silent moments, gazes between the protagonists, there are many gaps in the dramatic narrative – so we have to find a way to present this differently on stage. Our goal is definitely not to retell the film exactly as it was – the film is already perfect, with two excellent actors, an outstanding director and a setting that makes sense in itself. To me, the challenge is to present the issues the film narrates on stage, using different theatrical means.
You have decided to cast the role of the elderly woman Anne not with one actress, as would be realistic. How did you arrive at this decision?
When I read the script, the characterization of the husband moved me particularly. His figure provided orientation – how he is overwhelmed, both emotionally and physically, by his wife's sudden need for care. He must – and wants to – deal with this, and as the title indicates, that indicates great love. This makes him – and makes many of us – realize painful limitations. I think we all have stories to tell from our own lives about this. One immediately finds an anchor here, because most of us have had to say goodbye to people in our closest circle of family and friends, or have accompanied illnesses and people dying.
This can lead to a kind of faulty behaviour, a kind of stubbornness, as it does in Haneke's film, where the husband is convinced that only he knows what his wife needs, only he knows what do to, and refuses to accept any outside help. The caregivers get it wrong, in his opinion, and he doesn't need the daughter, because he is the only person who can still help his wife. Given this backdrop, I thought how this state of being overwhelmed can be described in a larger, theatrical manner? I found it convincing to split the figure of the wife into several persons – in our case, it is also illustrated by amateur performers on stage who really need help with the most everyday things. I would like to show how torn people are between the act of caring and taking care of things on the one hand and their own needs on the other hand, how overwhelmed people can become by trying to do justice to the situation and do things well and right – to show that on stage with the same consequence the film shows it.
The title of the film, Amour, is almost a provocation – after all, there is a certain discrepancy with the very cold world we experience on the screen.
The fact that Haneke chose to entitle his film AMOUR in capital letters dictates a point of view, of course. This alone makes the viewer interpret the life of the two protagonists and the act of assisted suicide. The visible process by which the husband suffocates his wife with a pillow – calling that "love" seems a provocation to me. So yes, I did ask myself whether the title doesn't require a question mark. I believe, however, that Haneke really meant this very seriously, wanting to show that the man's action must be viewed as an act of love. The woman asks for help several times. Granted, she does so in a state in which she cannot even pinpoint explicitly what defines her suffering, what longings and wishes she still has, but she asks for help repeatedly, and under no circumstances does she want to return to the hospital. In my opinion, however, the interpretation we offer the viewers could remain more open-ended. Active assisted suicide is such a complex issue that it would be too easy to think in yes/no categories.
Translation: Alexa Nieschlag
First published on 20.05. 2023 in Die Presse Kultur Spezial: Salzburger Festspiele