29 Jul 2023
Antony Gormley Nightwatch
Antony Gormley, EXPANDED FAMILY X 5: PROP, 2014, 4 mm Cortenstahl Courtesy Galerie Thaddaeus Ropac, London · Paris · Salzburg · Seoul, Photo: Ulrich Ghezzi, © Antony Gormley
Antony Gormley Nightwatch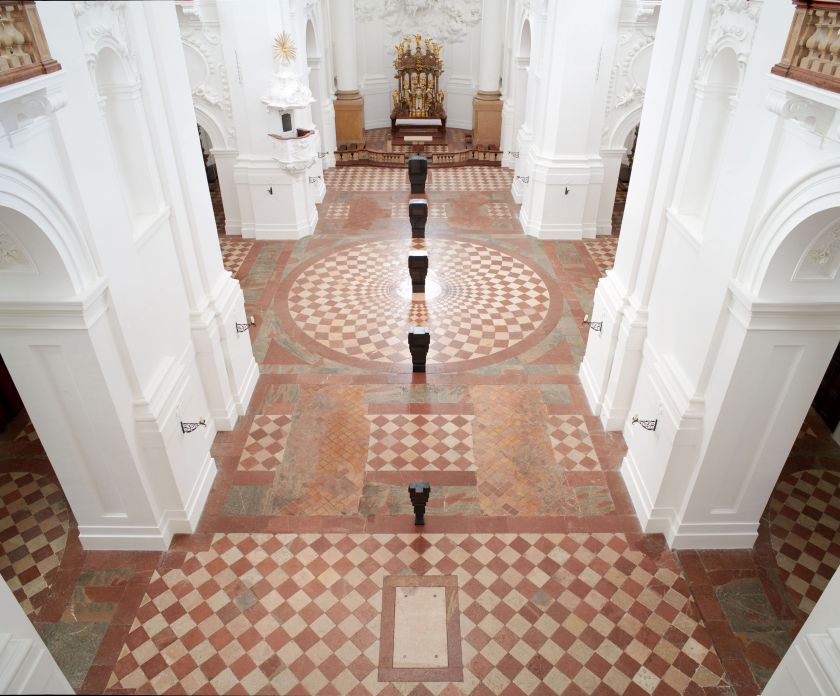 The British sculptor Antony Gormley (* 1950) has redefined the boundaries of sculpture and is considered one of the most important artists of our time. Recently, a selection of his drawings illustrated the 2023 Salzburg Festival programme. One of these drawings, titled Sight (1987), became an emblem for this year's Festival. In this work, an ever-widening gaze stretches into the distance, or a narrow, laser-like beam pries open a chink into eternity…
It therefore felt only right to ask Antony Gormley to exhibit a group of large-scale sculptures in the same venue where the 2023 Salzburg Festival gets underway. With this year's Ouverture spirituelle devoted to the theme of 'Lux aeterna'. We would like to thank both Antony Gormley and Thaddaeus Ropac for facilitating this dialogue with the Ouverture spirituelle, which will see five sculptures from the artist's Tankers series displayed in the Kollegienkirche for two weeks.
These five steel sculptures are derived from the human body and transform its mass into ever-expanding dark voids held within hermetically sealed tanks. The sculptures are arranged in a row and are turned to face the gleaming Maria Immaculata. Are they bowing before the haloed figure of the Madonna or hunched over, paying respect to the earth?
This exhibition takes place as part of the Salzburg Festival 2023 at the Kollegienkirche from July 29 to August 13, daily from 10:00 a.m. to 7:00 p.m.
In cooperation with the Thaddaeus Ropac Gallery.