26 Jan 2020
25 years: Helga Rabl-Stadler about her first day of work as Salzburg Festival President on 26 Jan 1995
© Neumayr/Leo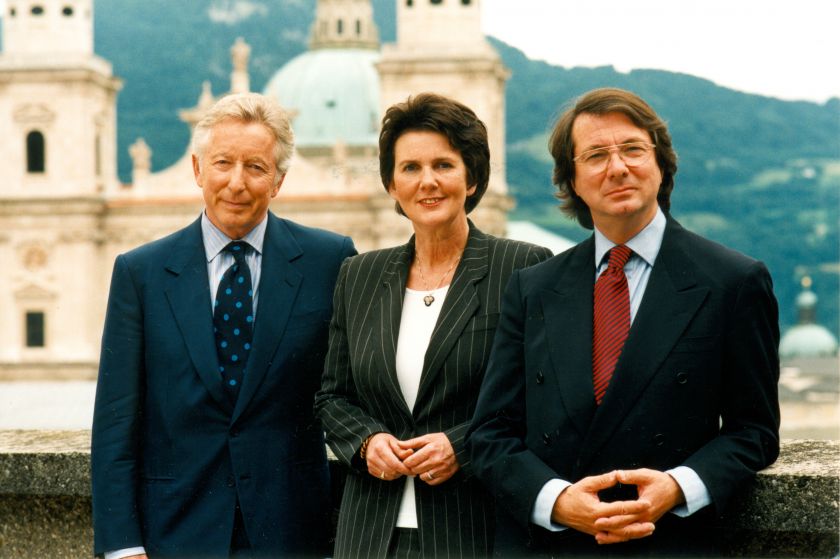 Full of energy, curiosity and happy anticipation, I walked into the Großes Festspielhaus on 26 January 1995 to start what I consider the greatest job in the world. The solid wooden door to my office bore brass letters spelling "Präsident".
What would be more logical, I naively thought, than to simply add an "i" and an "n" to visualize that for the first time, a woman had been appointed to this important office. Not everyone agreed. "Who knows if it's worth it, she's unlikely to last long," the grapevine said. In view of this, the fact that I am now celebrating my 25-year anniversary in this position does give me some satisfaction.
Speaking of anniversaries: I started working at the Festival in 1995, the year of its 75th anniversary, giving my first speech with some inner trepidation. I will take my leave of the Festival on 31 December 2020, after the centenary has concluded.
Today, we do have women in leading positions. Bettina Hering is our director of drama. For the first time in Festival history, the important personnel department is in the hands of a woman, Solveig Eckert. And I am particularly pleased to see female artists play an ever-greater role in the Festival's creative teams. Let me offer a few examples:
The wonderful, incomparable Cecilia Bartoli is the inspiring artistic director of our Whitsun Festival. I can't wait to see this year's Don Pasquale, in which she makes her role debut as Norina. Joana Mallwitz is the first woman to conduct an opera at the Salzburg Festival – a development long overdue, in my opinion. Between Lydia Steier and her, our Zauberflöte is firmly in female hands. And the fact that director Karin Henkel has cast the supervillain Richard III with the great Lina Beckmann promises extra artistic tension on stage.
I am delighted that the Festival has become more female during my tenure. I hope that my professional life has encouraged other women to reach for positions formerly viewed as a male birthright.
Helga Rabl-Stadler