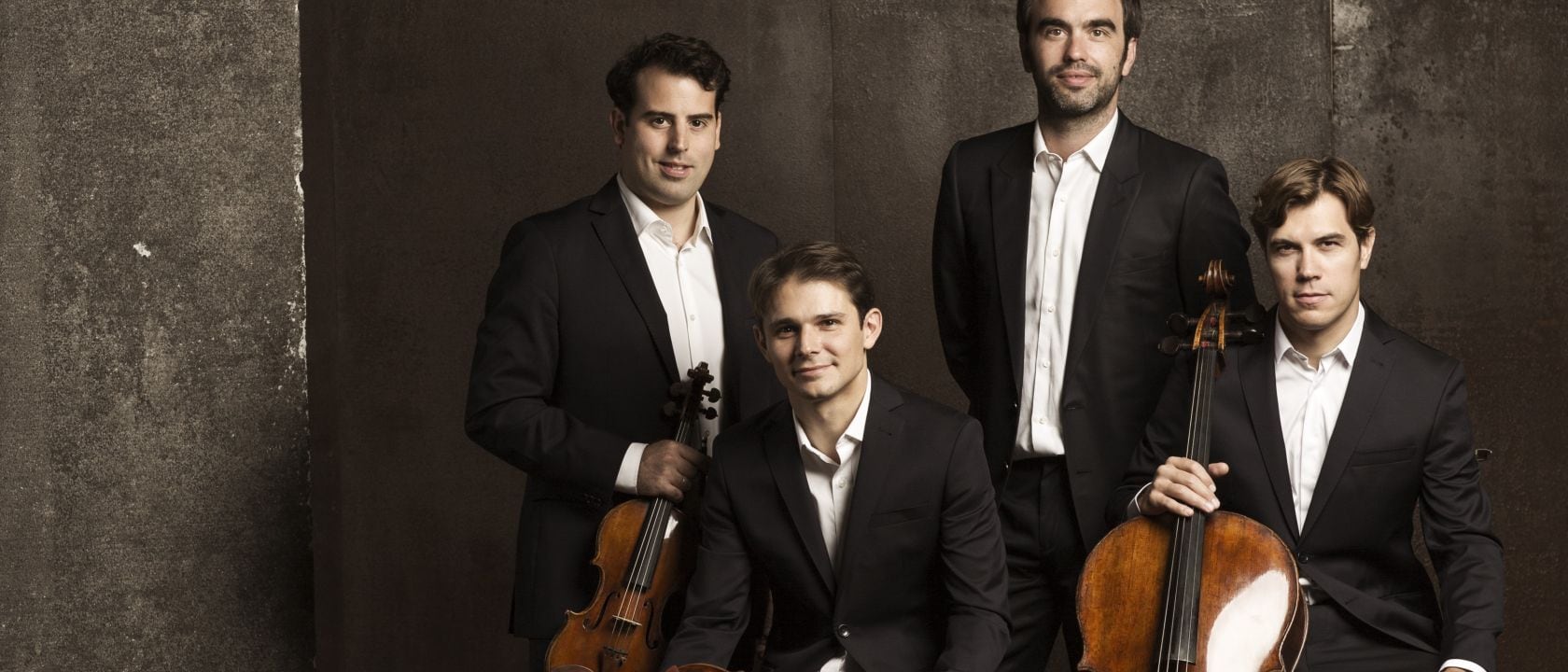 © Luc Braquet
Four best friends got together in Paris in 2003 and now the Quatuor Modigliani can look back over an impressive career. In the season 2018/19 the ensemble celebrated its 15th anniversary. The Quatuor Modigliani has established itself as one of today's most sought-after quartets of the younger generation, performing regularly at leading concert halls and as part of prominent string quartet series. The Quartet tours extensively throughout Europe, North America, Australia, Japan and Korea and was the first string quartet to perform in the Great Hall of the newly opened Elbphilharmonie Hamburg in March 2017.
Since 2008 the Quartet has released eight CDs on the Mirare label, including works by Haydn, Mendelssohn, Mozart, Schubert and Arriaga, as well as Debussy, Ravel, Saint-Saëns, Dohnányi, Bartók and Dvořák. The Quartet's latest recording Portraits, featuring works by Mozart, Mendelssohn, Puccini, Borodin, Rachmaninoff as well as Korngold, Webern, Kreisler and others was released in January 2019. The Quartet also invites other musicians to perform larger chamber music works with them, thereby forming wonderful partnerships, including artists such as Nicholas Angelich, Renaud Capuçon, Marie-Elisabeth Hecker, Sabine Meyer, Daniel Müller-Schott, Yefim Bronfman, Beatrice Rana and Jean-Frédéric Neuburger.
Since the summer of 2014 the Quartet has led the artistic direction of the Évian Festival on Lake Geneva, which reopened after 13 years and owes its reputation to its former director, Mstislav Rostropovich. Renewed success came quickly and the Festival is once again one of the musical highlights of the European summer.
After almost 16 years working together, the Quartet is ready for the challenge of passing on its experience and knowledge to the next generation. The Quartet launched the 'Atelier' at the Évian Festival in 2016 and since the autumn of 2017 has given a series of masterclasses at the Paris Conservatoire.
Thanks to the generous support of private sponsors, the Quartet plays four extraordinary instruments from Italy: Amaury Coeytaux plays a violin by Giovanni Battista Guadagnini from 1775; Loïc Rio performs on a violin by Giovanni Battista Guadagnini from 1780; Laurent Marfaing's viola is by Luigi Mariani from 1660; François Kieffer plays a cello by Matteo Goffriller from 1706.
The Quartet thanks SPEDIDAM for its support.