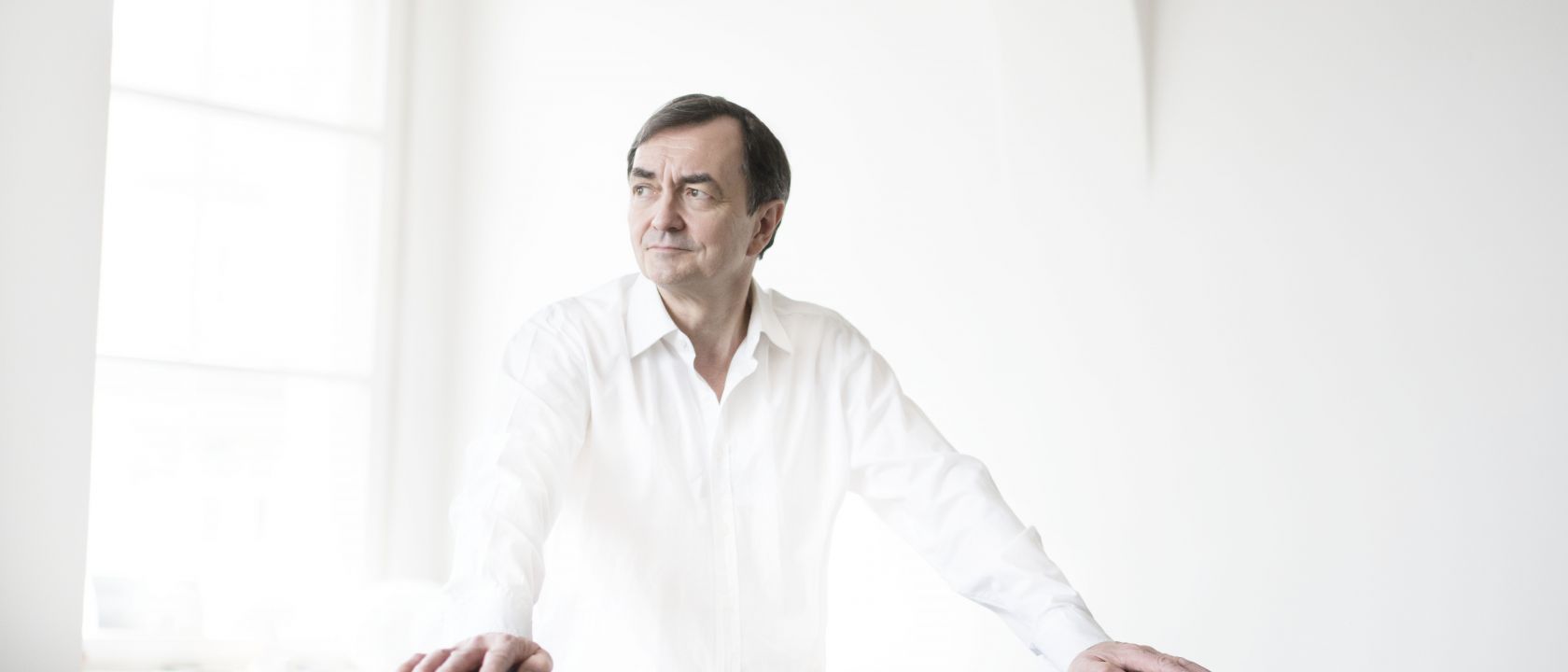 Widely acclaimed as a key figure in the music of our time, Pierre-Laurent Aimard has enjoyed close collaborations with many leading composers including György Ligeti (whose complete works for piano he has recorded), Karlheinz Stockhausen, George Benjamin and Pierre Boulez, who appointed him to become the Ensemble intercontemporain's first solo pianist. He also had a close association with Messiaen, and with Yvonne Loriod, with whom he studied at the Paris Conservatoire. He has recently given world premieres of works by György Kurtág, Elliott Carter and Harrison Birtwistle.
At the beginning of the 2022/23 season Pierre-Laurent Aimard received Denmark's most prestigious music award, the 2022 Léonie Sonning Music Prize, which he celebrated with a series of concerts with the Royal Danish Orchestra under Sylvain Cambreling, and with recitals in Copenhagen and Aarhus. He has also continued to work with leading European orchestras and conductors such as the Antwerp Symphony Orchestra and Philippe Herreweghe, the Radio Filharmonisch Orkest and Stéphane Denève, the Deutsches Symphonie-Orchester Berlin and Elin Chan, the Orchestre National de Lille and Alexandre Bloch and the Orchestre Philharmonique de Radio France. In addition, he has continued his collaboration with the San Francisco Symphony Orchestra and Esa-Pekka Salonen, recorded Béla Bartók's complete piano concertos for release in autumn 2023 and returned to the Los Angeles Philharmonic to perform Beethoven's Fourth Piano Concerto.
To celebrate György Ligeti's 100th birthday in 2023, Pierre-Laurent Aimard has performed his works both solo and with a variety of ensembles throughout the season, including with the Seoul Philharmonic and David Robertson, and with the jazz pianist Michael Wollny.
Other chamber music highlights have included Visions de l'Amen in collaboration with Tamara Stefanovich at the Pierre Boulez Hall, and the continuation of his partnership with Mark Simpson and Jean-Guihen Queyras. The three of them have given trio recitals featuring works by Lachenmann in both Luxembourg and Vienna. In the autumn of 2022, Queyras and Aimard toured Spain with Isabelle Faust and Jörg Widmann, performing Messiaen's Quatuor pour la fin du temps.
Highlights of the 2021/22 season included collaborations with the Munich Philharmonic and Kent Nagano, the Bamberg Symphony Orchestra and Manfred Honeck, the Seattle Symphony Orchestra and Dalia Stasevska, the Frankfurt Radio Symphony Orchestra and Alain Altinoglu and the Vienna Symphony and David Afkham, and the world premiere of Klaus Ospald's Se da contra las piedras la libertad … with the WDR Symphony Orchestra and Enno Poppe. Aimard continued to champion contemporary composers in concerts and chamber music projects, and performed works by Birtwistle, Lachenmann, Cage, Schoenberg and Andre in Berlin, Amsterdam and Frankfurt, and Messiaen's Vingt Regards sur L'Enfant-Jésus in Paris and Amsterdam.
Pierre-Laurent Aimard's most recent recordings include Beethoven's Hammerklavier Sonata and Eroica Variations (Pentatone) and Messiaen's Catalogue d'oiseaux, which won many prizes including the German Record Critics' Award.
An innovative curator, he has directed and performed in a number of residencies, such as for Musikkollegium Winterthur. He was artistic director of the Aldeburgh Festival (200916) and currently teaches at the Cologne Hochschule, and is head of new music at Madrid's Reina Sofía School.
Pierre-Laurent Aimard was awarded the International Ernst von Siemens Music Prize in 2017. He is a member of the Bavarian Academy of Fine Arts.