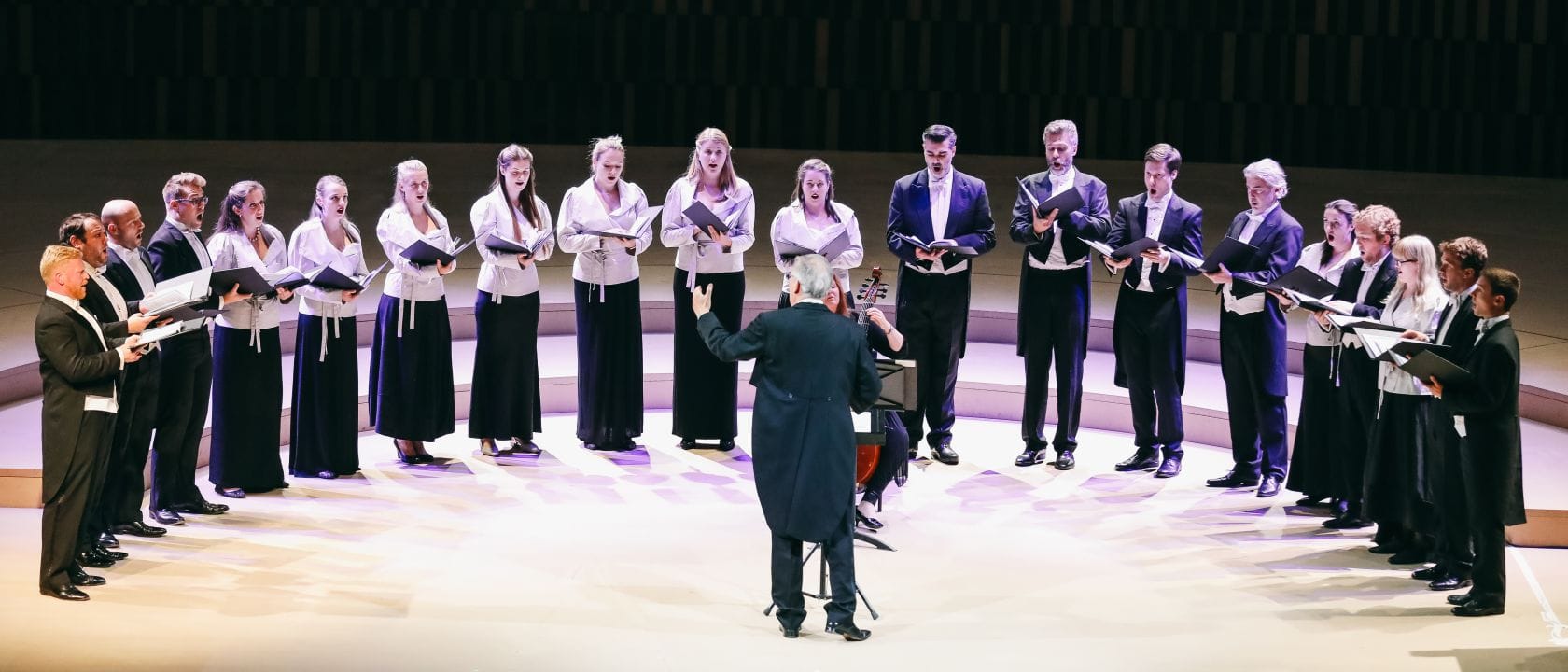 Current as of August 2021
Ever since its foundation in the 1960s, the Monteverdi Choir has been a leading force in the world of choral music. The Choir constantly strives to bring fresh perspectives, immediacy and drama to its performances around the world, consequently becoming a byword for passionate and highly cultivated choral singing.
Among its many trailblazing tours, a particular highlight was the Bach Cantata Pilgrimage in 2000, during which the Choir performed all 198 of J. S. Bach's sacred cantatas in over 60 European and US churches. The project was recorded and released on its own label, Soli Deo Gloria, with Gramophone hailing the venture as 'one of the most ambitious musical projects of all time'. The Monteverdi Choir has over 150 recordings to its name and has won numerous prestigious prizes.
The Choir has taken part in a variety of projects, ranging from a tour of Bach's St Matthew Passion from memory with the English Baroque Soloists to Berlioz's La Damnation de Faust and the Verdi Requiem with the Orchestre Révolutionnaire et Romantique. It has also appeared in Orphée et Eurydice at the Royal Opera House, Covent Garden, Der Freischütz and Carmen at the Opéra Comique and Les Troyens at the Théâtre du Châtelet in Paris. In 2017 the Choir took part in the Royal Philharmonic Society Award-winning Monteverdi 450 project, which saw them perform all three of Monteverdi's surviving operas with John Eliot Gardiner and the English Baroque Soloists across Europe and the USA. They also performed their Monteverdi Cycle at the Salzburg Festival in 2017.
In 2019 the Choir appeared in Handel's Semele at leading European venues including La Scala, Milan. Other recent highlights include critically acclaimed performances of Berlioz's Benvenuto Cellini and the Choir's debut performances in Russia and South America.
In 2020 the Monteverdi Choir appeared alongside the Orchestre Révolutionnaire et Romantique in Beethoven's Ninth Symphony in Barcelona, New York and Chicago and made its debut with the English Baroque Soloists at the Settimana di Musica Sacra di Monreale Festival in Sicily.