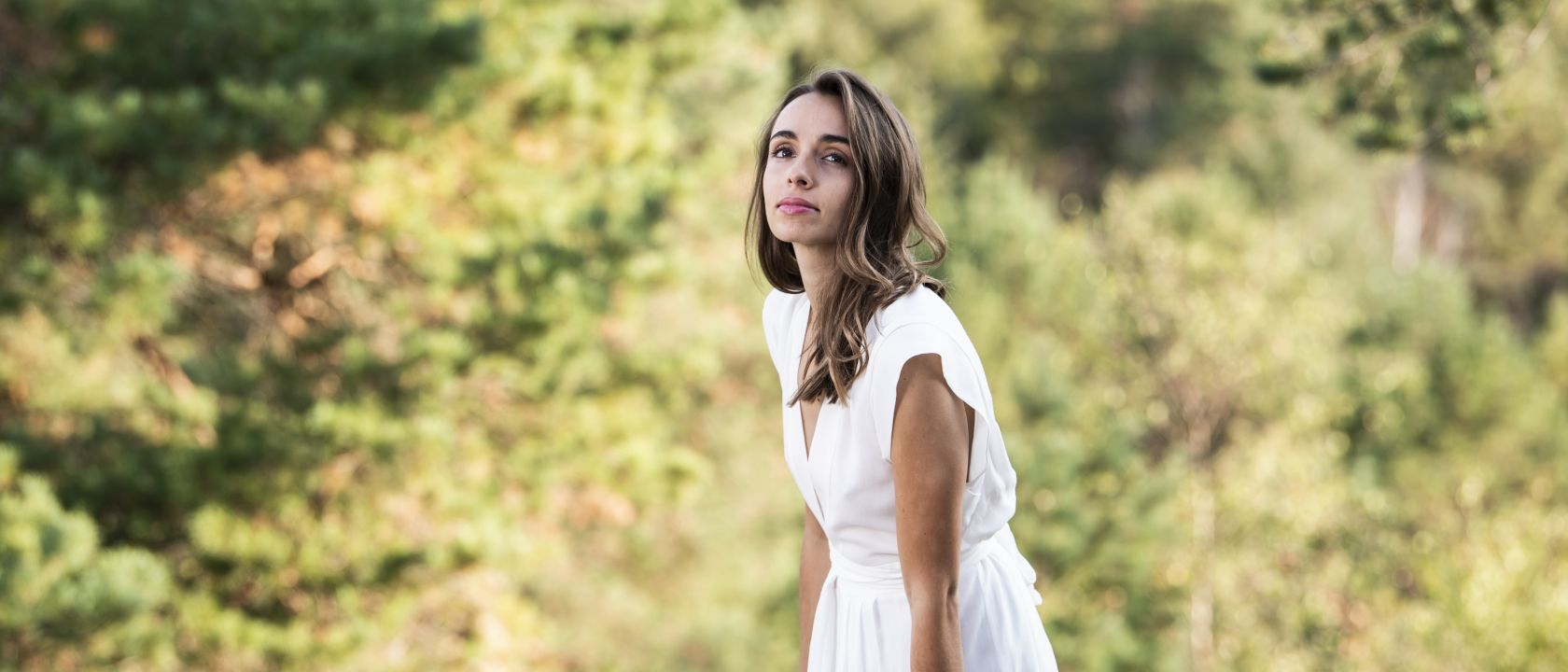 Current as of August 2022
French-Italian mezzo-soprano Lea Desandre was 20 when she was awarded a place to study at William Christie's academy Le Jardin des Voix. In 2017 she was named Vocal Discovery of the Year at the Victoires de la Musique Classique Awards in Paris. She studied with Sara Mingardo in Venice and also spent 12 years training as a ballet dancer.
Since 2015 Lea Desandre has been acclaimed in various roles, including Urbain (Les Huguenots), Rosina (Il barbiere di Siviglia), Annio (La clemenza di Tito), Sesto (Giulio Cesare), Dido (Dido and Aeneas), Messaggiera (L'Orfeo), Flerida in Cavalli's Erismena and the title role in Marais' Alcione. She made her Salzburg Festival debut at Whitsun 2018 in Offenbach's La Périchole under Marc Minkowski, returning that same summer as Amore and Valletto in L'incoronazione di Poppea under Christie and at Whitsun 2019 for Caldara's oratorio La morte d'Abel and for a gala concert, Farinelli & Friends, with Cecilia Bartoli. In the summer of 2019 she was heard as Vénus in Orphée aux enfers, and in the summer of 2020 she sang Despina (Così fan tutte) under Joana Mallwitz. In November 2020 she appeared in Hippolyte et Aricie at the Opéra Comique in Paris. She sang the role of Annio in a concert performance of La clemenza di Tito at the 2021 Salzburg Whitsun Festival and in June 2021 returned to the Festival d'Aix-en-Provence as Cherubino (Le nozze di Figaro).
In 2018 Lea Desandre delighted audiences at the Opéra Comique with a fully-staged one-woman show, Et in Arcadia ego, with music by Rameau. Concert appearances and song recitals have taken her to Carnegie Hall and the Alice Tully Hall in New York, London's Wigmore Hall, the Vienna Musikverein, the Walt Disney Concert Hall in Los Angeles, the Théâtre des Champs-Élysées and the Philharmonie de Paris, the Opéra National de Bordeaux, the Sydney Opera House, the Tchaikovsky Concert Hall in Moscow, Shanghai Symphony Hall, the Opéra Royal de Versailles and the Great Hall of the International Mozarteum Foundation in Salzburg. As a committed chamber recitalist she also appears regularly with the lutenist Thomas Dunford and his Ensemble Jupiter.
In addition to the above-mentioned conductors, she has also worked with Gustavo Dudamel, John Eliot Gardiner, Myung-Whun Chung, Enrique Mazzola, Louis Langrée, Raphaël Pichon, Jordi Savall, Emmanuelle Haïm, Laurence Equilbey, Christophe Rousset and Leonardo García Alarcón, and with directors such as Barrie Kosky, Christof Loy, Netia Jones, Lotte de Beer, Jan Lauwers, Jossi Wieler and Jean-Yves Ruf.
Lea Desandre's CDs include Barricades with Jean Rondeau, Vivaldi with Ensemble Jupiter, Handel: Italian Cantatas with Sabine Devieilhe, Berenice, che fai? with Opera Fuoco and Cities with Thibault Cauvin. Her first solo album, Amazone (Erato), which she made with Ensemble Jupiter and Thomas Dunford, was named 'Editor's Choice' in the magazine Gramophone; it includes guest appearances by Cecilia Bartoli, Véronique Gens and William Christie.
Plans for the 2022/23 season include appearances in Zurich, Salzburg, Paris, Madrid, Vienna, Rome, London and Berlin, and a US tour with Thomas Dunford and Ensemble Jupiter.