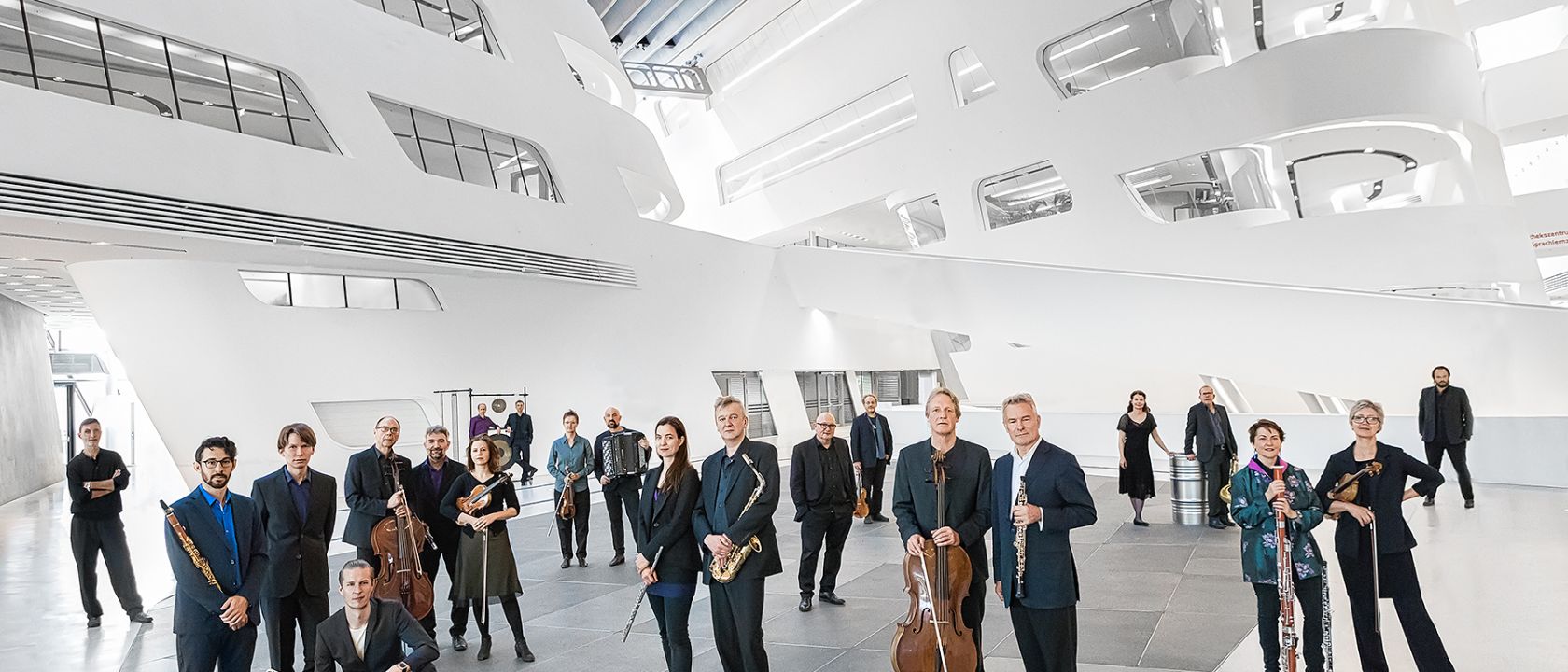 Open-minded, virtuoso in playing and aurally perceptive, Klangforum Wien, one of the most internationally renowned ensembles for new music with an unmistakable sound, is dedicated to artistic creativity and the expansion of experiential space. A performance by Klangforum Wien is an event of sensual experience whose immediacy cannot be replicated. The novelty of Klangforum Wien's music speaks, acts and beguiles.
Since its foundation by Beat Furrer in 1985, this multi-award-winning ensemble has shaped contemporary music history, with world premieres of around 600 compositions by composers from four continents, an extensive discography of more than ninety recordings and appearances at the most important concert halls and opera houses, as well as part of youthful initiatives and major festivals in Europe, the USA and Asia. Since 1993, Klangforum Wien has been a guest at the Salzburg Festival almost every year, giving the world premieres of Luciano Berio's Cronaca del luogo (1999), Enno Poppe's Salz for ensemble (2005), Georges Aperghis's Contretemps for soprano and ensemble (2006), Olga Neuwirth's Eleanor suite for blues singer, percussion and ensemble (2015) and Salvatore Sciarrino's Agitato cantabile – Capriccio sulla lontananza (2020), interpreted by Christoph Walder, the ensemble's solo horn player.
Over the course of its history, the ensemble has formed deep artistic friendships through mutually enriching collaborations with the world's leading composers. Since 2009, the ensemble and its members have shared their mastery of playing techniques and forms of musical expression with a new generation through a collective professorship at the University of Music and Performing Arts in Graz.
Klangforum Wien is made up of 24 musicians from Australia, Bulgaria, Germany, Finland, France, Greece, Italy, Austria, Sweden, Switzerland and the USA. From the start of the 2018/19 season until summer 2022 Bas Wiegers took over as principal guest conductor from Sylvain Cambreling, who remains principal guest conductor emeritus. Peter Paul Kainrath has been director of Klangforum Wien since 1 January 2020.
Klangforum Wien performs thanks to the kind support of Erste Bank.