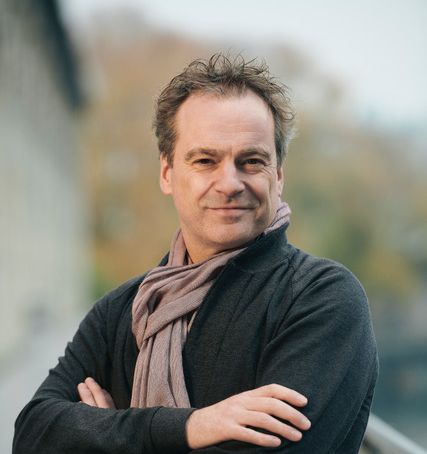 © Guillaume Megevand
Current as of August 2019
Well known for his interpretations of Mahler's music, Jonathan Nott was invited to conduct the Orchestre de la Suisse Romande in 2014 in a performance of Mahler's Seventh Symphony. He was subsequently appointed music and artistic director of the Orchestra from January 2017.
Having studied music at Cambridge, singing and flute at the Royal Northern College of Music in Manchester and conducting in London, he began his career at the opera houses in Frankfurt and Wiesbaden, where he conducted major works in the repertoire, including a complete Ring cycle.
In 1997 he became principal conductor of the Lucerne Symphony Orchestra, taking an active role in the inauguration of the city's Culture and Congress Centre, where he also appeared with the Ensemble Intercontemporain, founded by Pierre Boulez, of which he was music director from 2000 to 2003.
His 16 years as principal conductor of the Bamberg Symphony Orchestra, from 2000 to 2016, were filled with varied and enriching experiences. He created artist-in-residence programmes, went on several international tours, received a Midem Award in 2010 for his recording of Mahler's Ninth Symphony and launched the Gustav Mahler Conducting Competition, from which have emerged some of today's most famous conductors, including Gustavo Dudamel and Lahav Shani.
Jonathan Nott has also been music director of the Tokyo Symphony Orchestra since 2014 and brings inspiration to young artists through his loyal and long-term commitment to the Young German Philharmonic and the Gustav Mahler Youth Orchestra.
He has a large catalogue of highly acclaimed recordings, including Ligeti's complete orchestral works, performed by the Berlin Philharmonic, the entire Schubert and Mahler symphonies, played by the Bamberg Symphony Orchestra, and Mahler's Das Lied von der Erde with the Vienna Philharmonic and Jonas Kaufmann. His first recording with the Orchestre de la Suisse Romande of works by Strauss, Debussy and Ligeti was released on Pentatone in September 2018.