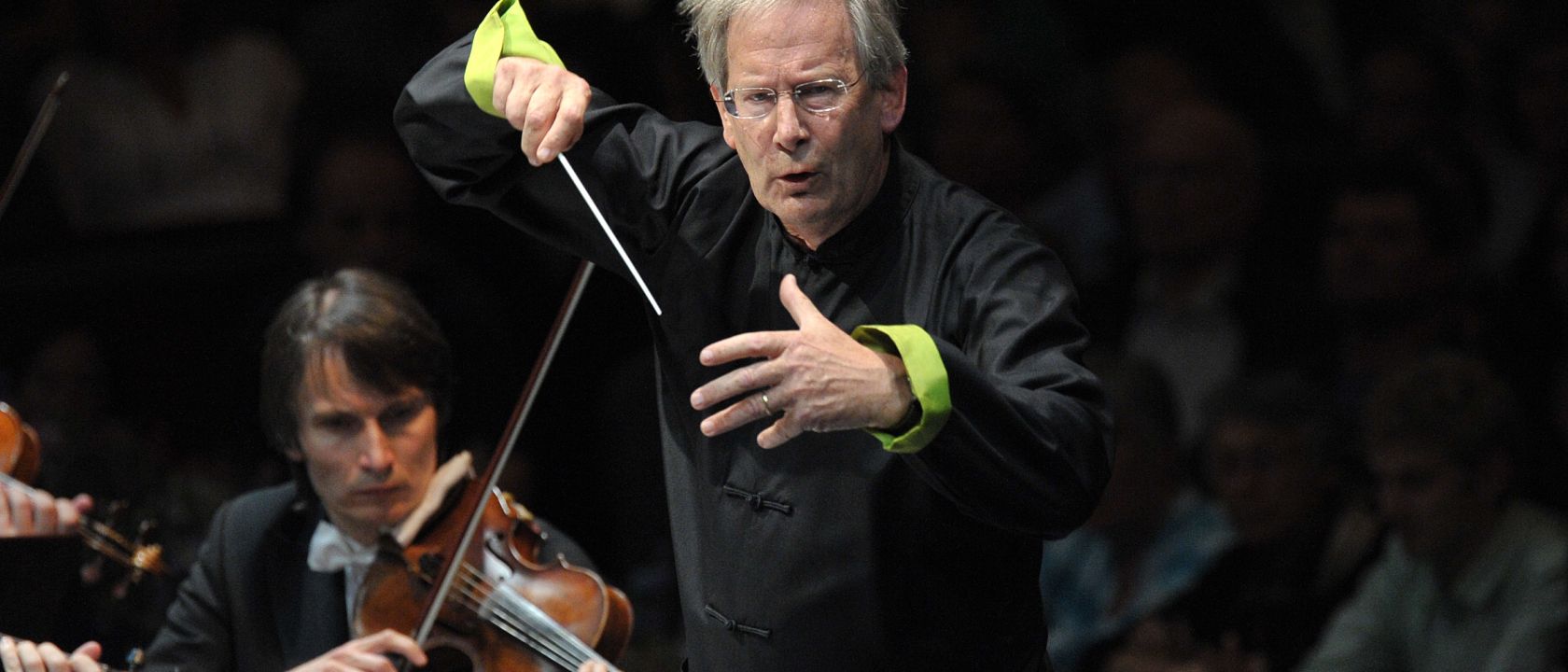 © Chris Christodoulou
John Eliot Gardiner was born in Dorset in 1943. He initially studied history and Arab studies before completing his musical training at Cambridge, as well as with Nadia Boulanger in Paris. He founded the Monteverdi Choir in 1964 and, in 1968, the Monteverdi Orchestra, from which he later formed the English Baroque Soloists. In 1989 John Eliot Gardiner launched the Orchestre Révolutionnaire et Romantique, which similarly performs on original instruments but is predominantly dedicated to the music of the 19th century.
He has also collaborated with many leading orchestras, including the Royal Concertgebouw Orchestra, the Leipzig Gewandhaus Orchestra, the Bavarian Radio Symphony Orchestra and the London Symphony Orchestra. In June 2016, following a ten-year hiatus, he returned to the Berlin Philharmonic. As an opera conductor, John Eliot Gardiner has led many productions at the Théâtre du Châtelet in Paris, the Royal Opera House, Covent Garden, the Vienna State Opera and La Scala, Milan. In 2017 John Eliot Gardiner and his Monteverdi ensembles celebrated the 450th anniversary of Monteverdi's birth with staged performances of the composer's three surviving operas across Europe and in the USA. The project won a Royal Philharmonic Society Award.
2018 saw Gardiner — along with the Monteverdi Choir and EBS — embark on a reprise of the landmark Bach Cantata Pilgrimage, before giving a number of critically-acclaimed performances of Verdi's Requiem with the Monteverdi Choir and ORR. Gardiner went on to demonstrate a renewed commitment to Berlioz's music with an extensive tour of his major symphonic works (including Harold en Italie, Lélio and Symphonie fantastique) across Europe and the United States.
John Eliot Gardiner has recorded more than 250 CDs, which have received numerous awards, including the Grammy, the Gramophone Award, the German Record Critics' Prize and the Echo Klassik Award. An authority on the music of J. S. Bach, Gardiner's book, Music in the Castle of Heaven: A Portrait of Johann Sebastian Bach, was published in October 2013 by Allen Lane, leading to the Prix des Muses award (Singer-Polignac). A German translation was published in the autumn of 2016.
In 1998 John Eliot Gardiner was knighted by Queen Elizabeth II and in 2005 he received the Bach Medal of the City of Leipzig and the Léonie Sonning Music Prize. He is a Commandeur de l'Ordre des Arts et des Lettres and a Chevalier de la Légion d'Honneur. Since 2014 John Eliot Gardiner has served as chairman of the board of the Bach Archive in Leipzig. In 2014—15 he was a visiting scholar at Harvard University.