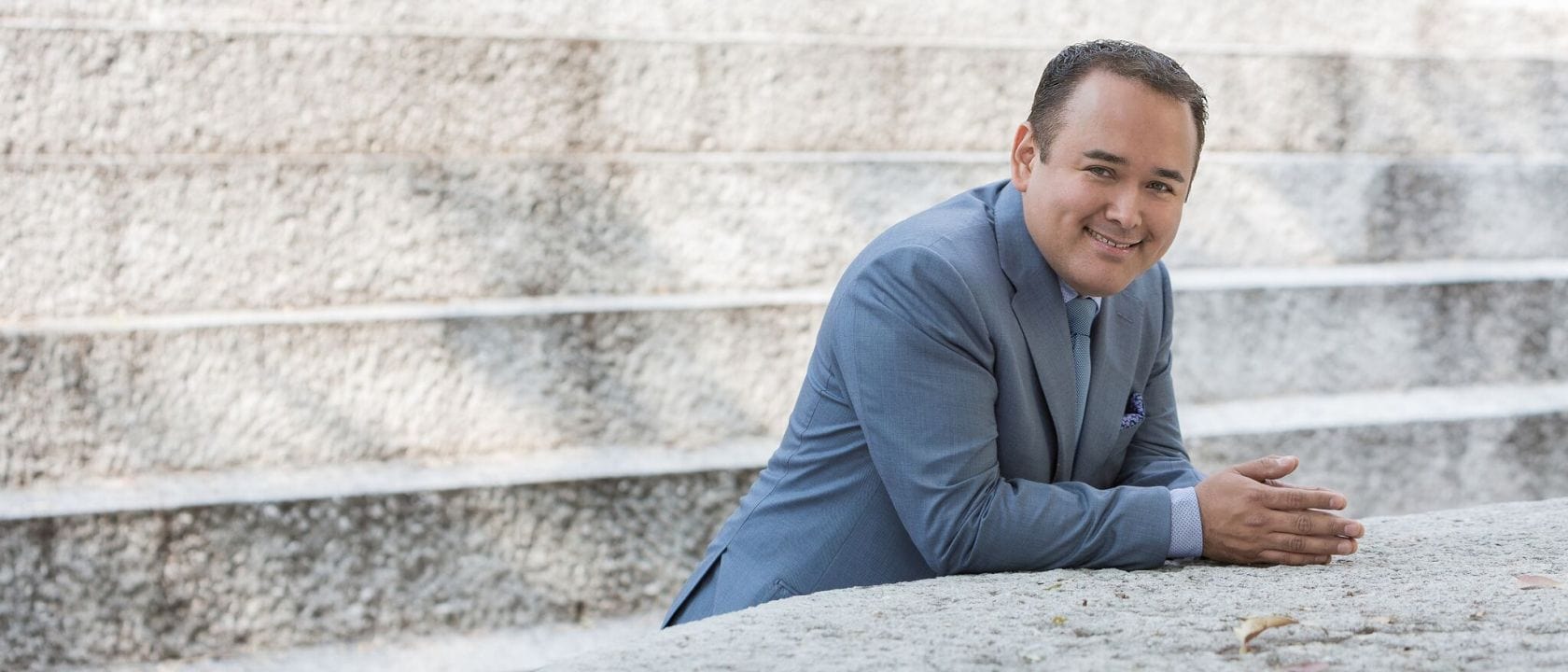 © private
Acclaimed in the world's leading opera houses, Mexican tenor Javier Camarena is now widely regarded as the foremost bel canto specialist of his generation. He is only the third singer in the history of the Metropolitan Opera from whom the audience has demanded an encore, and he holds the record for the most encores at the Met.
After his highly praised performances as Ernesto (Don Pasquale) at the Paris Opéra in the spring of 2019 he returned to the house in September 2019 to sing Arturo (I puritani). Other engagements in the 2019/20 season include his role debut as Gualtiero (Il pirata) at Madrid's Teatro Real, Tonio (La Fille du régiment) in Mexico City and Don Ramiro (La Cenerentola) in Zurich and New York. Following his performances as Ernesto at the Salzburg Whitsun Festival, he will be heard as Elvino (La sonnambula) at the Deutsche Oper in Berlin.
Recitals during the 2019/20 season have taken him and his regular pianist Ángel Rodríguez to the Santander Festival and – for their debut recital – to the Los Angeles Opera. A tour of Spain included appearances at the Teatre del Liceu in Barcelona, San Sebastián, the Auditorio Príncipe Felipe in Oviedo, the Palau de les Arts Reina Sofia in Valencia and Madrid's Auditorio Nacional de Música.
Javier Camarena is also in demand in the world's major concert halls. His schedule for 2019/20 included three performances of Berlioz's Grande Messe des morts under Antonio Pappano at the Accademia Nazionale di Santa Cecilia in Rome followed by a series of concert appearances in his native Mexico, gala concerts in Málaga and Palma de Mallorca, his debut with the Orchestre national de l'Île-de-France and two gala concerts at Grafenegg in Lower Austria.
Javier Camarena was born in Xalapa and studied with Cecilia Perfecto at the Universidad Veracruzana before completing his music studies with distinction under Hugo Barreiro and Maria Eugenia Sutti at the University of Guanajuato. He won the first prize at the 2004 Carlo Morelli National Singing Competition in Mexico and in 2005 received the Juan Oncina Prize at the Francisco Viñas Singing Competition in Barcelona, after which he was invited to join the International Opera Studio of the Zurich Opera under the mentorship of Francisco Araiza. Between 2013 and 2016 the Mexican magazine Líderes Mexicanos included him in its list of his country's leading personalities. In 2014 Quién magazine named him one of the 50 most influential Mexicans.
Javier Camarena made his Salzburg Festival debut at Whitsun 2013. Since then has been heard in Salzburg in several concerts and recitals and also as Belmonte (Die Entführung aus dem Serail), Fenton (Falstaff) and Don Ramiro.