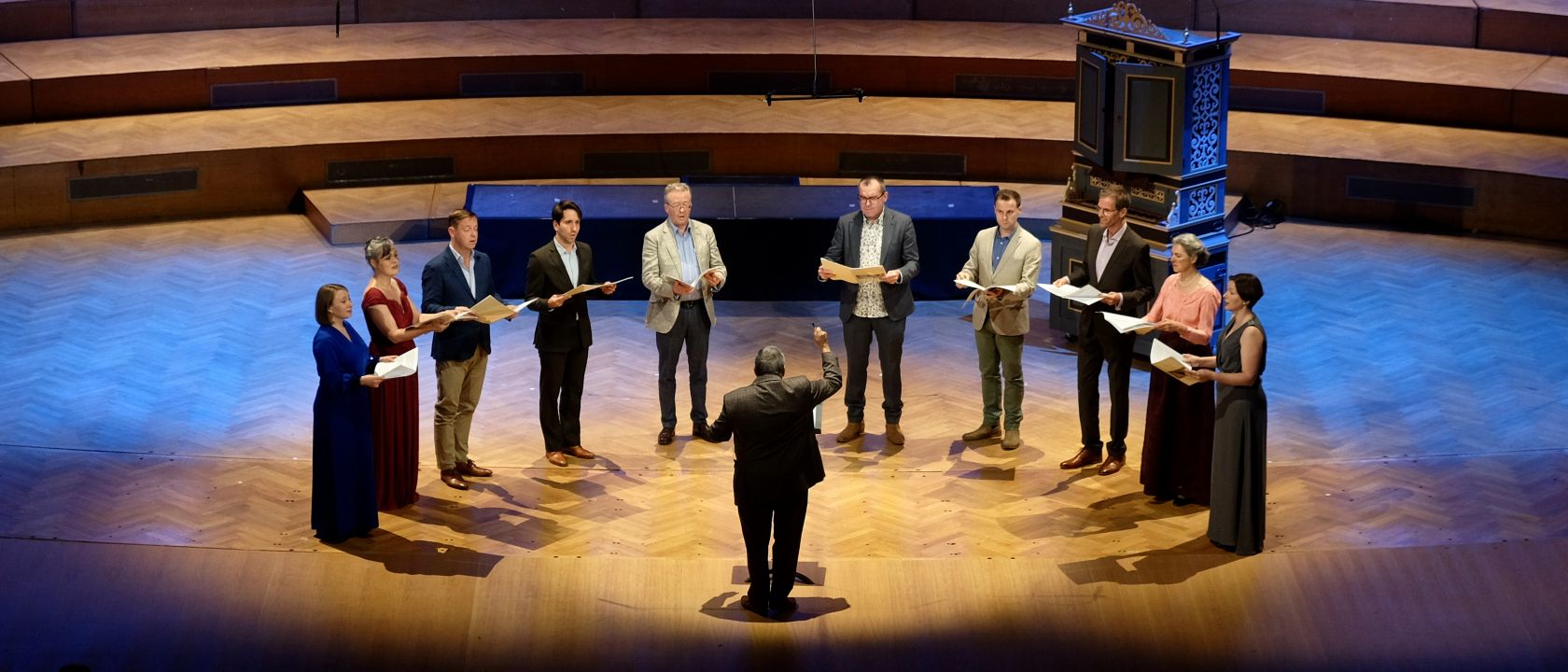 Michaela Riener, Dorothea Jakob Sopran
Achim Schulz, Olivier Coiffet Tenor I
Stefan Berghammer, Matthew Vine Tenor II
Frederik Sjollema, Tim Scott Whiteley  Bass
For more than fifty years, the Huelgas Ensemble has been one of the most celebrated ensembles specializing in the performance of polyphonic music. It is especially acclaimed for its original programming. Its performances are characterized by a detailed understanding of the musical aesthetics and the singing styles of the medieval and Renaissance eras, and combine unusual perspectives with purity of intonation. Contemporary composers such as Wolfgang Rihm and James MacMillan also value the ensemble's interpretations of their music.
The Huelgas Ensemble, whose headquarters are at Bozar in Brussels, performs at all leading concert halls and at international festivals, among them the BBC Proms, the Salzburg Festival, the Lincoln Center in New York, the Philharmonie de Paris and the Berlin Philharmonie, the Fundação Calouste Gulbenkian in Lisbon and the National Philharmonic in Warsaw. The ensemble also regularly appears at early music festivals, where it especially enjoys performing in ancient chapels, churches and monasteries, thus forming an interdisciplinary bridge between architecture and polyphony. Since 2019 the Huelgas Ensemble has organized its own annual Whitsun Festival in Talant (Burgundy); this is devoted to musical experimentation and to performances of unknown works.
The Huelgas Ensemble's discography of more than one hundred recordings covers composers from the 12th to the beginning of the 17th centuries, among them Dufay, Brumel, Rore, Richafort, Kerle, Ferrabosco, Palestrina, Lasso and Ashewell. The ensemble has recorded for the Seon, Sony Classical, harmonia mundi and ECM Records labels, among others. Its past recordings include The Eton Choirbook, The Treasures of Claude Le Jeune, Le Mystère de 'Malheur me bat', L'Héritage de Petrus Alamire, La Oreja de Zurbarán, Firminus Caron – Twilight of the Middle Ages, The Ear of the Huguenots and Wolfgang Rihm's ET LUX, as well as The Music Prints of Christophe Plantin, The Ear of Theodoor van Loon, The Ear of Christopher Columbus and Simone de Bonefont's Missa pro mortuis.
The Huelgas Ensemble has won numerous awards, among them several Caecilia Prizes from the Belgian musical press, the CHOC du Monde de la Musique, the Edison Prize, the Cannes Classical Award for Early Music, the 'In honorem' of the Académie Charles Cros, the ECHO Klassik (1994, 1997, 2010 and 2011) and the Diapason d'Or (2014 and 2015). In 2017 the Ensemble was awarded the German Record Critics' Award for its CD recording The Mirror of Claudio Monteverdi, and the OPUS Klassik for its recording of Francesca Caccini's La liberazione di Ruggiero dall'isola d'Alcina. In October 2022 the Huelgas Ensemble received the Choc de Classica for The Landscape of the Polyphonists, and an OPUS Klassik ('Ensemble of the Year') for En Albion.