Gewandhausorchester Leipzig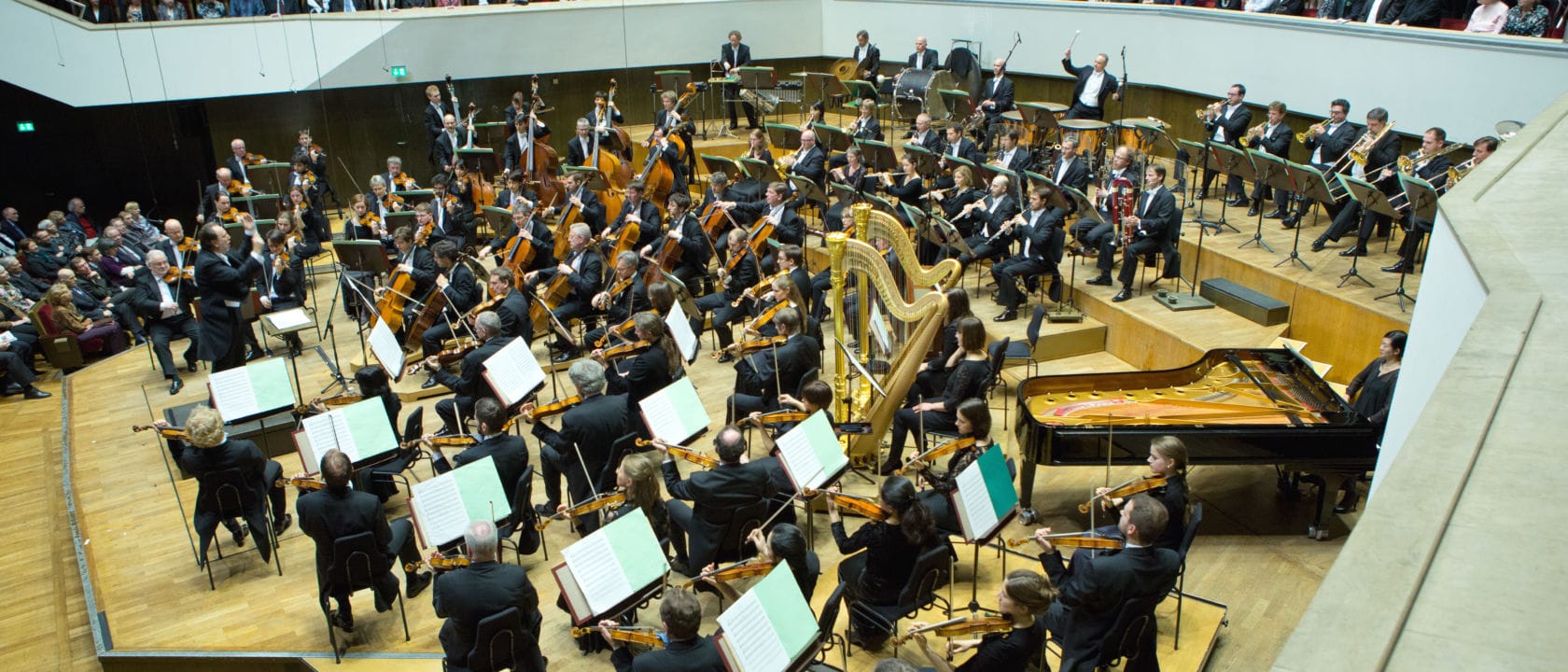 © Gewandhaus / Gerd Mothes
Current as of August 2019
The Leipzig Gewandhaus Orchestra is the oldest civic symphony orchestra in the world. It was founded in 1743 by a group of musical philanthropists. On taking residence in the Gewandhaus, the trading house of the city's textile merchants in 1781, the ensemble assumed its current name. The Orchestra's unique contribution to Europe's historical and current musical wealth has been recognized with the award of the European Cultural Heritage Label.
Many celebrated musicians have been appointed to the office of Gewandhaus Kapellmeister, the Orchestra's music director and principal conductor, including Johann Adam Hiller, Felix Mendelssohn, Arthur Nikisch and Kurt Masur. After his inauguration in 2005, Riccardo Chailly's phenomenally successful tenure came to an end in 2016 and Andris Nelsons assumed the position during the 2017/18 season.
The Gewandhaus Orchestra gives over 200 performances every year in its three homes: in concert at the Gewandhaus; as the orchestra of the Leipzig Opera; and in weekly performances of Bach's cantatas with the Thomanerchor in St Thomas's Church.
As well as its long-standing commitment to Bach, the Gewandhaus Orchestra has consistently attracted the world's most eminent composers, conductors and soloists. The Orchestra gave a complete cycle of Beethoven's symphonies during the composer's lifetime, as well as the first ever cycle of Bruckner's symphonies. Schubert's Ninth Symphony, Schumann's First, Second and Fourth symphonies, Mendelssohn's Violin Concerto and 'Scottish' Symphony, the Prelude to Wagner's Die Meistersinger von Nürnberg, Beethoven's Fifth Piano Concerto, Brahms's Violin Concerto and Ein deutsches Requiem and Bruckner's Seventh Symphony are just a fraction of the core symphonic repertoire to be given its first performance by the Gewandhaus Orchestra and it continues to commission and give the premieres of new works to this day.
The Gewandhaus Orchestra has toured globally on a regular basis since 1916 and enjoys an almost unparalleled presence on radio, television, CD and DVD. The Orchestra's recordings with Riccardo Chailly, which won numerous highly coveted international awards, include complete cycles of the symphonies of Schumann, Brahms, Beethoven and Mahler, as well as works by Gershwin, Bach and Mendelssohn. Conductor laureate Herbert Blomstedt's recordings of the complete Bruckner symphonies, made between 2005 and 2012, have already achieved benchmark status, followed by his complete cycle of Beethoven's symphonies, which was released in July 2017 to mark the conductor's 90th birthday.
Andris Nelsons, the new Gewandhaus Kapellmeister, is currently recording the complete Bruckner symphonies with the Orchestra. Their new DVD of Dvořák's Ninth Symphony was released in February 2018 on Accentus, followed by a DVD of Berg's Violin Concerto and Mendelssohn 'Scottish' Symphony in August 2018.
The Gewandhaus Orchestra was awarded the Opus Klassik for orchestra of the year in 2018.