Gewandhausorchester Leipzig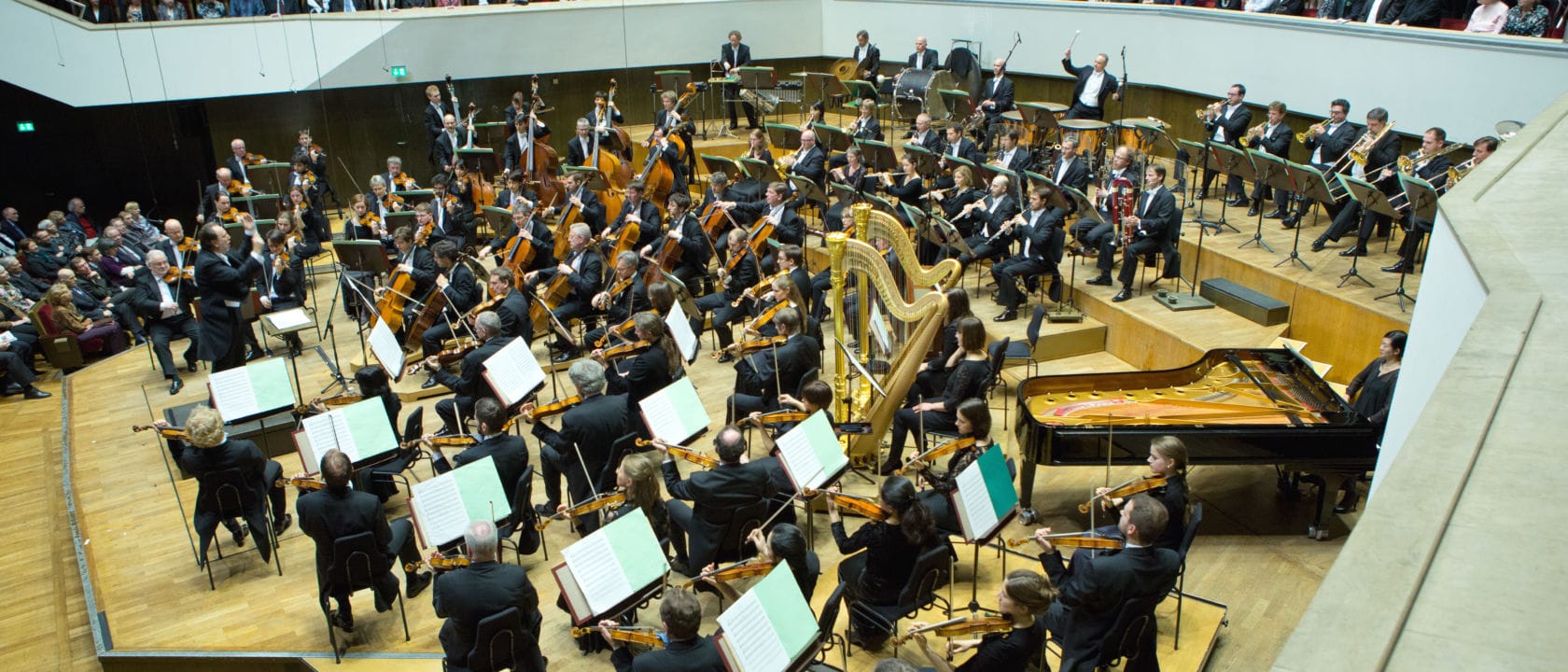 © Gewandhaus / Gerd Mothes
Current as of August 2016
The Gewandhaus Orchestra is the oldest civic symphony orchestra in the world. It was founded in 1743 by a group of 16 musical philanthropists, nobles as well as regular citizens, forming a concert society called 'Das Große Concert'. Taking residence in the trading house of the city's textile merchants in 1781, the ensemble was named the Gewandhaus Orchestra. Many celebrated musicians have been appointed to the office of Gewandhauskapellmeister, including Johann Adam Hiller, Felix Mendelssohn, Arthur Nikisch and Kurt Masur. Riccardo Chailly was a hugely successful Gewandhauskapellmeister from 2005 to 2016 and Andris Nelsons will assume the position during the 2017/18 season.
The Orchestra is the concert orchestra at the Gewandhaus, the orchestra of the Leipzig Opera and the orchestra for the weekly performances of Bach's cantatas with the Thomanerchor at St Thomas's Church. The Gewandhaus Orchestra has toured the globe on a regular basis since 1916 and has made numerous radio, television, CD and DVD recordings.
Few other ensembles have exerted such a significant and enduring influence on the development of the symphonic repertoire. Wagner's Vorspiel to Die Meistersinger von Nürnberg, Beethoven's Fifth Piano Concerto, Brahms's Violin Concerto and Ein deutsches Requiem, Schumann's First, Second and Fourth symphonies, Schubert's 'Great' C major Symphony, Mendelssohn's Violin Concerto and the 'Scottish' Symphony are just a fraction of the core symphonic repertoire given premieres by the Gewandhaus Orchestra. The Orchestra still commissions and gives the first performances of new works every season.
A decisive contribution to the development of the symphonic repertoire must be attributed to Felix Mendelssohn's time as Gewandhauskapellmeister (1835–47). By introducing new programming concepts, highly innovative for the time, Mendelssohn shaped the Gewandhaus audience's awareness of the music of the past, including reviving the orchestral works of Bach.
It was on Mendelssohn's initiative that Germany's first conservatory was founded in Leipzig in 1843, the modern day University of Music and Theatre 'Felix Mendelssohn Bartholdy'. Following the principles established by Mendelssohn, the Gewandhaus Orchestra and the University collaborate in the form of the Mendelssohn Orchestra Academy, offering the most talented young musicians the opportunity to hone their skills to the level required by the world's elite orchestras. Graduates of the Orchestra Academy receive a master's degree from the University.
The Orchestra's many recordings with Riccardo Chailly have been decorated with coveted international awards, including a Gold Disc. The project to record a complete cycle of Mahler's symphonies on DVD (Accentus) will reach its conclusion in 2016. Herbert Blomstedt recorded the complete Bruckner symphonies between 2005 and 2012, which have already gained benchmark status. Herbert Blomstedt is conductor laureate of the Gewandhaus Orchestra and is currently recording a complete cycle of the Beethoven symphonies, to be released in July 2017 in time for his 90th birthday.
DHL is the presenting partner for the Gewandhaus Orchestra's festival tour.