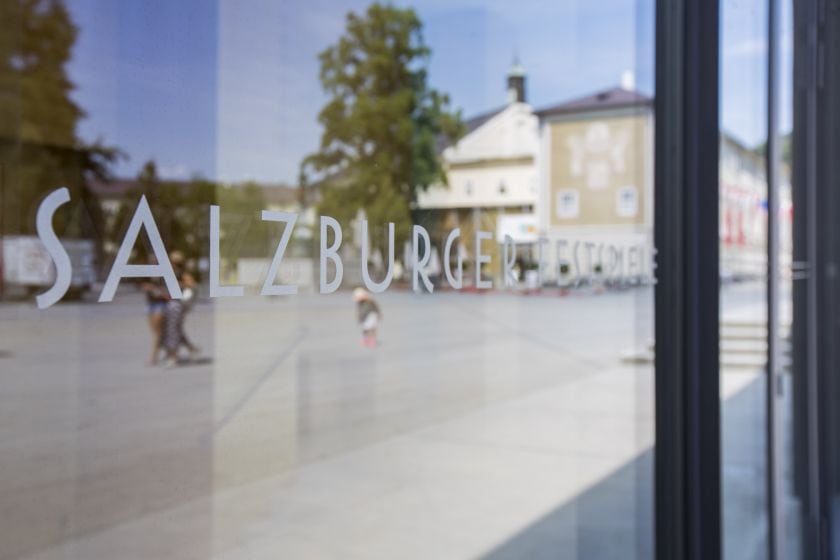 The Salzburg Festival wants to take responsibility and do everything it can to prevent the corona virus from spreading further:
3 step plan for the Salzburg Festival
1.) Since 16 March 2020: All offices and workshops of the Salzburg Festival will remain closed for the time being until 13 April 2020.
2.) Until 15 April 2020: Decision whether Whitsun Festival will take place
3.) By 30 May 2020: Decision whether the Summer Festival will take place.
Our ticket office at Herbert-von-Karajan-Platz 11 will remain closed for personal customer service until further notice. However, the ticket office can be contacted by e-mail and telephone. Our staff will process your order by telework.
Contact ticket office:
Monday – Friday 10:00 -12:30 and 13:00 to 16:30
info@salzburgfestival.at
+43-662-8045-500
In addition, there will be no public guided tours and group tours of the festival halls for the time being.
The planned start of direct ticket sales for the Summer Festival on 27.03.2020 will be postponed to 14.04.2020 and will then be handled exclusively via our online ticket shop. It is still possible to buy tickets for the Whitsun Festival directly online and to pre-order tickets for the Summer Festival.
The Salzburg State Exhibition "Great World Theatre – 100 Years Salzburg Festival" cannot start on the scheduled date (25.4.). Whitsun 2020 is specified as the earliest starting date. The artistic intervention "The Dream of a Fairy Temple" will also be postponed indefinitely.
Our workshops and the entire Festival team are working intensively on implementing our anniversary programme. It is important to us to note that according to the risk assessment available to us now (as of 11. March), all events of the Salzburg Festival at Whitsun and during the summer will take place. If this risk assessment changes substantially, we will inform our visitors without delay.
We understand the general confusion and insecurity and have therefore added a page to our website with Frequently Asked Questions and information on the coronavirus.
How is the Salzburg Festival preparing for the coronavirus?
The Salzburg Festival engages in continuous exchange with the relevant authorities. In addition, a task force led by a physician has been established. This task force has developed crisis plans in case the virus spreads further as well as prevention plans.
So far, the following measures have been implemented:
- As a contribution to the urgently needed containment of the coronavirus,
we have decided to close all offices and workshops of the Salzburg Festival for the time being until 22.03.20.
We hope this will help us to celebrate our 100th anniversary with Whitsun and summer festivals. Thank you for your understanding.
- Naturally, we, the Salzburg Festival, want to take responsibility for our customers, our staff and our fellow citizens of Salzburg and make every contribution to preventing the coronavirus from spreading further: we are following the orders and recommendations of the Austrian government and are in permanent contact with the relevant authorities.
Starting immediately and until the end of the order, currently 3 April 2020, we are closing our ticket office on Herbert-von-Karajan-Platz 11 for personal customer service. In addition, no public tours or group tours of the Festival halls will take place during the period in question.
Our online ticket shop
www.salzburgfestival.at
is available around the clock.
- Information and recommendations for all employees regarding hygiene, travel, actions to take in case of illness
- Training of sales and front-of-house staff regarding information for the public, behaviour in cases of crisis
- Training of cleaning staff: special and regular cleaning of all surfaces, handrails, bars, toilets, dressing rooms, tables, etc… at all Festival theatres and offices.
- Provision of disinfectant: all restrooms and gastronomic areas as well as crucial entrance and exit points have been fitted with disinfectant dispensers
- Regular exchange of information with all artists and ensembles and, if necessary, support for them as prevention measures take effect
- Establishment of one central information point for all customers and visitors to the Salzburg Festival:
Tel.: +43-8045-600
E-Mail:
info@salzburgfestival.at
https://www.salzburgerfestspiele.at/en/faq-coronavirus
If a performance is cancelled, will my money be refunded?
In the unlikely event that a performance is cancelled, ticket holders receive a refund of the ticket price, regardless of the reason for the cancellation. This is part of our
General Terms and Conditions
and would also apply to cancellations of performances due to the coronavirus.
Where can I find information?
Are there currently cases of the coronavirus in Salzburg?
Can I still travel to Salzburg?
Please do not! With the closure of all accommodation on Monday 16th March, we want to ensure that all guests who are currently still in  Salzburg  and Salzburger Land have a safe and organised trip home. Travelling to SalzburgerLand now would work against all the measures being taken by the authorities to prevent as much as possible the spread of the Corona Virus!
Are there restrictions on public life in Salzburg and the State of Salzburg?
What should I do if I suspect I may be infected?
Should you seriously suspect that you or someone in your close proximity might be infected and you are within Austria, please immediately contact the Health Services by calling the number 1450. Please make sure to make initial contact only by phone. Outside of Austria, please contact the local health authorities.
How can I protect myself from infection?