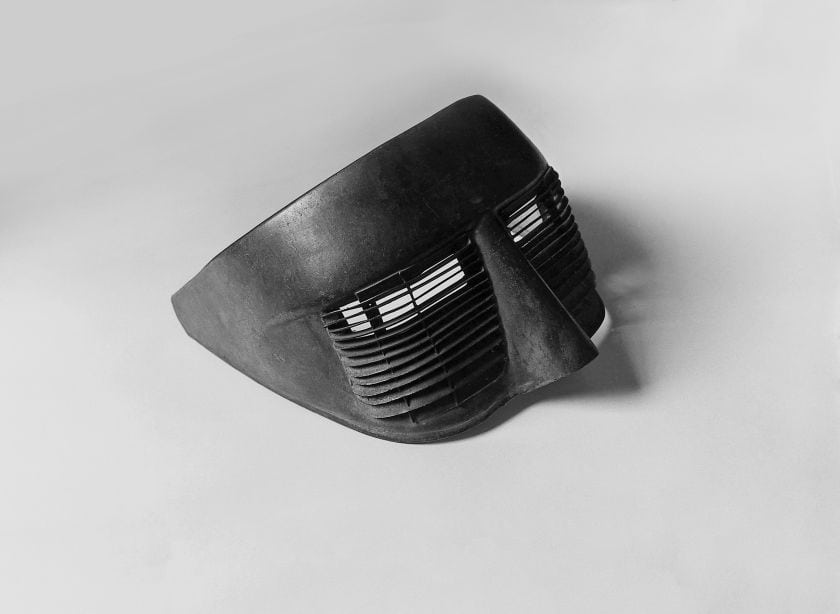 Man Ray, Iron mask for L'amour fou by Breton, 1937,
© Man Ray 2015 Trust / ADAGP — Bildrecht, Wien — 2019, Photo: Telimage, Paris
'I am determined to prove a villain...'
Very near to the beginning of his career with almost no stage experience, Shakespeare writes The Tragedy of King Richard the Third and invents a new genre of political theatre together with the three parts of Henry VI that he had written shortly before: the history play. The York tetralogy is created in the final decade of the 16th century. Just a few years after defeating the Spanish Armada in the English Channel, England is caught up in a wave of patriot­ism and nationalism. It's worth asking why Shake­speare chooses the War of the Roses, one of the darkest chapters in English history, as his subject at this exact point in time. Barely more than a century had passed since the end of this conflict and so this was recent history for him and his contemporaries. And it's at this precise moment, under the stable rule of Elizabeth I and in a climate of national euphoria, that Shakespeare confronts his audiences with a story of ruthless power struggles and a nobility in decline, where no price is too high for depraved minds to assert their own goals.
Two families — the houses of York and Lancaster — are tearing each other apart in a battle for the English throne. And with Richard III, with whom the Wars of the Roses reach their denouement, one of the greatest antiheroes of the theatrical canon enters the stage: cold-blooded, unscrupulous, sadistic, brutal, the very incarnation of evil. At the same time, he's a star attraction within the Shake­spearean pantheon: perceptive, witty, dissembling, seductive. He adeptly manipulates people, tells elaborate lies, virtuosically instrumentalizes others and revels in self­-aggrandizement. He toys with his counterparts and doesn't ignore the audience either, commenting on his actions in asides and never failing to win them over. Shakespeare pulls off an ingenious coup that makes the role an extra­ ordinary undertaking for the actor still to this day. He also continually attracts our fascination through the questions he raises rather than explains. What, then, lies behind the appeal of this 'villain'? Is he a pathological outlier, an aggrieved outlaw, or perhaps the embodiment of a system in its most coherent form? How should we explain the con­siderable approval he enjoys and the consent for his politics? Do his supporters, who enable him to seize power even though they know how danger­ous he is, feel the same vicious sense of joy? Does their own greed blind them? What role is played by ignorance, mistaken forbearance, cowardice, and others who systematically look away? Fears, urges, delusional apprehensions, or a loosening grip on reality: what are the flaws and failings that give rise to this catastrophe?
With Richard III, Shakespeare frankly portrays the deformations of a society in which a 'latent, deep layer of cruelty', as Antonin Artaud put it, breaks forth. This is a sinister but not unrealistic state of affairs and indeed the foundation for the successful reign of Elizabeth I. Still, whatever lies behind the enjoyment we take in closely watching Richard III remains disturbing. What is it that makes us collaborators?
The play will be staged by Karin Henkel, who has won multiple awards and directed a hugely suc­cessful production of Gerhart Hauptmann's Rose Bernd at the Salzburg Festival two years ago. Lina Beckmann once again takes on the title role.
Rita Thiele
Translation: Sebastian Smallshaw
Further Information & Downloads