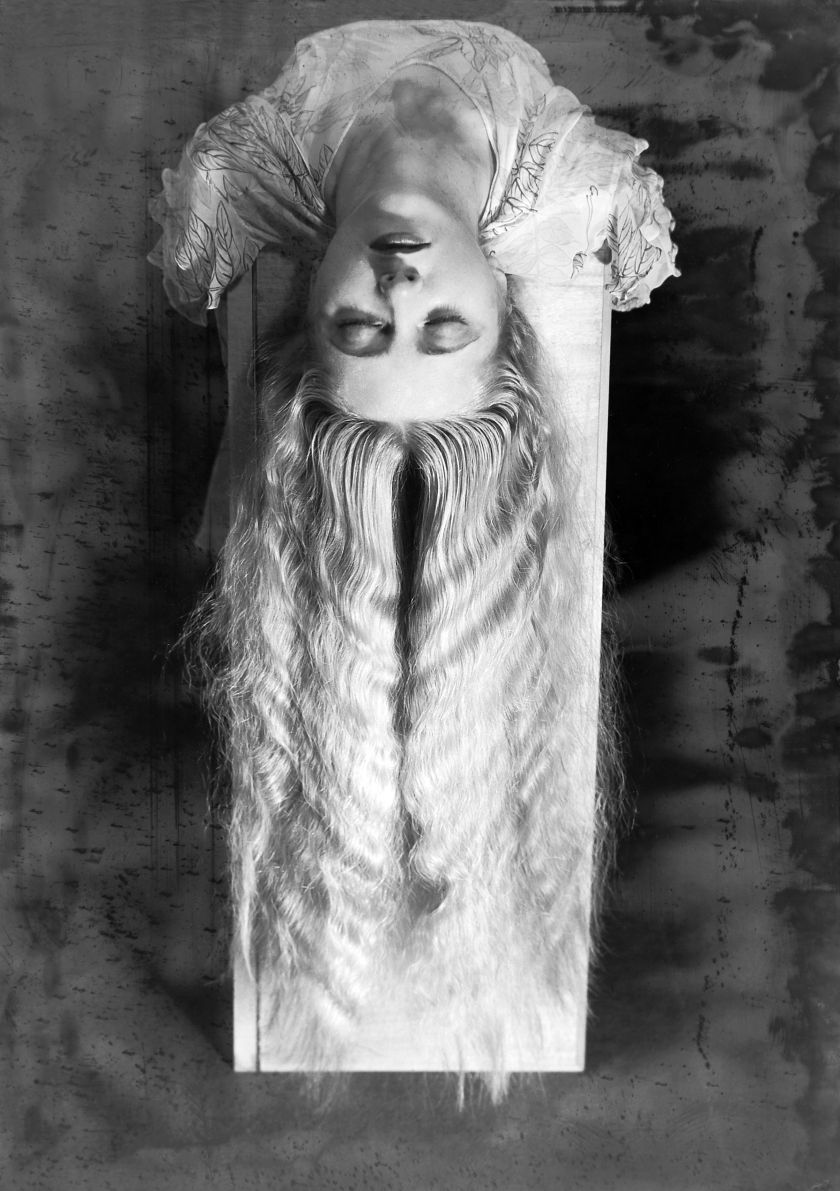 Man Ray, Long Hair, 1929,
© Man Ray 2015 Trust / ADAGP — Bildrecht, Wien — 2019, Photo: Telimage, Paris
'I was a blackened corpse among the living, and in this hour I am the fire of life, and my flame burns up the darkness of the world.'
Those are Elektra's words to her sister Chrysothemis in answer to the latter's announcement that Orestes, their long-­awaited brother, has miraculously ap­peared and is being given a triumphant welcome, having killed, one after the other, Clytemnestra, their mother, and Aegisthus, her lover and the new ruler of the city. She then speaks her last words, before collapsing, dead: 'I bear the burden of joy, and I lead you in the dance. There is only one thing fitting for those who are happy as we are: to be silent and dance.' Her father's death, the death of Agamemnon, is finally avenged. The cycle of vio­lence is brought to an end. Perhaps the cycle of life can finally begin. In her solitary madness, entirely fixated on her father's ghost, Elektra was like a living tomb for the hero. Elektra dies a few minutes after her mother, who was, of course, her enemy, but without whom life now no longer has any meaning, because the world of yesterday, whether adored or hated, was her only reason to live and it has dis­ appeared forever. Only Orestes and Chrysothemis will try to bring life to this devasted wasteland. The catastrophe that began with the sacrifice of their sister Iphigenia to help the Greek armies to conquer Troy, about 20 years previously, a murder for which Clytemnestra never forgave Agamemnon, seems to have come to an end. For a while. Orestes will now be left to live with the memory of an unforgivable murder, a matricide. At night, in Mycenae, Elektra dies in a state of mental and physical exhaustion at the moment when her life's sole obsession is real­ized. She dies dancing around the axe that killed her father.
In Hugo von Hofmannsthal's spectacularly powerful and savage play, with its language of unparalleled richness and quality, first staged in 1903 in Berlin by Max Reinhardt, only the slightest trace remains of the Sophocles text that inspired it. Reading Friedrich Nietzsche's Die Geburt der Tragödie and the then very recent Studien über Hysterie by Josef Breuer and Sigmund Freud as well as Freud's Die Traum­deutung profoundly influenced the young Austrian writer. The dazzling ancient Greece portrayed by Winckelmann and Goethe has been replaced, at the end of the 19th and the beginning of the 20th century, by its dark, brutal and almost barbaric side. The labyrinths of the human soul are now ob­scured by darkness. Pathologies unearthed by the emergence of psychoanalysis shape the imaginary world of creative writers, giving added complexity to their fictional characters.
After seeing Gertrud Eysoldt perform the title role of this Elektra, the Bavarian composer became fascinated and decided as early as November 1903 to create a one-­act opera based on the play. For his libretto, he would shorten it in places in order to concentrate on the relationships between the two sisters, Elektra, the force of death, and Chrysothemis, the force of life, between Elektra and her mother, Clytemnestra, and between Elektra and her brother, Orestes, who appears to her like an incredible vision in the twilight: he finally gives meaning to her exist­ence and accomplishes the revenge, about which she has never stopped fantasizing.
After three years of composing, Richard Strauss pre­sented his opera on 25 January 1909 at the Royal Opera House in Dresden. The effect was cataclys­mic. From the very first chords, the composer puts the listener in a unique state of tension. Elektra's lamentation, her first monologue, 'Alone! Alas, all alone!', precedes the invocation of Agamemnon, a desperate prayer for the return of her father's ghost at the hour when he was killed by Clytemnestra: a masterpiece of modern music, it is unforgettable once heard.
Christian Longchamp
Translation: Laura Jones