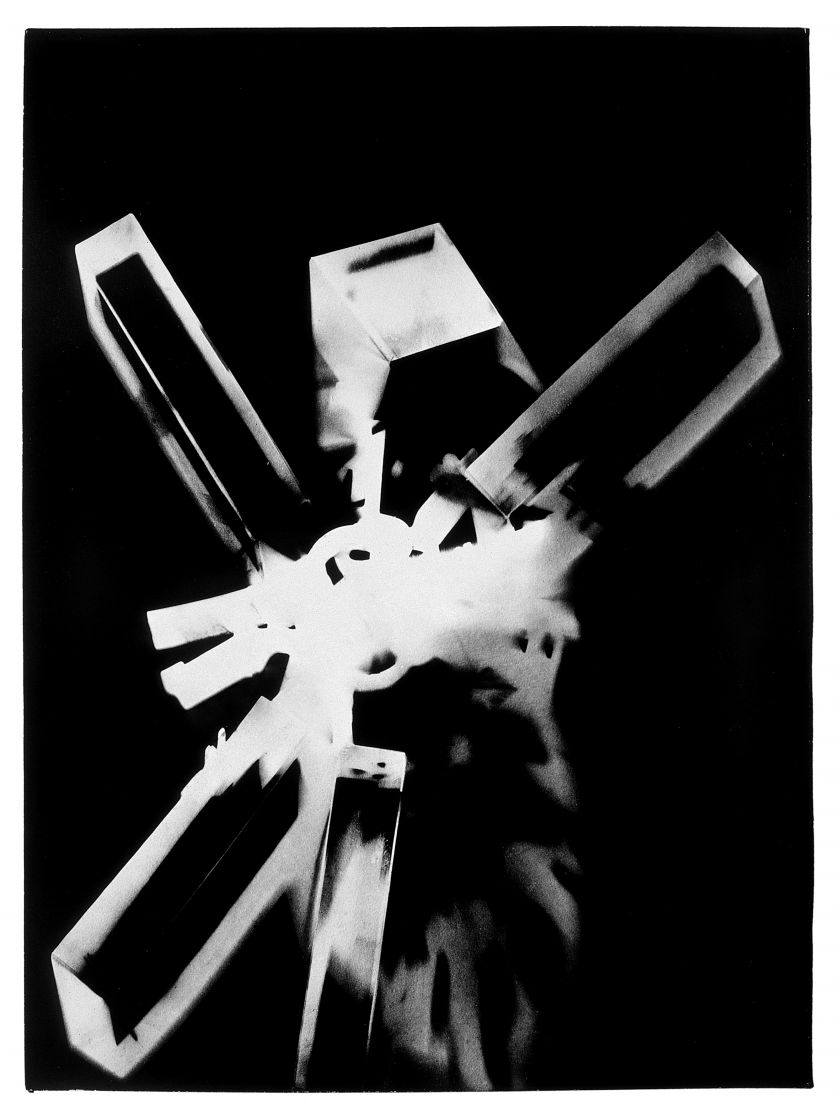 Man Ray, Rayographie, 1922,
© Man Ray 2015 Trust / ADAGP — Bildrecht, Wien — 2019, Köln, Museum Ludwig, Sammlung Fotografie, Photo: Rheinisches Bildarchiv Köln
'You cannot hold happiness captive in sealed caves, / for it only breathes in flight'
On returning home from one of his voyages, the sailor Elis Fröbom is hit by a deep sense of apathy. Locked in a state of revulsion towards life that spirals into a yearning for death, he is visited by a dour stranger. The old Torbern shows him the way to the deep underground realm of the mountain queen — a magnificent, frozen world that Elis finds equally alluring and frightening. As the ruler of a timeless realm that 'tramples on everything human' and simultaneously confronts its visitors with their most hidden desires, the mountain queen offers Elis the prospect of staying with her forever. Before­hand, however, he is expected to live as a miner in order to free himself from all human desires in the depths of the mountain. Following this instruction, Elis goes to Falun, where he enters into the service of the mine owner Dahljöh. He finds a new home as a miner, living with Dahljöh, Dahljöh's daughter Anna and her blind grandmother. When Elis falls in love with Anna, who possesses a cheerful nature and zest for life, she returns his affections. A wedding is to be planned, but yet the realm of the mountain queen has not lost any of its fascination.
Das Bergwerk zu Falun (The Mine at Falun) is based on a true story. In 1677, a miner in the Swedish town of Falun suffered a fatal accident shortly before his wedding day. His body, preserved without decay in the mountain, was recovered 50 years later and identified by his then elderly bride. Other authors before Hofmannsthal had already written about this extraordinary story (among them Johann Peter Hebel and E. T. A. Hoffmann), but unlike them Hof­mannsthal eschewed the astonishing reunion. Instead he focusses on themes such as time and transience. Hofmannsthal was an artist with a seismographic capacity for absorbing literature and academic discourse, which he then processed in his own writing. In this way, his juxtaposition of the mountain queen's dark, lifeless realm with the airy character of the mountain landscape and its in­ habitants draws on a wealth of references: motifs from Romanticism can be found alongside ideas borrowed from the emerging Viennese discipline of psychoanalysis, as well as from Hofmannsthal's critical engagement with aestheticism and his own existence as an artist. In his idiosyncratically beauti­ful, poetic language, he condenses all this into the archetypal form of the fairy tale, creating a disquiet­ing story that has lost none of its relevance to this day. In his state of tremendous despair, Elis receives a tempting offer: to lead an existence in a timeless world, where he can rise above the laws governing humans and sink into narcissism. How do individuals and societies react to moments of crisis? When we no longer know what to do, what are the beliefs in which we take refuge? And who do we harm when we fail to face up to life and our disappointments?
Das Bergwerk zu Falun, one of Hofmannsthal's early works, was written between 1899 and 1911. It will be staged by the Swiss director Jossi Wieler, whose work has been regularly featured at the Salzburg Festival since 1998: both theatre productions (world premieres of Jelinek, Handke, Zweig) and opera stagings in collaboration with Sergio Morabito (Ariadne auf Naxos, Rusalka). With Ariadne auf Naxos, staged in 2001, Wieler directed a text by Hofmannsthal for the first time. From 2011 to 2018 he was artistic director of the Stuttgart State Opera, which was named opera house of the year in 2016. Wieler's work has received numerous awards, in­cluding director of the year in 1994, as well as various invitations to festivals at home and abroad, and the Berlin Theatertreffen.
Katja Hagedorn
Translation: Sebastian Smallshaw